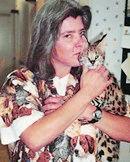 Jennifer Lynn Riddles, a veterinary assistant at Loma Linda Animal Hospital, died on Aug. 18, 2019. She was 56.
Born on March 6, 1963, she was a longtime resident of Highland. She is survived by her brother Thomas Riddles of Virginia and sister Judy Riddles of Modesto
The funeral service will be held at 10 a.m. Thursday, Aug. 29, at Montecito Memorial Cemetery. A reception will follow.