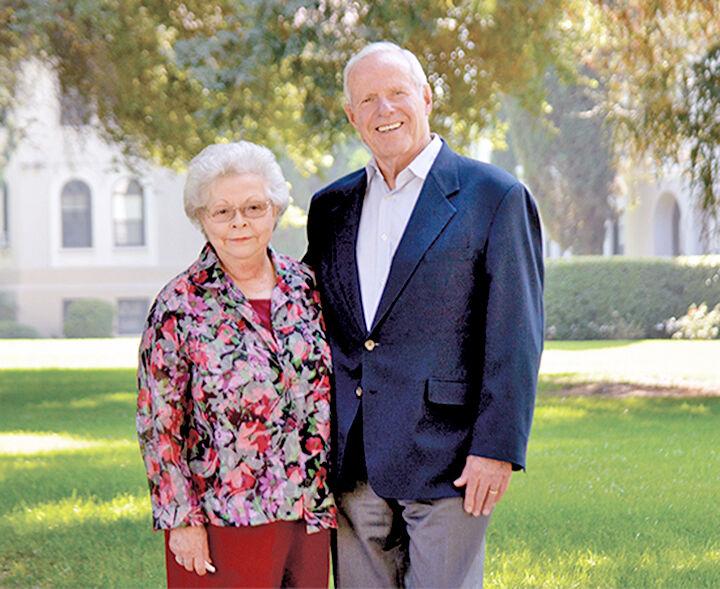 Nine days after legendary University of Redlands philanthropist Ginnie Hunsaker died, her husband Rich Hunsaker died, too. He was 89.
The Hunsakers donated some $75 million to the university, including $35 million to establish the Hunsaker Scholarship Prize — the largest in the school's history.
Last week, University of Redlands President Ralph W. Kuncl and President Emeritus James R. Appleton mourned Virginia "Ginnie" Moses Hunsaker in post on the weekly Bulldog Blog. This week, they expressed their shock and sorrow at the loss of Richard C. Hunsaker.
"Alongside Ginnie, Rich transformed the University of Redlands in unparalleled ways, with innumerable contributions of time, talent and treasure," they wrote. "His legacy, like Ginnie's, is incomparable."
Richard Clark Hunsaker was born on Oct. 26, 1931, in Long Beach to Simeon Vive LeRoy Hunsaker and Pearl Clark Hunsaker. His first job was at the age of 11, selling soda pop at the job site where his father was building houses.
In his teens, he suffered from a bone disease in his hip joint. Unable to walk as he healed, he finished his studies at home and graduated from Jordan High School at age 16.
He attended the University of Redlands where he was a member of the Pi Chi fraternity, the football team and the student government and where he met Virginia "Ginnie" Moses.
After their first date, he told his stepmother, Ruth, he'd met the woman he was going to marry.
Upon graduating from college with a degree in economics, they were married in July 1952.
They began their 68 years together with $20 in savings, settling in Long Beach where she taught kindergarten while he served in the U.S. Navy.
After his stint in the Navy, he continued to work with his father in the building industry. In 1964, they sold the company to Occidental Petroleum. In 1966, he started his own company focusing on industrial building development in Southern California.
The family moved from Glendora to Corona del Mar in 1971 and enjoyed summers in Lake Arrowhead and summer and ski trips to Snowmass, Colorado.
He started running in his 40s so he could make it around the cross-country courses to cheer on his sons when they raced. He ran well into his 70s and then walked 3 to 5 miles a day until a year ago when he stopped to take care of Ginnie and his own health began to decline.
He maintained lifelong friendships with men he met as a member of the San Gabriel Valley chapter of YPO (Young Presidents' Organization) and the Forum Group and enjoyed yearly fishing trips with a group who dubbed themselves "The Eagles."
He served on the Board of Trustees at the U of R beginning in 1973 and served as the chairman of the board for 15 years. He stepped down in 2000 but remained on the board and its executive committee.
The Hunsakers became involved with the Wooden Floor (formerly the Saint Joseph Ballet) in 1994, helping to build a new studio and funding scholarships for inner-city youth. They were also big supporters of Hoag Hospital, where he volunteered in the ER. They also contributed to Children's Hospital of Orange County and the Segerstrom Center for the Arts.
His four children, Debbie Edgcomb, Brian Hunsaker, David Hunsaker and Edie Barvin; their spouses, John Edgcomb, Nancy Hunsaker and Elizabeth Hunsaker; 12 grandchildren; seven great-grandchildren; and his late brother's wife, Beverly Hunsaker, survive Rich Hunsaker.
Donations in his memory may be made to the University of Redlands, the Wooden Floor, Hoag Hospital, Children's Hospital of Orange County and the Segerstrom Center for the Arts.
A private burial will be held followed by a celebration of life at a later time.