Dennis Hansberger was much more than just a former five-term San Bernardino County Supervisor.
He was a father, husband, friend and man that cared deeply about his community.
Hansberger died from pancreatic cancer on Wednesday, May 6. He was 78.
A graduate of Redlands High School, his career in public service spanned from 1968 to 2008, first as an assistant to Supervisor Donald Beckford then as an elected representative of the county's Third District.
Dennis' wife, Karen Hansberger, thought back to when she first met her future husband.
"He was smart and ethical," she said in a phone interview. "There was a connection between us from an early point in time. He was quirky, witty, and later I realized how incredibly kind he was as a human."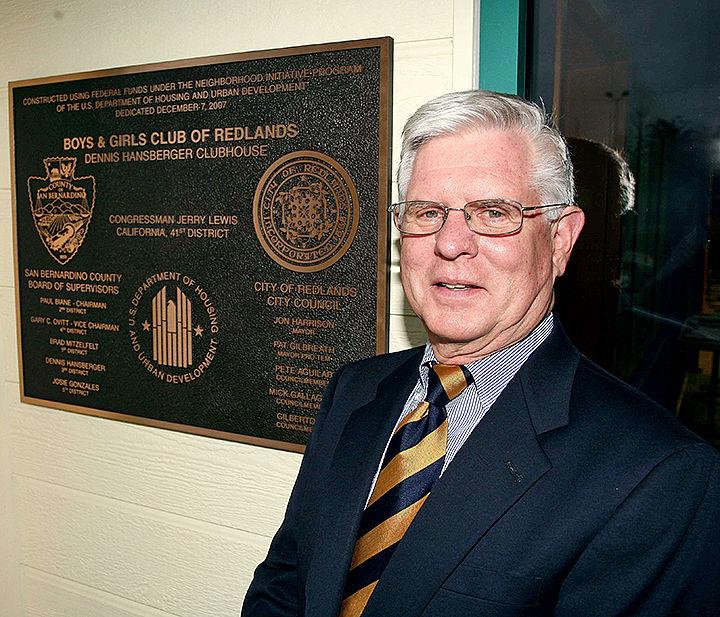 Fifth District Supervisor Josie Gonzales spoke fondly about the man she developed a friendship with during a special meeting of the board.
"Dennis was hard-working, funny, loyal and dedicated to his job," said Gonzales. "I worked with him and learned a great deal. He taught me the innate love you have to have for this county and the sacrifices that have to be made.
"He always said doing the right thing helped you move through the next issue," said Gonzales.
Hansberger had a penchant for drawing his coworkers, which Gonzales remembered warmly.
"The man was an artist," she said. "He loved to draw everyone. You never knew who he would draw during meetings. By the end, he would have a complete profile of a person on a napkin."
According to Karen Hansberger, "Dennis had a smidge of ADHD and found it easier to concentrate in meetings if he was doodling."
When he retired, the county clerk collected all of his doodles and gave them to him in a book.
Gonzales said Hansberger had a beautiful way of breaking the ice with people.
"It was an honor and a privilege to serve with him," she said.
Third District Supervisor Dawn Rowe said Hansberger was always humble and wise in his guidance.
Former Third District James Ramos, now serving in the California Assembly, said, "Dennis was also a valued supporter who encouraged me to run for the county Board of Supervisors, and was proud when I became chairman of the board. He will always serve as a model for me because of his integrity and service to constituents.
"Dennis carries a special place in my life."
Robert Lovingood, First District supervisor, said Hansberger had a remarkable understanding of county industries and how they could be used to benefit citizens.
"I appreciated how eager he was to mentor young people," said Janice Rutherford, Second District supervisor.
"His introspection and willingness to learn are examples of how to lead and serve. I admired how much time he put into his district."
Hansberger's commitment to children helped fund the Boys & Girls Club of Redlands. In 2007, he secured $4 million for the clubhouse later named in his honor.
"Hansberger's support will dramatically impact the lives of thousands of children in the city of Redlands," said Pat Caudle, vice president of the club board of directors in 2006. "The first permanent home of the club will provide a larger, safer location where members will be able to participate in even more Boys & Girls Club programs than at our previous smaller and scattered sites.
"Supervisor Hansberger's help is greatly appreciated by the children, staff and board of the Boys & Girls Club," said Caudle.
Karen Hansberger said what her husband loved most was creating more opportunities to help the less fortunate.
"He had a soft spot for children," she said. "Kids loved him. They gravitated toward him.
"I was always amazed at how he could talk to them. Dennis wanted kids to meet their God-given potential."
In his free time, Hansberger was an avid horseman.
"He was actively involved in the Rim of the World Riders," said Karen Hansberger. "Paco was his latest horse, and he loved to ride."
Hansberger was also a gentleman farmer and a woodworker.
"He lived on a small orange grove," said Karen Hansberger. "Dennis loved the history of the groves in Redlands and the Inland Empire. He bagged oranges to sell on the roadside or take to the Family Service Association.
"He made a beautiful wooden rocking horse for our niece and nephew," she said.
Hansberger always gave people his support and demanded little for himself, she said.
"I would describe him as kind and faithful most of all," said Karen Hansberger.
"It was impossible for him not to stand up when he saw things that weren't in people's best interest. I have never met a soul who loved more with an open hand.
Hansberger is survived by his wife and four children. Memorial services are pending due to COVID-19. "