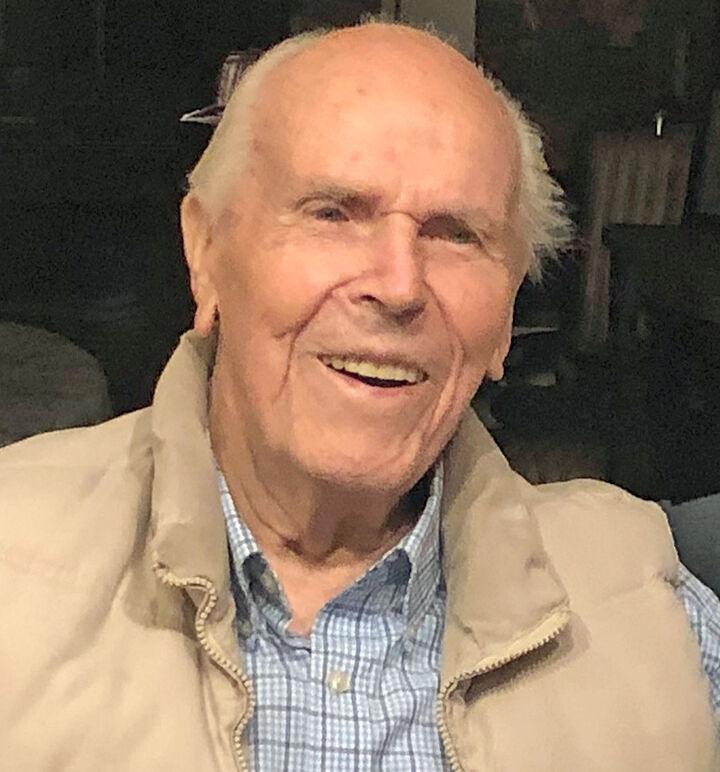 Correction: The original version of this obituary had the day of death wrong. Gerow Smiley died at 2 a.m. Jan. 24, not on Jan. 23. Also, he had five grandchildren and three great-grandchildren.
Gerow Smiley, grandson of Daniel Smiley of Mohonk Lake, New York  and great-nephew of Alfred and Albert Smiley — "Redlands Patron Saints" — died on Jan. 24, 2021, at his home in Redlands. He was 98.
Born on March 26, 1922, in Poughkeepsie, New York, Smiley was the son of Francis G. Smiley and Rachel Orcutt Smiley. His father was one of the Smiley family who owned and operated Lake Mohonk Mountain House resort, a famous hotel still operating today that drew wealthy guests from the elite of the eastern seaboard.
Smiley attended the Mohonk School, a private academy housed at Mohonk and operating when the hotel was closed in the winter. He later attended Westtown, a Quaker prep school in Philadelphia. After a brief stint at Haverford College, outside Philadelphia, the siren call of youth to open space and freedom impelled him to "go west," and he was a cowboy in Texas and later Colorado.
World War II altered his plans. Following Pearl Harbor, Smiley joined the Navy. Holding an agricultural deferment and a conscientious objector status as a Quaker, he chose to train as a pharmacist mate. Discharged in 1946, he returned to Colorado to work before enrolling in Colorado State University, Fort Collins, to study veterinary medicine. Upon graduation in 1951, Smiley worked until 1986 in a practice specializing in large animals. First he opened a veterinary office in Lander, Wyoming and then, for many years in Petaluma, California.
Following an injury incurred while treating a horse, he elected to return to Lake Mohonk. With a winning smile, twinkling blue-eyes, and a winning personality, he fit into the family business as supervisor for outside operations, including the oversight of Mohonk's extensive property. During that period of over 40 years, he hosted and greeted dozens of visitors to Mohonk from Redlands.  
After retiring from Mohonk as one of the three partners in the business, Smiley spent winters in Redlands, as had his family for two generations. In 2012, he permanently settled in town.
Smiley's interests were diverse: an avid reader of non-fiction and literature; a raconteur and advocate for land use and green environmental incentives. In Redlands, he volunteered at the Redlands Community Hospital, where his cousins, the Sanborn family, had been early founders. He supported efforts in funding and programming at the Smiley Library, gifted to Redlands by his family. He became a member of the volunteer crew at Caroline Park and frequently contributed letters and opinion pieces about the need for open space and environmental initiatives for Redlands.
Smiley is survived by his wife, Wendy, who resides in New York. His first wife, Marion, the mother of his three children, is deceased as is his second wife, Dorotha. His sons survived him — Paul who lives in Montana, and Kip and David who live in California. He is also survived by five grandchildren and a three great-grandchildren.
Memorial gifts may be made to the A.K. Smiley Public Library Heritage Room Endowment Fund or to the Mohonk Preserve in New York.  A memorial service is pending.