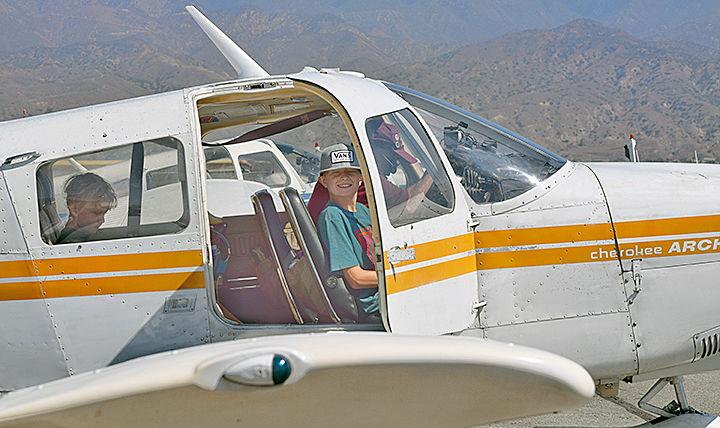 The Experimental Aircraft Association (EAA) has served 2.2 million children through its Young Eagles program.
Since 1993, the EAA and its chapters all over the nation take kids dreaming of becoming pilots up in the air free of charge.
The organization boasts the largest continuous logbook ever, according to EAA member Beverly Buck.
The Redlands Chapter 845, flew kids on Saturday, Aug. 17 in perfect weather.
"We try to take the kids up between 9 to 10 a.m.. Otherwise the air can get wonky," said Buck.
Three years ago, Buck says that they tried to have the event in February but the weather was so bad they didn't get to fly until September. For 20 minutes kids can sit beside EAA pilots and fly over Redlands and Yucaipa above the clouds.
"We want the next generation of pilots," says Buck. "We put this on four times a year."
EAA pilot Dan Chapman says he has flown over 200 kids. Another member has flown 800 according to Buck. While the pilots only fly kids ages 8 through 17, the event is for the whole family. EAA and Redlands Airport Association were grilling hamburgers, hotdogs and playing music on the patio.
Father and son Gregory and Aaron Pack enjoyed the experience.
"What an opportunity, this is a great experience for kids," said Gregory Pack. "You know sometimes the kids will get scared but you just have to tell them mind over matter. Take deep breaths."
The experience is something that kids remember for a lifetime.
"We have had a boy that's been with us since he was 8 years old. Now he is going to college in Washington and taking aviation classes to get his pilot's license," said Buck.
On average, the event garners 56 kids each time, though two years ago only one showed up to fly.
"It just depends. Sometimes the more marketing the event receives the more people show up," said Buck.
Longtime member Buck just loves seeing the joy it brings kids.
"When you watch the take-offs and landings, you can see the kids' smiles the whole time."