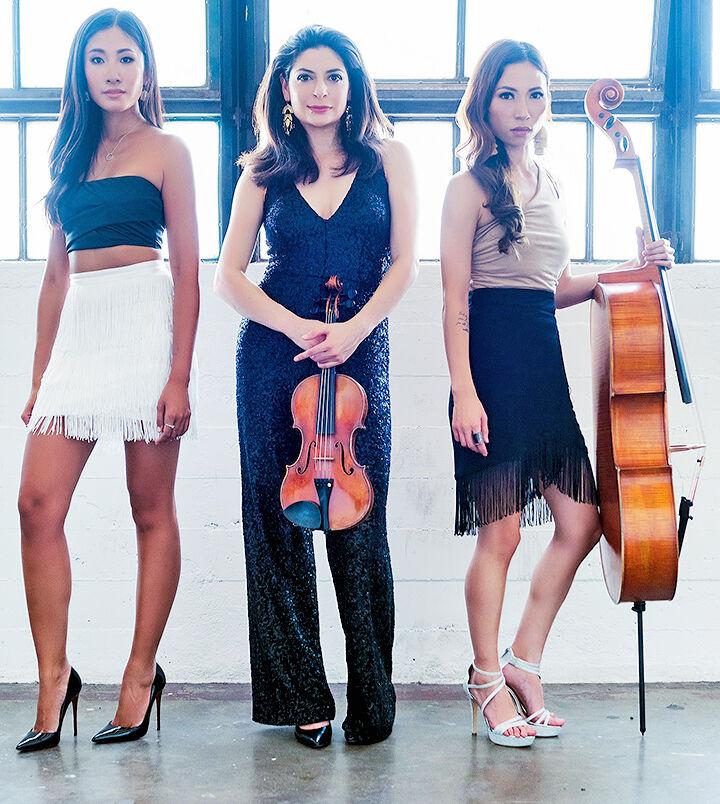 Among history's greatest sculptors, Michelangelo once said, "I saw the angel in the marble and carved until I set him free."
Renowned composer and keyboardist Yanni likewise saw something special in American violinist Lindsay Deutsch, the charismatic leader of TAKE3 — a trio so popular, they are booked through 2023.
"When Yanni's agency called me, I thought they had the wrong person," Deutsch recently revealed in a radio interview.
"I play Bach and Brahms," she continued. "What could Yanni possibly want from me? 'No,' they said. 'It's you that he wants. You would actually be great for this.' Every day on our first tour, I realized he saw something in me that I barely saw there."
Prior to meeting Yanni, Deutsch frequently appeared as a guest soloist with American and Canadian symphonies — and still does. Her movie credits include playing the solo violin soundtrack for the film, "The Good Shepherd," starring Robert De Niro.
"From the time I was a small child, I was to be in the classical music genre," she said. "It's an unbelievably difficult discipline and only a few make it in that field. I would practice violin four or five hours a day. And of course, I have tens of thousands of hours practicing scales and arpeggios."
Deutsch pursued her classical education at Colbert Conservatory, Los Angeles, where she studied under Robert Lipsett. Even the violin she plays is a classic — an 1845 Jean-Baptiste Vuillaume violin.
"The truth is, I didn't want anything to do with classical music outside those hours of practice," she admitted. "In my free time I wasn't interested in hearing more of that genre. So I was listening to pop music. And even though it's such simple music compared to classical music, I kept listening. I would hear a song and hum it the rest of the day. I never really did that with classical music."
Then, Yanni entered her life.
Known for blending jazz, classical, soft rock and international music to create instrumental works.
Yanni received world recognition producing concerts and videos often broadcast on public television.
With performances in more than 30 countries, 16 No. 1 albums, 40 platinum and gold records, and sales totaling more than 25 million copies, he served as an inspirational mentor to Deutsch.
To her surprise, she began a transformational journey from the classical music world toward the genre-defying, high-energy pop performer she is now.
"I didn't really explore that until I met Yanni and played with him," she said. "At first, I couldn't see it myself. I had a lot of interesting conversations with Yanni and he helped me.
She has recently toured as a solo violinist with Yanni as they performed throughout North America and in Saudi Arabia, Uzbekistan and Abu Dhabi. They plan to tour Indonesia and China next.
"When you grow up classically," Deutsch observed, "the focus is on composers who are long gone.
"The artist is out of the equation.
"But with pop music, I can put more of myself in — infuse more of my personality.
"The audience response is integral. They react and I feed off of that energy. It affects the performance. And I never felt that until I performed with Yanni."
Discovering this aspect of her talent was an exhilarating revelation.
"I was so thrilled he brought that out of me," she enthused. "I craved that immediacy. I was hooked and it was all over after that! It's an exciting time for me."
Of course, TAKE3 is not complete without Deutsch's accomplished cohorts, vocalist Lauren Jelencovich and award-winning cellist Lila Yang.
Jelencovich is a winner of both Ed McMahon's "Star Search" and the Andrea Bocelli Scholarship.
She joined the Yanni tour in Saudi Arabia — where she became the first woman in recent history to sing on stage for a mixed audience of men and women. It was the first time families could join together for a concert there.
Yang received a scholarship to attend the Juilliard School of Music in New York City and has subsequently performed at Carnegie Hall, Lincoln Center's Avery Fisher Hall and the Walt Disney Concert Hall. She has also appeared on stages across Germany, Spain, France, Indonesia, Thailand and Korea.
Together, the ensemble is known for dazzling arrangements of top pop hits, Americana, and classical favorites.
"We have a good time," Deutsch said. "We laugh and have a lot of fun." Michelangelo would be proud.
Wayne R. Scott is an award-winning writer, producer and director who serves as president of LifeHouse Theater, Redlands.