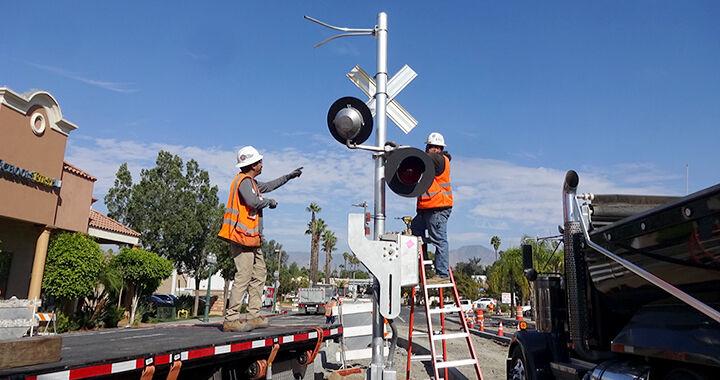 After a holiday break, work resumed this week on the Redlands Passenger Rail Project.
Waterman Avenue in San Bernardino was closed on Monday. Detour signs will be posted for about nine weeks, according to a San Bernardino County Transportation Authority press release.
Northbound traffic will take Hospitality Lane to Tippecanoe Avenue, left on Orange Show Road and a right on Waterman Avenue. Southbound traffic will turn left on Orange Show Road and right on Tippecanoe Avenue to Hospitality Lane.
Platform and electrical work is ongoing at the San Bernardino Transit Center, Esri,  Tippecanoe and Downtown Redlands stations.
Intermittent lane closures will continue from 7 a.m. to 3 p.m. on local streets throughout the corridor, including Tippecanoe Avenue, Arrowhead Avenue, Mill Street, Orange Show Road, California Street, Nevada Street, Colton Avenue, Tennessee Street, Texas Street, Eureka Street, Orange Street, Sixth Street, Seventh Street, Church Street and University Street. Two-way travel will remain at all times.
Park Avenue: crews continue to work on roadway improvements 24 hours a day. A local detour is posted and sends traffic north around Sylvan Park.
The Arrow is scheduled to begin service in spring 2022 and will run between the San Bernardino Transit Center located at Rialto Avenue and E Street in Downtown San Bernardino next to San Manuel Stadium and will terminate at the University of Redlands.
"The regional rail service will integrate with other modes of transportation such as cars, buses, and bicycles and will offer residents, businesses and visitors a new option for live, work and play," said the press release.