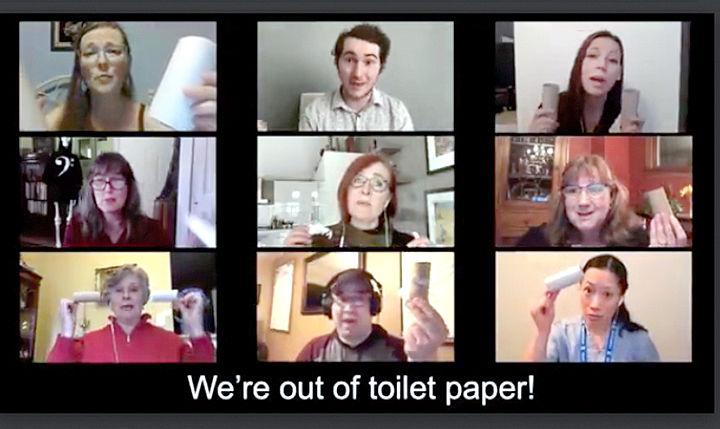 The University of Redlands Chapel Singers has teamed up with the Phoenix Chamber Choir in Vancouver, Canada, on a parody of Billy Joel's 1984 doo-wop single "The Longest Time" capturing the spirit of those in isolation during the COVID-19 pandemic.
The performance of "The Longest Time — Quarantine Edition" was conducted by Nicholle Andrews, director of chorale activities at the U of R and artistic director of the Vancouver choir.
The performance drew praise from Joel, who wrote that it was impressive considering that the singers were isolated from each other.
"Right now, I'm out of work myself and I have no idea when I'll be able to play concerts in public again," Joel wrote.
Andrews said Joel was her musical idol. She said she was shocked when his personal publicist told her he had heard the song and wanted everyone to know that he thought it was beautiful.
"I have been his biggest fan since I was a little girl and my family and I have attended many of his performances," she said. "Naturally, I immediately replied sending him a personal note of thanks. I was in shock when 10 minutes later, I received a personal message from the Piano Man himself!"
The idea came from a FaceTime chat with members of her Vancouver ensemble and they agreed it would be fun to do a virtual choir since they could no longer rehearse in person. They performed the "Coronavirus Rhapsody."
"After the first video, we thought that it would be fun to do a second video," Andrews said. "This time, I decided to write the lyrics, along with some help from previously written lyrics by Zach Timson."
Knowing the University of Redlands Chapel Singers also missed singing together, she invited them to join Phoenix Chamber Choir along with members of a choir she created while completing her doctorate at McGill University in Montreal.
Phoenix Chamber Choir member Dr. Carolyn Shiau, an alto and an anatomic pathologist and dermatopathologist at the Royal Columbian Hospital, arranged the song and created a click track for the choir.
"Each chorister received electronic copies of the score, the click track and directions on how to record their video and audio successfully," Andrews said.
"Once they completed their video they emailed it to us and we edited and mixed it together. It's a very time consuming process, but worth every minute!"
Andrews accepted the position with the U of R 14 years ago and said she is thrilled by the support she receives from the School of Music.
"We have 120 students singing in our choirs across all degrees and disciplines," she said. "We host a choral festival each spring and the chapel is filled with over 800 high school singers. Our choirs have performed with Billy Idol, Pete Townshend (of The Who), Josh Groban and Sarah Brightman."
"The Longest Time" was the fourth song released from Joel's 1983 album "Innocent Man." It reached No. 14 on the Billboard's Hot 100 and No. 1 on Billboard's Adult Contemporary chart, according to "Top Adult Contemporary 1961-2001" by Joel Wilburn.
Lyrics
I have been at home in quarantine
Stopping spread of COVID-19
What else would I do?
I don't want this virus from you!
I haven't left here for the longest time.
Exercise by jogging round my room
Online meetings taking place on Zoom
Though this is safer We're out of toilet paper!
We haven't left here for the longest time.
Teachers try to teach their kids online Some how this needs twice as much prep time!
Self isolation is how we help our nation
We haven't left here for the longest time
Maybe this won't last very long
There's no end in sight Though I could be wrong
Maybe I've been hoping to hard
But we've come this far,
Our curve's getting flatter!
If you choose to venture out today
Stay at least 2 meters away!
Can't take no chances, given the circumstances
We'll be at home for the longest time!
I have hopeful thoughts at start
I said to myself I will do my part
Washing hands, not touching my face
I long for your embrace
That's all that I hope for
It's my job to do all the right things
Social distancing even as I sing
I miss you so bad! But I think you know that
I intend to stay here for the longest time