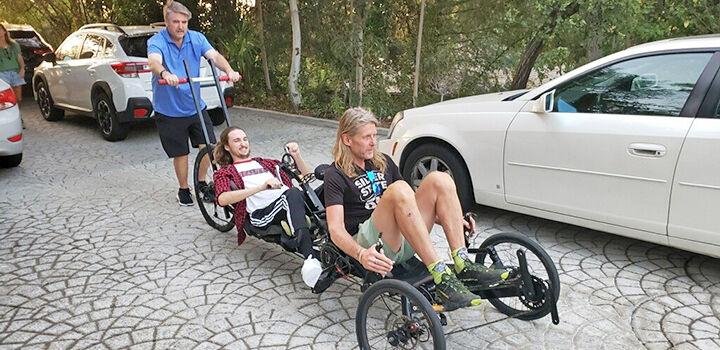 In another update on "Dr. Randy's Unforgettable Ride 2.0," local bike riders will join Yucaipa resident Spencer Sherwin, age 24, as he arm-peddles a two-person adaptive bike with his father, Dr. Tom Sherwin, along a portion of the Southern California segment of the 2,400-mile, fundraising ride benefitting The Unforgettables Foundation in Redlands.
Sherwin is a former La Sierra University student who continues to recover from a severe injury to his spinal nerve resulting from a vehicle accident last year.
Through physical therapy he is strengthening his arms, hands and shoulders in preparation to peddle the two-person bicycle in riding along with Dr. Randy Schell and his cycling partner Dr. David Moliterno.
The duo began their fund-raising journey last month near the Canadian border. The bike that the Sherwins will ride is loaned to them by Redlands dentist Dr. Andy Boyd and his wife Caroline Boyd. The bike was used by their late son, Case, who suffered from muscular dystrophy. Schell and Moliterno are currently in Northern California and will pass down into Mentone-Yucaipa-Redlands on Sept. 24.
The Sherwins' ride-along will occur at 1 p.m. beginning at the San Bernardino National Forest Mill Creek Visitor Center at the juncture of Mill Creek Road/Highway 38 and Bryant Street in Mentone. Joining the Sherwins will be
The Unforgettables Chief Executive Officer Tim Evans, founder of the organization, and other regional residents. Local officials have been invited to join the ride.
The cycling journey will conclude at The Unforgettables headquarters on 345 West Pearl St. in Redlands. Local police will escort the procession to ensure safety of the riders. Schell, an anesthesiology professor at the University of Kentucky College of Medicine, is a long-time friend of Tom Sherwin, a pediatric emergency medicine physician at Loma Linda University Medical Center and who also served as the first board chairman of The Unforgettables Foundation.
Schell, Sherwin and Evans attended Seventh-day Adventist academies in Michigan and also studied at Andrews University in Michigan. All three ended up in Southern California where Schell and Sherwin attended medical school at Loma Linda University. Evans served as founding chaplain for the Loma Linda University Children's Hospital prior to establishing The Unforgettables.
For more information or to donate, pledge or register or sponsor the gala: Visit unforgettables.org. The event will be held will held in Riverside on Saturday, Sept. 25.
Note: The second part of this series did not appear because of production problems.