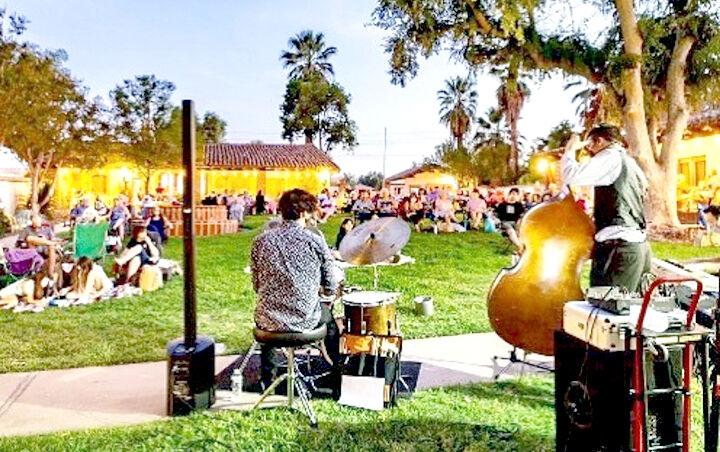 With all the good news about vaccinations and the slowing of COVID spread, the historic Asistencia, Redlands Conservancy's headquarters, will open its courtyard for a series of Twilight Jams, outdoor concerts under the twinkling lights.
Sunday, April 18, marks the first date since last October that the conservancy has offered this event.
According to Asistencia General Manager Heather Ross, COVID restrictions are being lifted for public gatherings as San Bernardino County moves to the orange tier.  
"Last autumn, we were able to hold gatherings at 25 percent capacity, and now we can go to 75 percent, which means almost 300 guests in the courtyard," Ross said. "We still require all guests to follow CDC guidelines to be masked up when not eating or drinking, and to maintain social distancing between family groups."  
This first Twilight Jam will feature The Neverlys, a collective of local musicians whose individual tastes are added to the group's unique musical palette. According to their press release, The Neverlys have one rule: they perform only songs that they all treasure. Their concerts include a blend of folk, rock, pop, country, blues and standards. For the April 18 concert, they will feature rock 'n' roll favorites with a few surprises.
Gates for the 5-to-8 p.m. concert will open at 4:15 for those who want to enjoy a picnic before the show. Guests are encouraged to bring their own refreshments or order a picnic supper from As You Like It Catering & Events, which will deliver a delicious packaged meal with Philly cheesesteak (or the vegetarian option of portobello mushroom), tater tots and an Oreo brownie, all for $15. They offer other mini-charcuterie boxes that are available through pre-order when guests order their reservations for the concert. Guests place their meal order when they order their tickets and the meal will be waiting for them in the courtyard when they arrive.
Guests can bring their own lawn chairs or blankets, or can reserve a table for their party. Each table reservation includes admission for up to six or four guests, depending on table size. Tickets for tables for up to four cost $60, and for up to six cost $90. Admission for adults without a table costs $10, and children younger than 12 are admitted free. Ross advises people that this is a no-pets event, with no smoking or vaping.
The Asistencia, at 26930 Barton Road in Redlands, is a 1930s recreation of an 1830s outpost of the San Gabriel Mission. Today, it remains an icon in Redlands and is open to the public for events and activities.
Ross said Redlands Conservancy plans to present Twilight Jams at the Asistencia at least once a month, and more often, depending on how the event calendar fills up.
For more information: Visit redlandsconservancy.org, or call (909) 782-6208