A Mediterranean-style estate with breathtaking valley and canyon views is among six residences you can visit when the Redlands YMCA Holiday Home Tour returns Sunday, Dec. 5.
Jordan Hall owns Villa La Cadena, which was built in 1977 on 1.34 acres once part of the Smiley estate. There's a courtyard entrance with a koi pond and pool. Within its 6,400-square-feet are multiple living areas, a gourmet kitchen and prep area, and three bedrooms including the luxurious master suite. French doors throughout open to patios and the gardens.
Kirby and Chrystal Hays, John and Sara Barnes, Sim Saran and Richard Jimenez, Martha Green-Garrett and Ed Garrett, Bobby and Julia Whitmore also are opening their homes for the annual tour.
"Due to Covid-19, last year we kept this longstanding Redlands' tradition going with the first ever virtual home tour," said Shelli Stockton, who chairs the tour committee.
"This is our 54th year. The home tour and the YMCA's Holiday Boutique and Pantry are the primary fundraising events for the Y's Legal Aid Clinic, which provides legal assistance in civil matters to hundreds in the community every year."
The Sloan Safari House
Kirby and Crystal Hays are the latest owners of the midcentury modern Redlands sportsman and photographer Jim Sloan built in 1957.
Sloan showcased his massive collection of wildlife trophies scored around the world, earning the house its "Safari" name.
The Hays have a midcentury furniture collection fits the design of the sprawling 7,914-square-foot home. Their plan to is to restore the original design elements.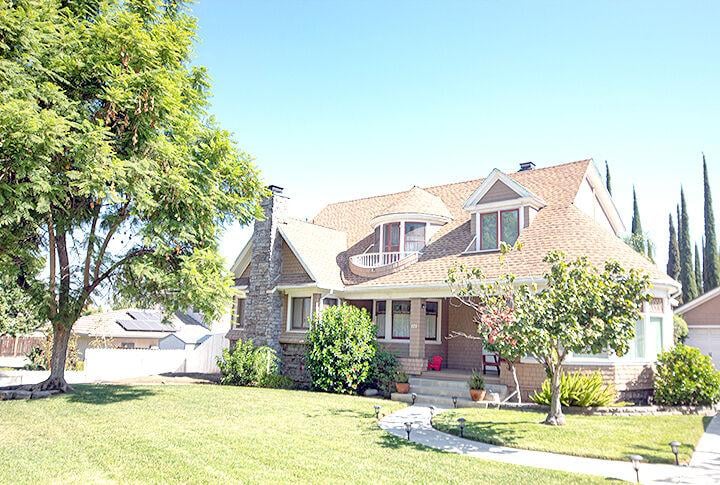 Restored Heritage Home
Sim Saran's and Richard Jimenez's 1903 shingle style Victorian was saved from demolition in 1997.
Moved from its original Terracina Boulevard site to make way for Redlands Community Hospital's expansion, the charming 2,426-square-foot home was restored and updated. The Redlands Area Historical Society named the house a recipient of its 2005 Heritage Award.
Architectural features include the original diamond leaded glass windows and second floor dormer and turreted tower with a balcony.
'Restored' Craftsman
DIY TV's Brett Waterman took on Bobby and Julia Whitmore's craftsman house for his show. Y home tour goers got to see restored and updated front of the bungalow in 2016.
Now they get see the homeowners' restoration of the back of the house. The utility area off the kitchen and master bedroom's bathroom have been redone in line with 1,152-square-foot home's 1914 style.
Mid-1970s redos
John and Sara Barnes moved into their Cape Cod-style house in the 2017.
The 3,523-square-foot house has four bedrooms, dining, large home office, two living areas and a stunning new kitchen with large island. French doors are throughout the first story living spaces. Outside are decks, patios and pool area.
Townhouse remodel
Martha Green Garrett and Ed Garrett only recently moved to their totally remodeled 1977 townhouse. The nearly 2,000-square-foot home had been one of Martha's rental properties.
The owner of Martha Green's Dough'Lectibles Bakery and Restaurant, and a real estate agent began remodeling the house in December.
"We are ever grateful to our homeowners who share their fantastic homes for a day," said home finder chair Char Burgess. "This year, we once again have small to large, homey to elegant, and old to new."
Tickets available
Home tour tickets: $35 in advance and $40 the day of the tour. Patron tickets, which include brunch at Olive and Citrus and front-of-the-line access to homes, are $85.
Masks are required to tour the homes.
More information: Visit ymcahometour.org/about-home-tour/ or call the Redlands YMCA, (909) 798-9622.