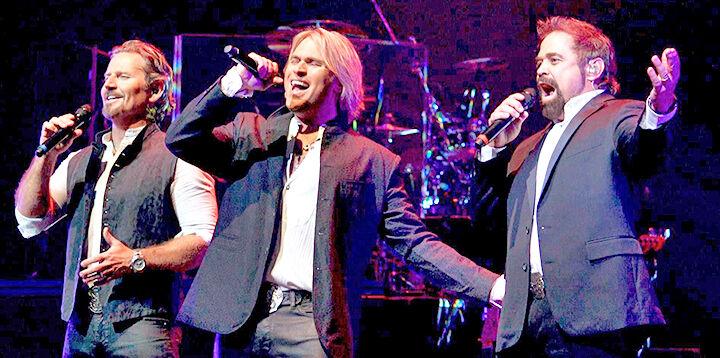 "Music was my refuge," poet Maya Angelou wrote. "I could crawl into the space between the notes and curl my back to loneliness."
Redlands Bowl Performing Arts graciously provides such a refuge through outstanding musical programs — a wonderful antidote to the pandemic's unwelcome isolation.
The Texas Tenors are the latest group to offer a powerful tonic for troubled times.
The trio is comprised of Marcus Collins, John Hagen and JC Fisher. All gained national acclaim after appearing as finalists during the fourth season of television's "America's Got Talent."
Their diverse repertoire has since dazzled audiences at more than 1,400 concerts in 20 countries around the world. And their 2019 album, "A Collection of Broadway & American Classics," debuted at No 1 on the Billboard classical charts.
The group has performed at NBA games, the White House National Christmas Tree Lighting Ceremony, the Congressional Medal of Honor ceremonies and the PBS specials "Rise" and "You Should Dream," which won three Emmy Awards.
Though now internationally known, John has jokingly said in interviews, "we met in prison choir while making license plates."
In truth, the men were acquainted several years before reconnecting in earnest when each moved to Houston. They thought more seriously about a professional career together after JC's wife needed to provide musical entertainment for a pageant.
"JC called John and me," Marcus revealed. "We all got together, practiced a little bit, and recorded it. Then we had the idea to send it to 'America's Got Talent.' They called us and we auditioned in Houston. It was a whirlwind, but we never looked back."
The men previously held odd jobs and experimented with performing on their own. When they joined forces as a trio, explosive success followed.
"JC's idea came at just the right time," John admitted. "I had one foot out of the industry and was tired of living job to job."
John and JC once worked in construction together.
"John would be off in another room singing," JC recalled. "I knew that it was a voice that everyone needed to hear."
"Let it be known that I wasn't just singing," John added with a smile. "I was also working!"
Although they're the Texas Tenors, they each came from other states. Two of the three hail from Iowa. Opera-trained John Hagen, the group's organizer, was born in Waverly and Broadway vocalist Marcus Collins was born in Washington, Iowa. Country music singer JC Fisher is from Missouri and began his career singing in church.
Despite their demanding schedules and extreme popularity, the Texas Tenors remain a close-knit group.
"We don't have a manager or a label," Marcus disclosed.
"John's wife does all the merchandise fulfillment in their basement."
"We're control freaks," John quipped. "That's what it really boils down to."
Their dedication and commitment to excellence obviously serves the group well.
"We're able to do what we want to do, and sing what we want to sing," John said. "It may cost us some things sometimes, but the industry has changed so much."
Marcus is grateful for a fast-growing fan club with over half a million followers. Members utilize social media to boost the trio's fame.
"They help us get the word out about our shows and have our songs played on music stations," he said.
The men are also known for their charitable hearts. After Hurricane Harvey flooded Houston in 2017, they dedicated all the proceeds of their hit single, "Rise," to the relief fund. The song jumped to the top of the classical charts on Billboard and Amazon.
Marcus humbly acknowledges the trio's accolades and believes success comes with responsibility.
"People look to us to see what can be accomplished in this country," he said. "It's a testament to living the American Dream. We have a positive, uplifting message — very family friendly."
That message is reflected in their popular children's books, "Ruckus on the Ranch," and the sequel, "Moon's on Fire." Yes, the men are published authors too.
"We have a new song with the latest book called 'The Cowboy Lullaby,'" Marcus said. "It's fun. The CD also comes with a page-by-page reading of the book. It's really cute."
He paused to reflect.
"You think about how people need hope and inspiration," Marcus mused. "We need to feel good about life and realize that this too shall pass. We'll move forward and we'll all rise together."
With that happy thought, let's follow Maya Angelou's example. Take refuge in the inspirational music of the Texas Tenors.
Wayne R. Scott is an award winning writer, producer and director who serves as President of LifeHouse Theater, Redlands.