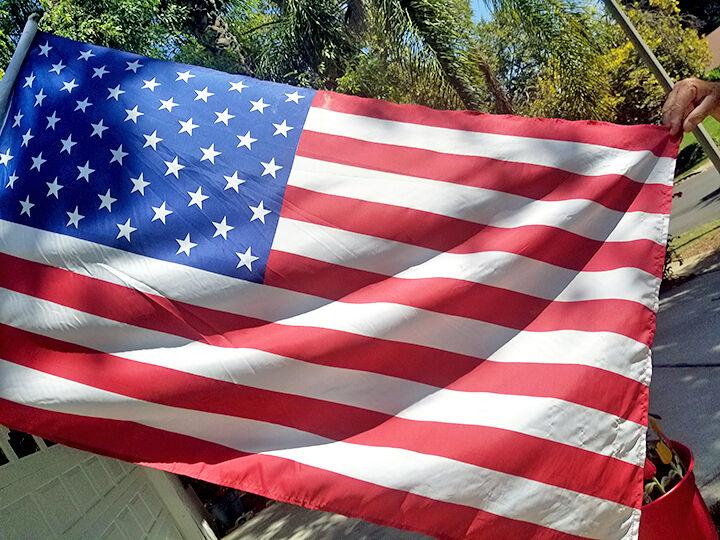 On Sept. 11, 2001, nearly 3,000 people were killed in terrorist attacks. First, two hijacked planes crashed into the twin towers of the New York City World Trade Center, a third plane flew into the Pentagon outside Washington, D.C., and a fourth plane crashed to the ground in a field in Shanksville, Pennsylvania, diverted by passengers and flight attendants.
This is perhaps the saddest column I will ever write. Remembering 9/11 is hard for me because it brings on tears of sorrow no matter how many years have passed.
On Monday evening, Sept. 10, 2001, I arrived in New York City to visit my daughter and her 3-year-old son to help them move into their Manhattan apartment just six miles uptown from what would become known as Ground Zero the next day.
Did they have bottled water in their apartment yet? No. Any food? Barely. Just one table, two chairs, two beds and a mum plant — not even a TV because movers had not yet arrived.
Both my daughter Kristen and her husband Larry are medical doctors who had been practicing medicine in Idaho. But now Kristen had temporarily left her practice to move to New York City for the purpose of establishing necessary residency which would qualify their child — who had experienced complications since birth — to receive intensive daily in-home support, including physical, occupational and speech therapy.
Fortunately, Larry's sister and her family lived just one block from Kristen's new apartment. So Larry, who was due to fly back to his medical practice in Idaho on a United flight Tuesday morning, kissed Kristen and their son goodbye, then slept at his sister's Monday night so as to free up a bed for me with Kristen in her new apartment.
This is what followed Tuesday morning:
Shortly before 9 a.m. the telephone rang and I was startled to hear Kristen beginning to cry when a friend called to say that an American Airlines flight had just crashed into Twin Towers.
Eighteen minutes later, another call followed. A second plane — a United Airlines flight — had crashed into Twin Towers. Without a TV, we didn't know if that was Larry's flight. By then, Kristen and I were in shock — I don't know who sobbed loudest. Where was Larry? Did he make his plane? Miss his plane? Is he safe? It fills my heart with sorrow to recall our worst fear.
The nightmare worsened. A plane crashed into the Pentagon in Washington, D.C., then another plane crashed in a field. What next? We couldn't sort it out fast enough. Memories of bitter burning smells blurred our race over to Larry's sister's to see a televised newscast.
All traffic, buses, trains, subways and planes had been stopped. So much silence except for occasional sirens. Scared people were walking 10 or 20-plus miles, many carrying their shoes while crossing bridges and wearily walking barefooted as they headed toward home.
As the days went on, flowers and framed pictures began to appear in doorways as tributes for those who died. "Anthony, 7th floor," read one poster. "Irene, we will miss you!" read another. Small pictures of friends and relatives were taped to doorways.
The deadliest day in history for U.S. firefighters.
My eyes tear up when I remember the narrow street where an inner city firehouse stood. In memory of firefighters lost trying to rescue people trapped in Twin Towers, flower petals and candles were strewn across streets and sidewalks. People were crying softly, gently holding one another, hugging — so much sadness, sorrow, and widespread devastation.
We were relieved when we finally learned that Larry was fine. No planes were flying so he couldn't return to Idaho for more than a week. And I couldn't return to California until at least 20 airline passengers showed up 10 days later (I was the 20th passenger.) Home at last!
God bless America!
Jan Fowler is an award-winning columnist and author. She may be reached at janfowlerusa@yahoo.com