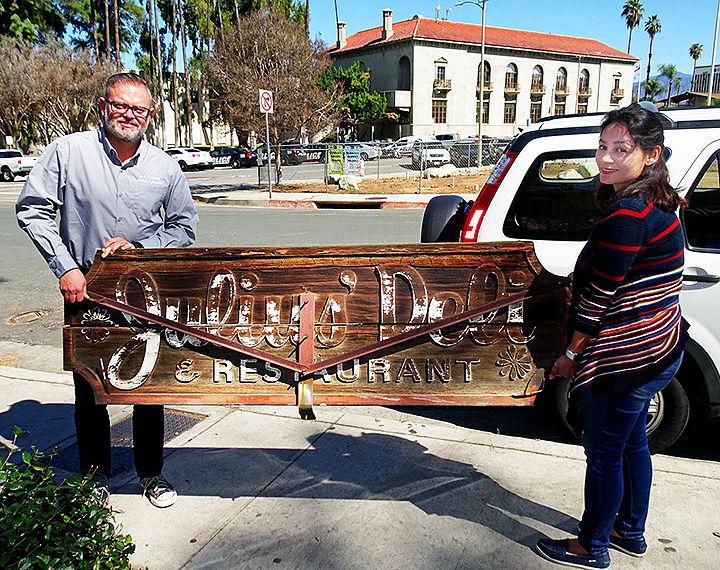 Dorothea Dinmore, owner of Mozart's gift shop at 244 E. Citrus Ave. since 1980, is the latest donor of a sign for the museum's collection. This one is special because on the reverse is the sign for Julius' Deli, which operated the German delicatessen for years before the merging of the two businesses.
The Museum of Redlands sign collection is growing, including wooden, steel and neon signs. Jean Hyman's Peerless Cleaners working neon sign was probably the first to be donated about 20 years ago. This was followed by the big La Posada sign off the top of the hotel razed to make way for the Redlands Mall. Also in the collection are the Swim and Tennis Club, City Florist, Soroptimist's metal service club Redlands welcome sign and Serr's stationery store.
Dinmore is thrilled to have her sign now a part of the museum. The 8-foot-by-2-foot wooden sign had blown down last year in a windstorm, and she realized the time was right to replace it on the store.
Mozart's is celebrating its 40th year in business this year. Now a celebrated shopping destination in Southern California, the gift store began "with nutcrackers and angels behind the deli and restaurant," Dinmore explains.
Everything had started when Dorothea had been teaching German for five years at a high school in La Mirada. She and husband Ian, studying for his Ph.D. in German at UCLA, had two daughters who were inspired to go out into the world and do good things.
Seeing what they were doing, "I realized my job didn't fulfill me," Dinmore said as she began looking for other opportunities. Interested in things German, the couple traveled to Redlands on the recommendation of a friend to visit the German-food Julius' Deli. Even though she had been reared in Claremont, she immediately fell in love with Redlands' old homes and mountain views.
After moving here in 1979 and crowding the deli with Christmas items, they ended up buying the deli, learning from waitress June Sanchez how to run the restaurant, then expanding "sideways" into what had been the Hairem beauty shop and Ceramic Zone store, which had outgrown the space and were looking to expand elsewhere.
The shop actually expanded into four business locations, and the Dinmores purchased the building from Lynda Schauf. For information on donating Redlands-area-related historical items, contact the A.K. Smiley Public Library Heritage Room at (909) 798-7632. The museum is awaiting renovation at 700 Brookside Ave. Information: theMOR.org.