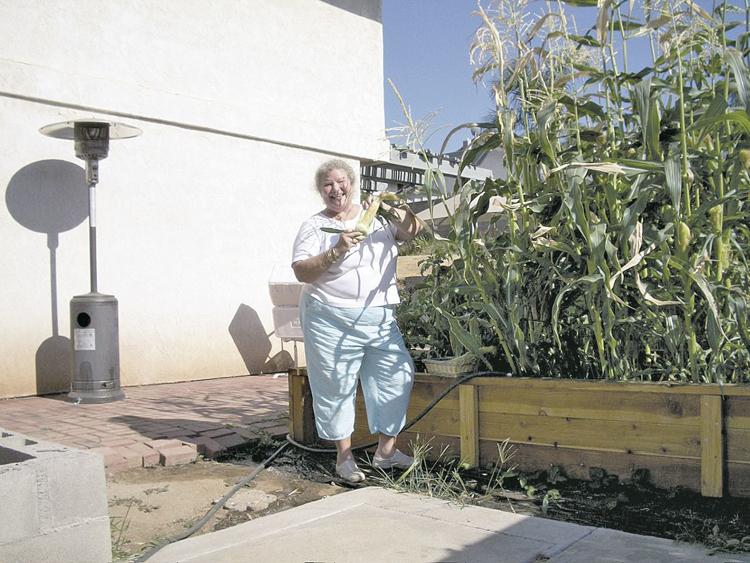 More and more often we are discovering that caring for plants reaps surprising health benefits — as long as we don't ¬mind getting our hands dirty. And according to Cathryn Oltman, master gardener, the best time for us to plant fruits and vegetables is in the fall.
"Two days ago, I planted five different varieties of lettuce. Lettuce likes it cool and damp and I'll be picking them before Thanksgiving," she said proudly with a twinkle in her eye. "Yesterday, I planted two kinds of peas and three kinds of beets. Then right after Christmas, I'll plant vegetables from the seeds of tomatoes, peppers, and eggplants.
"Gardening helps you plan your future because it's such an ongoing cycle. In a sense, it helps you plan for tomorrow because there's no end. And the older we get, the more important it is to have something to look forward to. Outdoor gardening adds so much purpose and pleasure to my life."
Oltman signed up for the Master Gardener Volunteer Program several years ago while preparing for retirement from her long rewarding career as a registered nurse.
"I was open to discovering something new and different to do. And then it dawned on me that I had always enjoyed growing things and that Redlands was a place where I could garden year-round.
"Gardening is not only a peaceful renewing activity but it's very important in our current world. And ­­I strongly believe it's our responsibility to be good stewards of the earth."
So whether your garden happens to be a small patio planter or a large vegetable garden, there are so many unexpected health benefits to gardening, some of which include the following:
Robin Jacobs reported in eartheasy on Sept. 19, 2014, that gardening provides stress-relief, raises self-esteem, improves heart health, and lowers the risk of stroke. One Stockholm study showed that regular gardening can reduce heart attack and stroke by as much as 30 percent for people over 60.
Gardening activities also help rebuild hand strength and dexterity, improve brain health, and lower the risk of Alzheimers. In fact, researchers who followed nearly 3000 older adults for 16 years found that daily gardening reduced the incidence of Alzheimers Disease by 36 percent.
It is also believed that gardening is good for the immune system because it improves mental health by lowering depression. It also provides a "lift" in the gardener's spirits.
One survey conducted at four San Francisco Bay Area hospitals reported that 79 percent of patients claimed that they felt more relaxed, 19 percent claimed they felt more positive, and 25 percent said they felt stronger and refreshed after spending time outside in a garden. The Journal of Health Psychology also reported that gardening can lower cortisol, known as the "stress hormone," in your brain.
Oltman enthusiastically shared, "There are so many benefits to enjoy while working in a garden. It's just peaceful when you are planting. You may hear and see a hummingbird, notice the colors of a particular plant, or even the cat who always wants to "help."
When asked what the Master Gardener training involved, Oltman described it as an intense 18-week program of 3-hour sessions covering botany, composting, soils, water management, entomology, plant pathology, tree culture, and sustainable landscape practices. She sparkled when she added, "And I just loved it! I also learned not to call it dirt, it's soil."
For people who wish to learn more about Master Gardener training and certification, call (909) 387-2182 or visit cesanbernardino.ucanr.edu. Training is open to people with or without gardening experience who want to develop horticultural skills. Those seeking advice about their gardens may email questions to mgsanbern@ucanr.edu.
Participants must have a strong desire to serve the community through volunteer efforts, which may involve speaking at public events, writing articles, or becoming an advisor to community programs, schools, and gardens. Many fun activities could involve participation in festivals and seminars ranging from the Lavender Festival in Banning to the Sustainability Faire at the Univ. of Redlands.
No matter what, I think we would all agree that fresh air, gardening, and sunshine can do wonders for our mind and body.
Jan Fowler is an award-winning columnist and author of "Hot Chocolate for Senior Romance ~ How Sweet It Is!" She may be contacted at janfowlerusa@yahoo.com