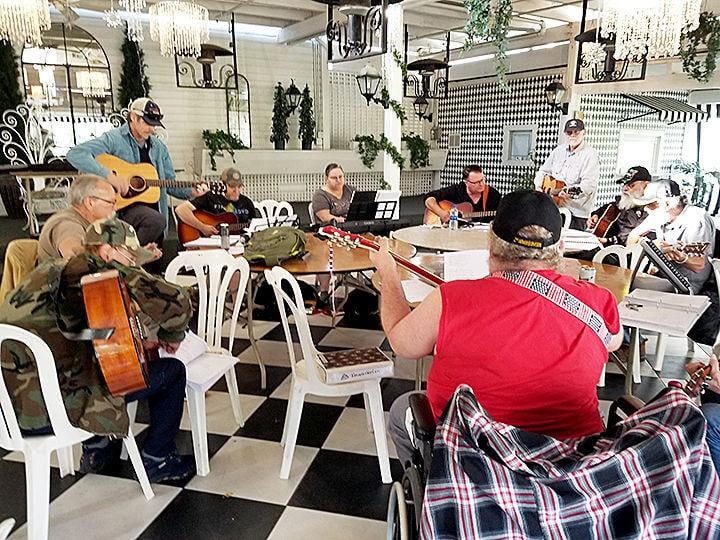 It was a warm and sunny afternoon at the picturesque Edwards Mansion where 10 male guitarists and one female keyboard-artist were busy setting up music stands, organizing sheet music and tuning guitars, all getting ready to form a circle to play and sing together under the lovely covered patio.
At first glance, no one would have guessed why these folks were there or what brought them together in the first place, not to mention keeps them coming back.
No one would have suspected that all members of the group share one thing in common — something personal and invisible.
First, the name of the music group is "Strings," a veteran's peer-support group that emerged as an outgrowth of Guitars4Vets, a nationwide nonprofit that provides acoustic guitars and lessons to veterans in 35 states at no charge.
And what these men and women who have become "Strings" musicians have in common is that they are all veterans who returned home from the service with lingering emotional scars known as PTSDs.
Years ago, we used to refer to post traumatic stress disorder (PTSD) as shell shock. War often carries with it missions that expose our warriors to horrible life-threatening atrocities that can linger for years after the vet returns home.
PTSD is a mental health condition that may include uncontrollable anxiety over recurring flashbacks and nightmares stemming from the horrors of war.
And men and women veterans returning from combat should not have to face the challenges of invisible wounds of war alone. As many as 22 commit suicide every day.
Here is where music comes into play: Music is recognized as one of the healing therapies that helps promote tangible health benefits. Many participants are finding hope behind the keys and strings of acoustic instruments.
So what are the many benefits of the "Strings" groups?
As Peer Support Group Leader Ted Peterson explained, "Guitars4vets offers a 10-week program for lessons free of charge to veterans. Then I teach guitar to the more advanced students by inviting them to join our 'Strings' group.
"All veteran men and women are welcome, whether they have an instrument or not. 'Strings' includes fiddles, key boards, guitars and ukuleles.
"The popularity of 'Strings' and its healing effect upon our vets is so great that we expanded our meetings from twice monthly to seven times a month!" Ted said pridefully. "Some of our players are becoming friends with each other and enjoying the socialization."
Many of the group members said they feel genuinely connected to others and feel healing taking place as a result of singing and playing musical instruments together.
As one guitarist put it, "While I'm here, I forget about myself. It relieves stress from PTSDs. When you come here and play, it's a two-hour vacation from 'ankle-biter' problems."
Another said, "I love the camaraderie and feel accepted."
"No one judges each other," one vet nodded.
"It's mainly therapy for me," said another vet.
Then the gal playing keyboard quickly added, "I'd like to thank Ted and Pat for always being here for us and making sure that everything goes smoothly."
"While I'm here, I forget about me," said one senior.
Hearing these men and women in the "Strings" group sing so many praises of their music sessions touched me greatly. It filled my heart with joy to just sit back and sway, left then right, in unison to a songfest of America's smiling heroes.
Jan Fowler is an award-winning columnist and author who received the Golden Halo Award for Outstanding Literary Achievement from the Southern California Motion Picture Council.