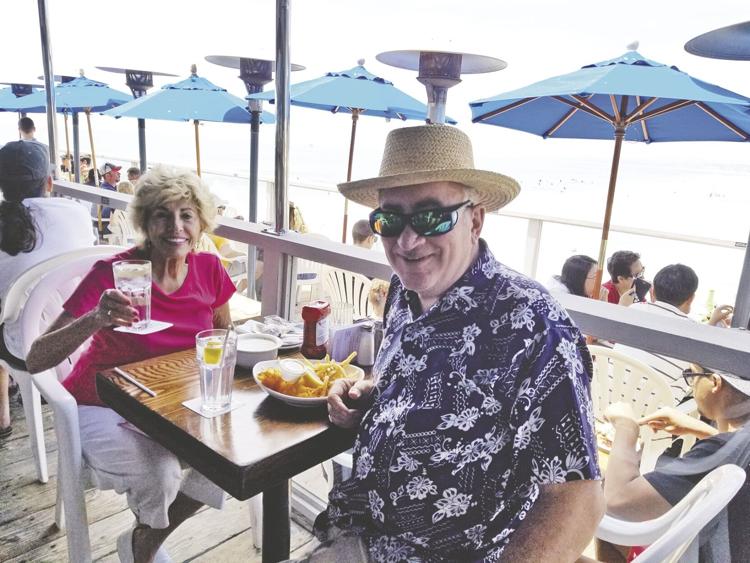 David and I have always been big fans of the Metrolink, and cannot wait until the train will eventually come to Redlands and pick us up. Two of our favorite destinations are LA Union Station (on the San Bernardino line) and San Clemente Pier (on the Orange County line). Both can be boarded in nearby San Bernardino at 174 South E St. where there's plenty of parking.
With summer weather still underway last weekend we boldly decided to ride the train down to the beach. Of course we were dressed like astronauts, wearing masks, large face shields over the masks, plus plastic gloves and hats. We felt safe.
Why go to the beach?
Because we just got tired of staying home and were looking for someplace new to go. I've heard it said that there are many health benefits of visiting the beach. People insist that they feel better after they've basked in sunshine. And we all know that sunlight helps increase levels of serotonin, which make us feel good and fights off depression. I love the soothing sound of the ocean waves.
David and I were just seeking a relaxing day, the kind that restores the spirit, quiets the mind and soothes the soul. We both felt we needed a change of air. So to help make that possible, we decided to eliminate driving and finding a place to park from the equation and just take the train.
Our favorite seats on the train are at the upper level tables where we can look out and watch the world sail by, all while sipping our morning coffee and spreading out the daily newspapers. Beach umbrella, towels, picnic snacks and folding chairs were all stashed beneath our table.
The train was less than half full, which helped make social distancing easy to maintain, unlike years before when everyone crowded together, pulling ice chests and carrying surf and boogie boards.
We had taken the "weekend departure" at 9 am and arrived at the San Clemente Pier at 11:13 a.m., just a little over two hours of relaxed train travel. When we got off the train and felt the sand beneath our feet, we knew we had made the right decision to get away from it all.
The day was gorgeous, sunny, breezy and bright. After enjoying a delicious lunch on the pier boardwalk we sank our beach umbrella into the sand near the water's edge and layered ourselves with suntan lotion. Most people seemed polite and respectful of moderate social distancing.
Later we walked the water's edge and were enchanted by the calming fresh air and ocean breezes.
Medical doctors say that a day at the beach helps restore and recharge our body and soul. They are right! I personally felt very relaxed after being in the sun on the sand. And I agree with those who say that just feeling the sand beneath your feet at the water's edge is healthy for you.
We returned home on a 3:11 pm train that arrived back in San Bernardino at 5:23 p.m. feeling relaxed and rejuvenated, and hope to return to San Clemente Pier with its beautiful Fisherman's Restaurant and quaint shops again soon.
Metrolink roundtrip weekend passes are available for only $10 in the vending machines at the stations. Please note that the train only stops at the San Clemente Pier on weekends, not weekdays. For further information, call (800) 371-5465.
Jan Fowler is an award-winning columnist and author who may be reached at janfowlerusa@yahoo.com. Jan is president of the National League of American Pen Women.