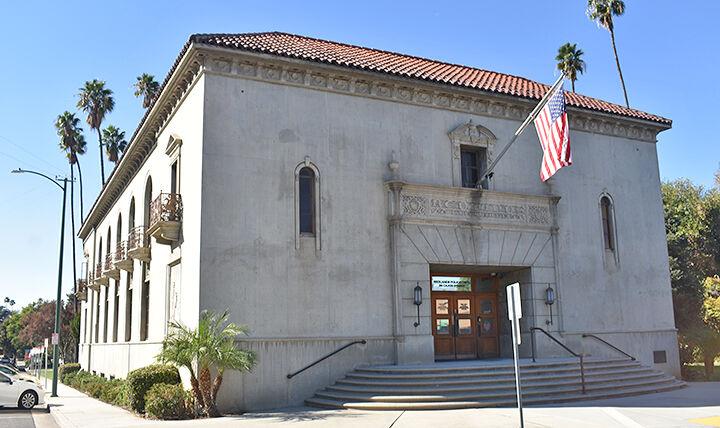 Every 4th of July my neighbor Selma Peterson hosts an Independence Day celebration, always capped off with apple pie a la mode and a toast to her late mother Svea Christiansen Peterson.
Why this tradition? Selma explains that her mother arrived from Sweden to Ellis Island on July 4, 1924, aboard the ship named the United States. She was so eager to embrace American ways that she asked what she could eat that was the most typical American food, and the answer was "apple pie a la mode."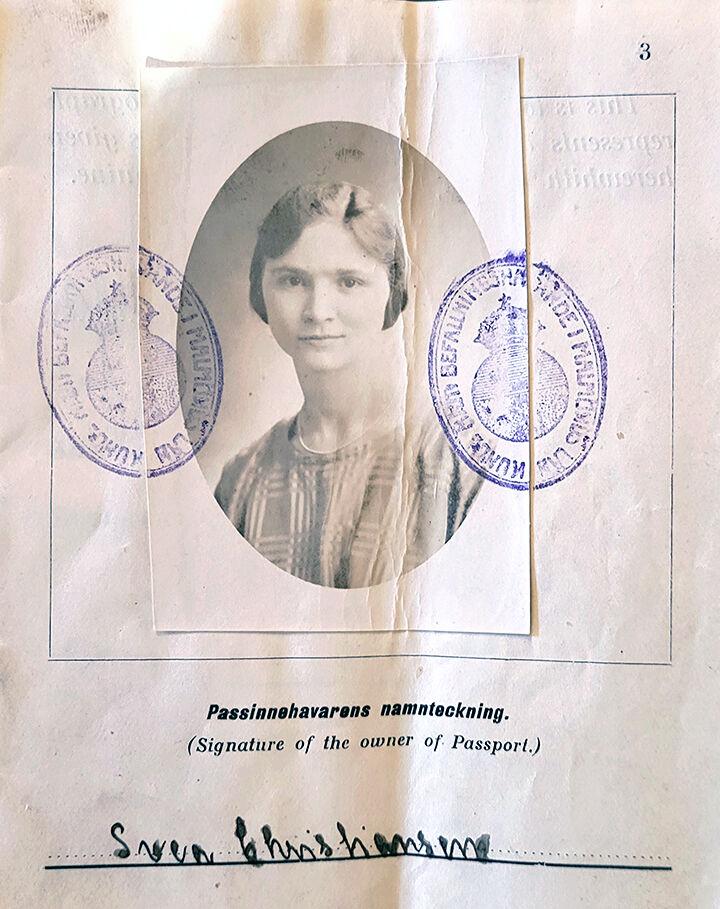 Svea Elizabeth Christiansen, born July 12, 1903, was the youngest of eight children born to Christian Peter and Elizabeth Christiansen in Landskrona in Southern Sweden. All but two of her older siblings had immigrated to America, each sending passage for the next in line to immigrate. When Svea was 18, it was her turn, and after arrival she joined her sister Betty in Minneapolis. California soon called to them, and Svea eventually landed a position as a servant to a wealthy family in Holmby Hills in west Los Angeles.
"Swedish cooks were in great demand in those days," said Peterson, "and my mother was an excellent cook."
That was a talent Svea Peterson passed down to her daughter as anyone knows who has been on the receiving end of Selma's Swedish Christmas coffee bread.
Dagmar Christianson had arrived in New York when she was 16. She was so enthusiastic about becoming an American, she convinced two other sisters and a brother to immigrate as well.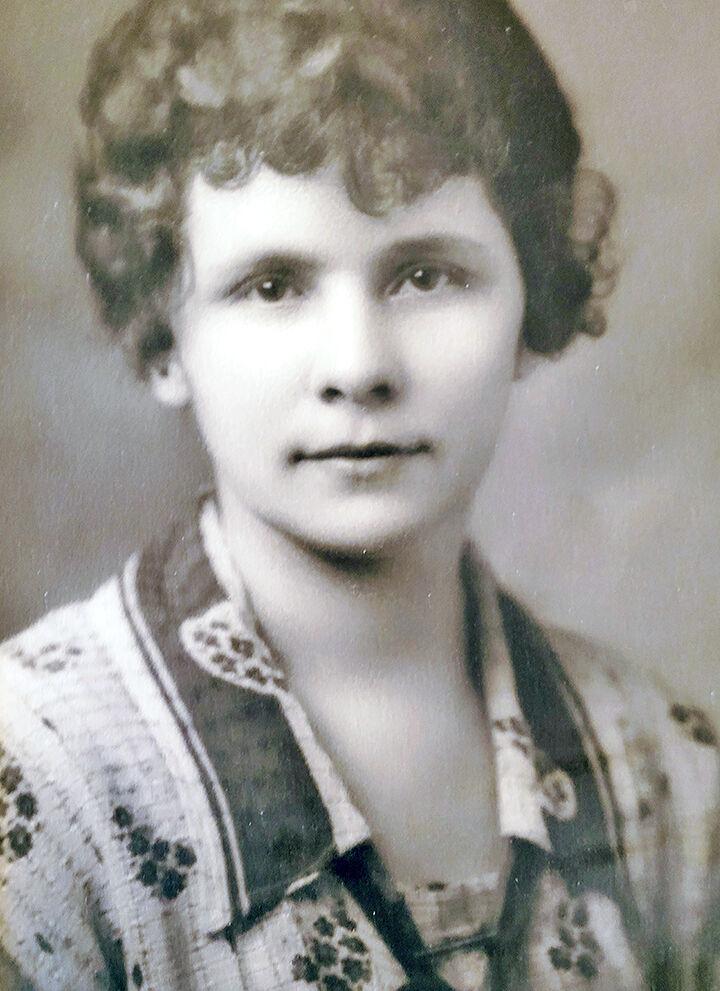 'We choose where we live'
"None of us may choose where we are born, but we may choose where we live," she said. "I love Sweden, of course, but America is my country. I have chosen her."
She moved first to San Francisco and then to Southern California, where she met Gus A. Peterson, the son of Swedish immigrants, who had been living in East Highland and working on a ranch for James and Frank Cram.
Born on July 18, 1889, in Hermitage, Missouri, Gus was an older son of 7 immigrants Erick and Anna Solberg Peterson who came to America from Vingaker, Sweden, near Stockholm. After farming and working in mines, Peterson worked his way to California, arriving in East Highland at the age of 20.
In 1914, he married Selma Christianson and moved to Redlands where he helped establish the Lightfoot & Peterson taxi company, of which he became sole owner in 1917.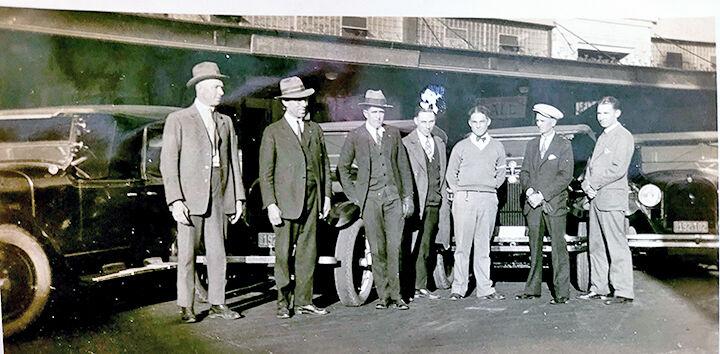 Peterson Auto Service
The Peterson Auto Service at 103 Orange St. featured a fleet of Dodge cars, which the proprietor considered "the most comfortable" for his clients and "the most reliable" for sightseeing adventures in the mountains, particularly the Rim of the World that included Big Bear Lake and the Lake Arrowhead area. His wife Selma was the voice clients heard as she made reservations and dispatched drivers. She kept the books, worked in the office and helped the business grow.
During those early years and through the 1920s, Gus Peterson's Auto Service thrived. Many people from the East and Midwest came for the winter months lured by the weather, tourism and the burgeoning citrus industry.
Many came by train and required chauffeurs and transportation. Peterson's cars and drivers could be hired to meet them at the train station and take them anywhere they wanted to go during their stay. The Redlands Daily Facts reported that in one day alone, his auto service had taken 500 people up to Smiley Heights. He made a specialty of the tourist business, operating as many as 200 cars in drives throughout the Citrus Belt in connection with the firm of Staider & Dundas in Riverside.
Two of Peterson's brothers, August and Emil, moved to Redlands and for a time were drivers in the taxi business. August later was chief of police and Emil operated a service station. Gus Peterson rose to prominence in Redlands as a civic-minded businessman. His primary business was growing oranges, and he owned an orange grove in Bryn Mawr. He later moved his parents from Missouri to an orange grove property he bought near Ford and Fifth streets.
Things were going well for the young Peterson couple until 1930 when tragedy struck. Selma and a baby son both died during childbirth. Broken-hearted, Gus felt the need to get away. For several months, he traveled — Mexico, Sweden, Belgium, Germany and Paris. He returned to Redlands in July 1930, and on Nov. 28, 1931, he married his first wife's youngest sister Svea Christianson.
During the 1930s, Peterson continued his taxi business and involvement in the orange industry. He was a director of the Gold Banner Association, a director of the Redlands Savings and Loan Association and, as a member of the City Council, commissioner of the water department. He was for many years a member of the Rotary Club and the Woodsmen of America.
When a number of Redlands citizens prevailed on him to become a candidate for the City Council, he agreed. In his candidate's statement, he wrote, "I foster no sect or special interest. I have made no promises and if elected will be free to exercise my own judgment in all matters. I promise if elected to give my best efforts toward an efficient and economical administration."
"My father was an adamant believer in equal treatment for all Redlands citizens, no matter where they lived — north side or south," said Selma.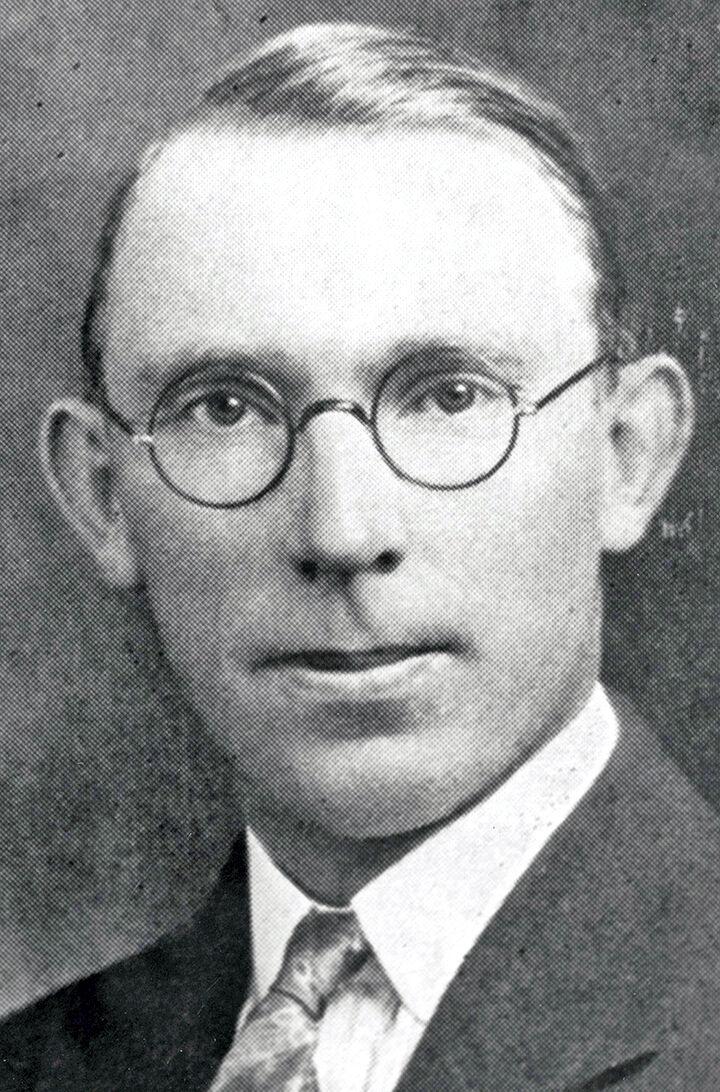 Elected to the City Council
Peterson was elected to the City Council and served as mayor of Redlands in 1938 and 1939. It was during his tenure as mayor that the city's second City Hall at Orange and Vine streets was built with help from the federal Works Progress Administration (WPA).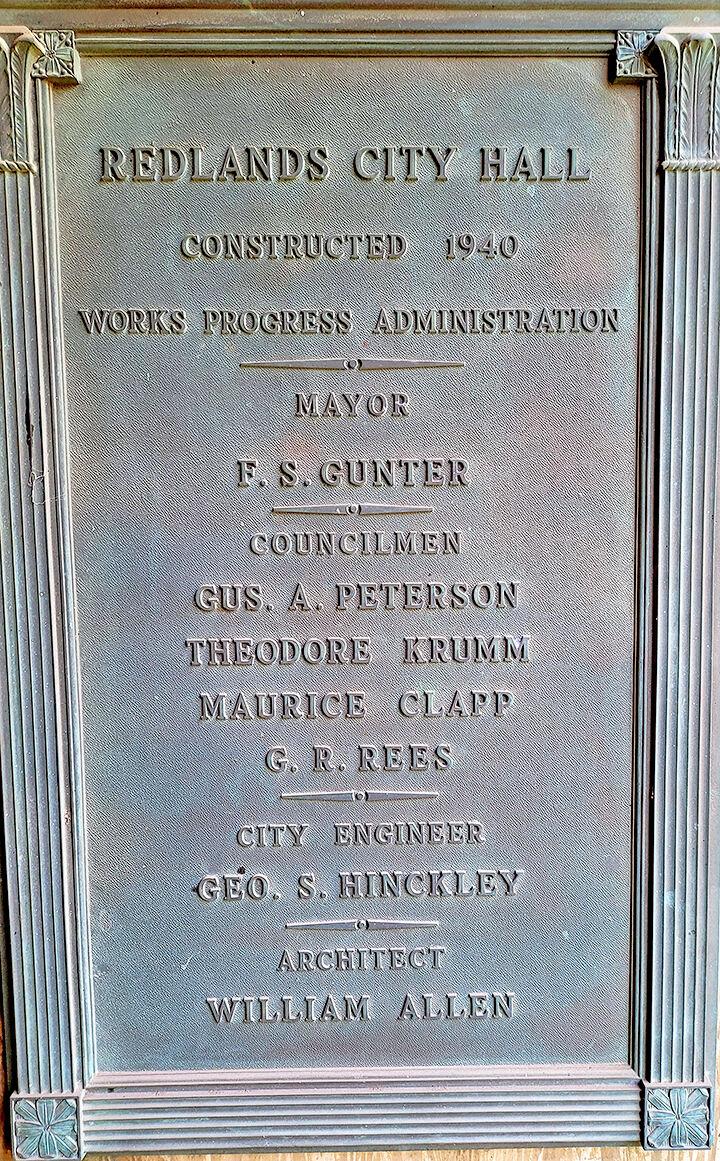 During this time things were going well in his private life. His son Henry Christian was born in 1933, and his daughter (my neighbor) Selma Elizbeth, was born in 1936. She was named after her aunt Selma and her maternal grandmother Elizabeth. In 1937 Peterson retired from the taxi business, selling it to Norman Herring and Robert Goodfellow. His primary interest remained in the orange business, and the family lived at 557 W. Cypress Ave., in a large house surrounded by an orange grove.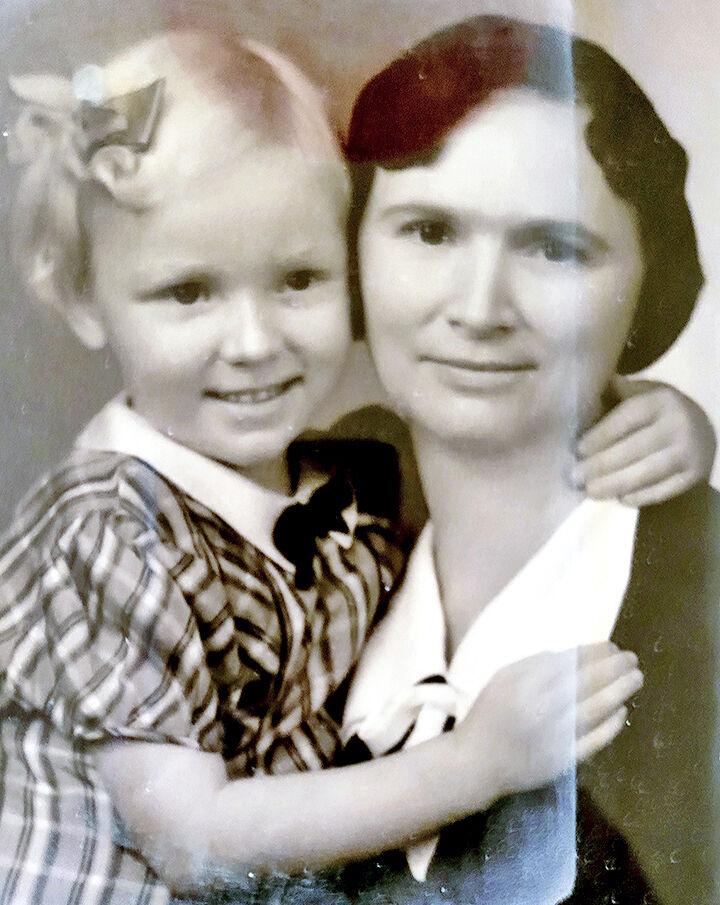 Tragedy strikes again
In 1941, tragedy struck again. Gus A. Peterson died on Nov. 9, 1941, at age 52 from polyneuritis brought on by lead poisoning. This was thought to have been caused when Peterson was using lead-based paint for a home painting project in the days before lead was known to be a health hazard.
His sudden death presented unexpected difficulties for his young immigrant wife who was left to single-handedly manage the household and raise two young children — Henry, 8, and Selma, 5.
"My mother had to learn to drive, and because the rules had changed regarding naturalization, she had to put herself through intensive classes to become a U.S. citizen. Because of thelanguage barrier and her unfamiliarity with the American education system, she really couldn't help my brother or me with homework or other education issues. She would just tell us, 'Do your best,'" said Selma.
And that is what my neighbor Selma has done. She supported and cared for her mother Svea until her mother's death in 1996 at the age of 93. The father that she barely knew left her a great legacy — the distinction of being a first-generation native of Redlands and living here all her life.
"It's amazing to realize what my father accomplished," she said. "Here was a young boy barely out of his teens with little education and few means who worked his way across the country and managed to become one of Redlands' most industrious and prominent citizens of the 1920s and '30s."
Selma has seen many changes in Redlands over the years, some good, some not so good, but through it all, she knows that her father Gus A. Peterson, son of Swedish immigrants, helped write an important chapter in the history of Redlands.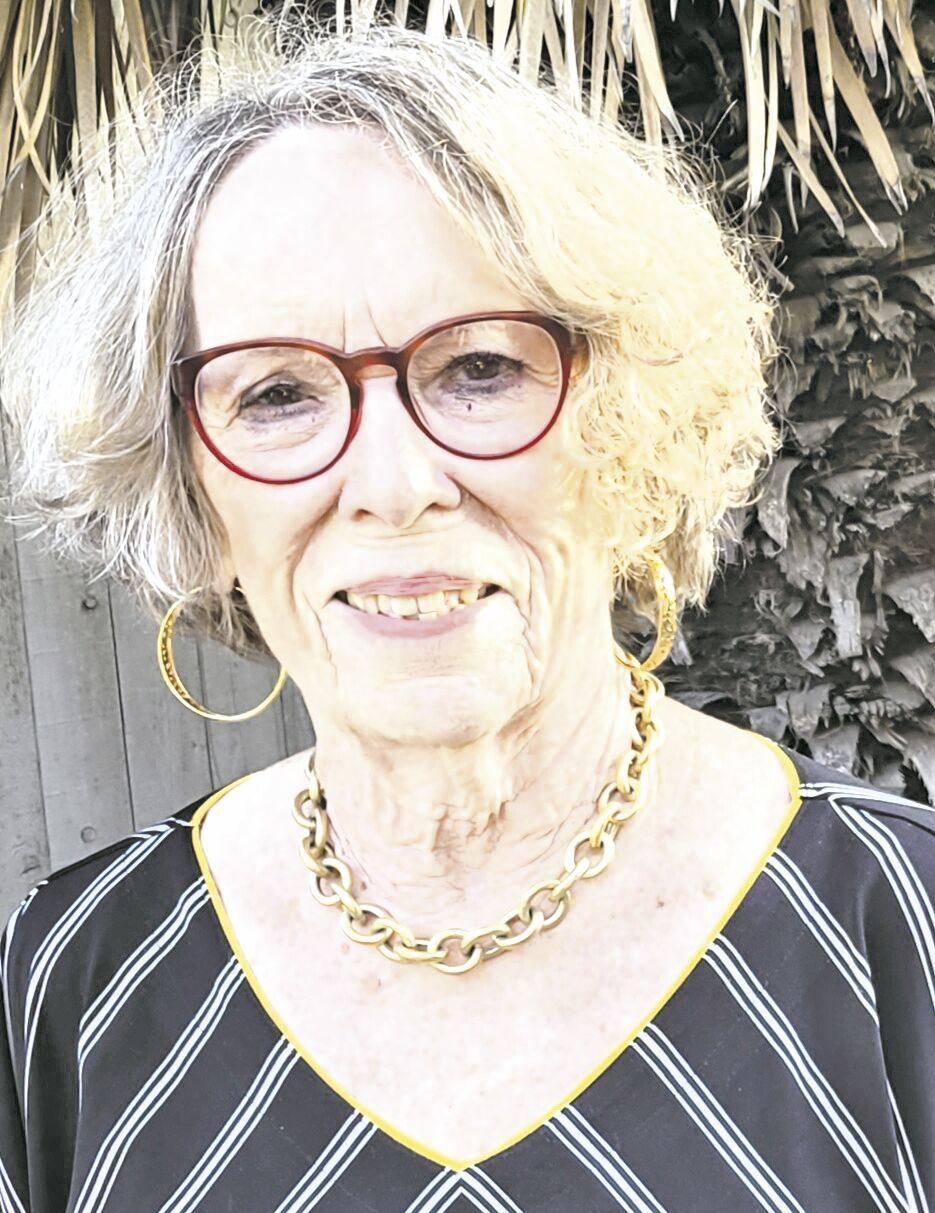 Selma Elizabeth Peterson
Selma Peterson was born Feb, 28, 1936, to Mayor Gus A. and Svea Peterson. She attended Kingsbury Elementary, Redlands Junior and Senior High Schools, graduating from RHS in 1953.
After graduating from San Bernardino Valley College with an associate degree in business administration, she worked as a legal secretary for Redlands probate tax lawyer Russell Goodwin for 12 years.
For the next 32 ½ years, she was executive secretary for the San Bernardino County Probate Department. She retired in 2000.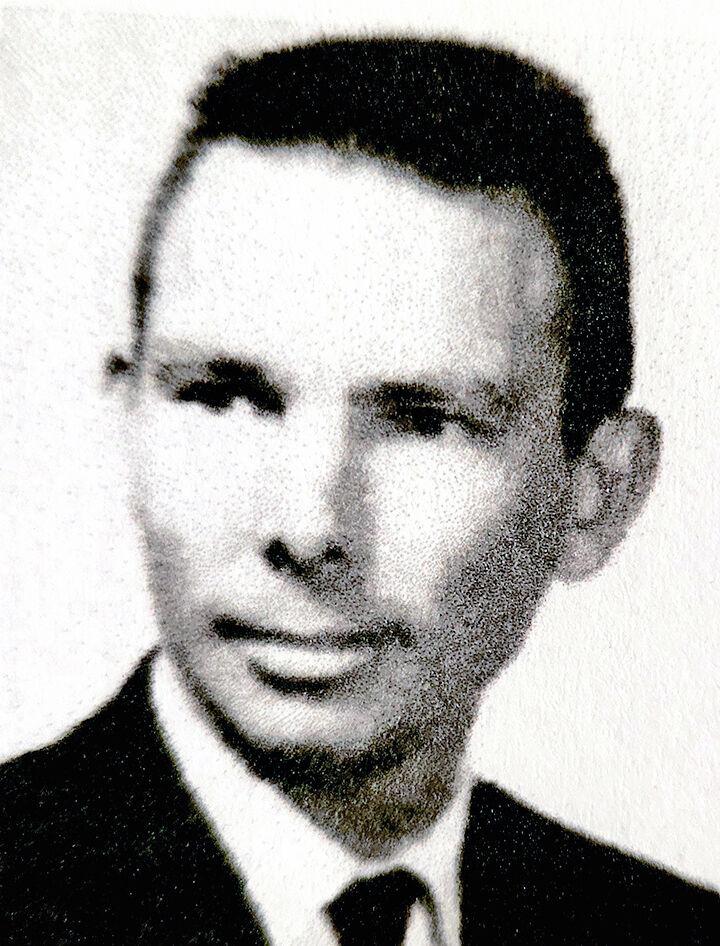 Henry 'Hank' Peterson
Born Feb. 5, 1933, Henry Peterson was the oldest child of Mayor Gus A. and Svea Peterson. After attending Kingsbury Elementary School, Redlands Junior, and Senior high schools, he enlisted in the U.S. National Guard and served in the Korean War from 1950 to 1953. He worked for General Electric for 21 years before retiring and opening his own sales and service appliance store in Redlands, which he operated from 1978 to 1991. He also taught night school for those who wanted to learn appliance repair. He died on Aug. 9, 2013, at the age of 80, and is buried at Riverside National Cemetery. He is survived by his daughter Viki R. Waggoner of Redlands and his son Douglas C. Peterson of New York.