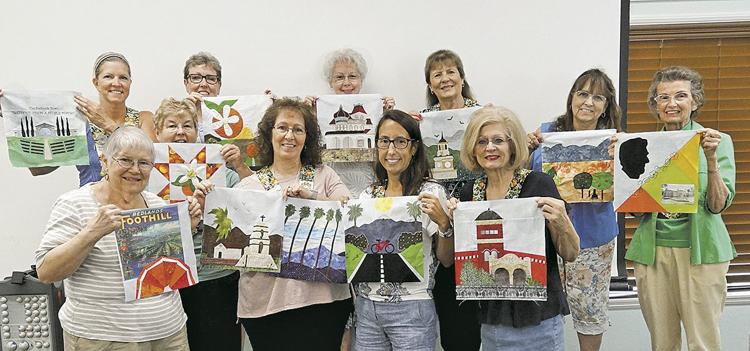 Redlanders love Redlands, and many quilters have used "Our Town" as the theme to make quilts.
A realistic low estimate would be more than 200 existing Redlands quilts. These would include many put together with silk-screened citrus labels, many family anniversary-birthday-graduation quilts, T-shirt quilts and an estimated 100 quilts made from the Marilyn Pace-Karen Campbell 1980s silk-screened block-sets of Redlands historic buildings.
However, something special took place in June as the result of the Citrus Belt Quilters (CBQ) organization's "Swap-a-Block" project using "Redlands" as the theme. The result will be 12 new Redlands quilts assembled in the coming months.
Sally Granado and daughter Vicky Gutierrez chaired the Citrus Belt Quilters swap challenge starting in April when the two women sought 12 members to come up with a Redlands-themed quilt for which each member would make 12 identical quilt blocks to share. In return, each quilter would then receive a block of the Redlands theme from each of the other women signed up for the project.
Choosing blocks
What scene in Redlands would you offer to design and make into 12 identical blocks with an eight-week deadline?
That was the question when the women first met May 3 to offer their choice of a Redlands scene. There was great leeway, but the desire was not to have any duplication of subject.
Thus, the participants and choice of theme were:
• Robin Grube, A.K. Smiley Public Library.
• Bernice Foster, Morey Mansion.
• Susan Astran, Redlands Bowl.
• Sally Granado, Orange Blossom Trail.
• Vicky Gutierrez, Redlands Bicycle Classic.
• Debra Brigle, Asistencia.
• Ramona Radsick, Redlands Foothills citrus crate label with orange slice.
• Nelda Stuck, the Lincoln Memorial Shrine.
• Ellie Lafferty, San Gorgonio Mountains and palms.
•Marilyn Sidler, orange blossom.
• Jone Lewis, Redlands "R" backdrop to the University of Redlands clock tower.
• Donna Barnes, an orange grove.
Each participant brought her stack of 12 identical blocks to the leaders at the June 28 Citrus Belt Quilters meeting. The blocks were then sorted out into packets of 12 different ones to take home.
More fun
At this point more fun is taking place as each quilter, with no time restraints, plans the overall quilt design — whether to sash each block squarely or to set the blocks on an angle, how to place the blocks in the overall quilt, what colors to choose, whether to add more stitching to make any particular block match the others better, whether to add a plain or fancy border, what kind of binding, whether to machine or hand-quilt.
Thus, each finished quilt will be different and a work of the quilter's creation. Hopefully, all 12 quilts will be exhibited at the next Citrus Belt Quilters public quilt show.
For most all the participants — neophytes and experts — creating a swap-a-block was a "stretching" experience. They all had to use the one assigned piece of "blue grunge" fabric (a good choice by the leaders as sky material), and each finished square had to measure 12.5 inches. Other than that, the quilter could use her own skills in hand turned appliqué, raw edge machine appliqué, simple piecing or paper piecing, machine embroidery, silk-screening, machine or hand embroidery or photographic computer replique.
For most participants, this was the first time to join in either a swap project or a row-by-row where each quilter adds on to a previous "growing" quilt, matching colors and design possibilities.
Jone Lewis had the experience of participating in two row-by-row exchanges, but found the process similar with working out a swap block to match others.
"I loved the blue grunge fabric that we all used for the sky," Lewis said. "This was such a fun project. I chose Redlands University clock tower because I had been at the university often for lunch with the CBQ girls. I thought it was a striking piece of architecture. I had fun layering the sky, mountains and foreground together. I felt like I was doing a painting at times."
Robin Grube has completed 10 "swaps" with her various quilting organizations. She said, "I chose the Smile Library because I spend so much time there, and its architecture is so interesting that I'm always noticing something new. It was very difficult deciding which details had to be left out. I love the camaraderie of our group."
Bernice Foster said that she had done a few swaps and row-by-row exchanges with CBQ members in the past.
"The Redlands theme swap was the most fun and the most challenging of all," she said. "This is the first time I have had to use a theme fabric, and I find it adds continuity to the finished quilt. The blocks I received back in trade are amazing and have stimulated my creativity in putting together my Redlands theme quilt.
"I have been interested in doing a Redlands theme quilt for some time. I wanted to do architecture, and it came down to the Morey Mansion or the Kimberly Crest Mansion. I took photos of both, decided on the Morey because it seemed the easier of the two, and then used my light box to draw from my photo."
Foster said she ended up taking creative license and deleted a great deal of the details.
"I think I got the gist of the structure and that it is recognizable to those of us who know Redlands buildings. I chose my fabrics carefully using steam-a-seam to place my appliqué pieces and then did some satin and decorative stitching as well as some hand embroidery around the windows."
Foster opted to drop one exchanged block and add a second one of her own design for her own quilt, noting, "I own a historical home in Redlands and decided to add that block to my quilt using the same technique as I used for the Morey."
Organizer Sally Granado chose for her block the Orange Blossom Trail, which is "literally across the street from my home in the eastern side of Redlands. The trail path means a lot to me as I use it three to five days every week to walk, jog or run. The trail along with the Zanja trail are some of the most recent additions to the city's many scenic areas. I was fortunate to assist my daughter Vicky Gutierrez with the project and look forward to other group projects."
Daughter Vicky chose a Redlands Bicycle Classic block "as an event that has taken place in Redlands for the past 35 years."
She said she has competed in the Classic and later worked at the bicycle shop that created the event. Her pieced and appliquéd block re-creates her version of the original enamel pin made for the 1985 Bike Classic.
Gutierrez has participated in and organized previous block swaps.
"I know that providing quilters a theme, a unifying fabric, and clear guidelines is key to a successful swap, allowing each quilter to know that her block will work well with all blocks and will have one consistent fabric among all the blocks in the swap."
This was professional quilter Susan Astran's first swap. "I loved it," she said. "It was fun and stressful all at the same time. I chose the Redlands Bowl because my family and friends love going there every summer and we have made wonderful memories.
"Since I have an embroidery business, it only made sense to me to digitize and embroider the Bowl and because I love appliqué. I used that as my other method. The hardest part was the benches. I tried several times and couldn't get them to look right, but finally the simplest was the best."
Ramona Radsick said that more than 25 years ago when she was new to quilting, she found a series of Redlands orange crate label blocks at the Calico Horse Quilt Shop.
"The owner, Debbie Grantz, ordered a Ramona Memories label for me, and I joined a do-your-own-quilt class," she said. "I love that wall hanging."
Radsick said that for the next 15 years she participated in internet fabric, block, and row swaps through computer sources, noting, "Some had common fabrics, some were designated as a common color and size (such as 4.5-inch purple and white pinwheels), and some were a specific block signup."
To make her CBQ blocks, Radsick learned paper piecing, photo transfer, raw edge appliqué and machine buttonhole stitch.
"I am thrilled with all the blocks I received," she said.
Marilyn Sidler incorporated bright orange-patterned fabric with the required blue grunge in the Evening Star/Sawtooth Star pattern, centered by a large appliquéd "close-up" of an orange blossom, leaves and orange.
She reminisced, "In the old days, driving from San Diego to Redlands, we'd exit the two-lane freeway at Alabama-south to drive home, usually 8 to 9 p.m. Suddenly I'd smell the orange blossoms, relax and say, 'I'm home.'"
She also remembers at Redlands High School learning to drive a stick-shift car on a dirt road in the orange groves. "The instructor placed a glass milk bottle on the floor to gauge how smooth we could shift."
Sidler appreciated being included in the swap project "as a beginner," with her close-up orange blossom, adding, "Alas, 'Where have all the flowers gone? Gone to concrete every one.'"
Debra Brigle passes the Asistencia regularly and took a photo, basing her design on that picture. She had just completed a Yoko Saito house quilt using appliqué techniques, which prepared her for her own Asistencia block.
Nelda Stuck, who has volunteered for many years to get the Museum of Redlands up and running and wants Redlands quilts for the museum collection, chose to make a silhouette of Lincoln and used husband Monte Stuck's photo of the Lincoln Memorial Shrine on her block, knowing how important this 1932 museum is to Redlands.