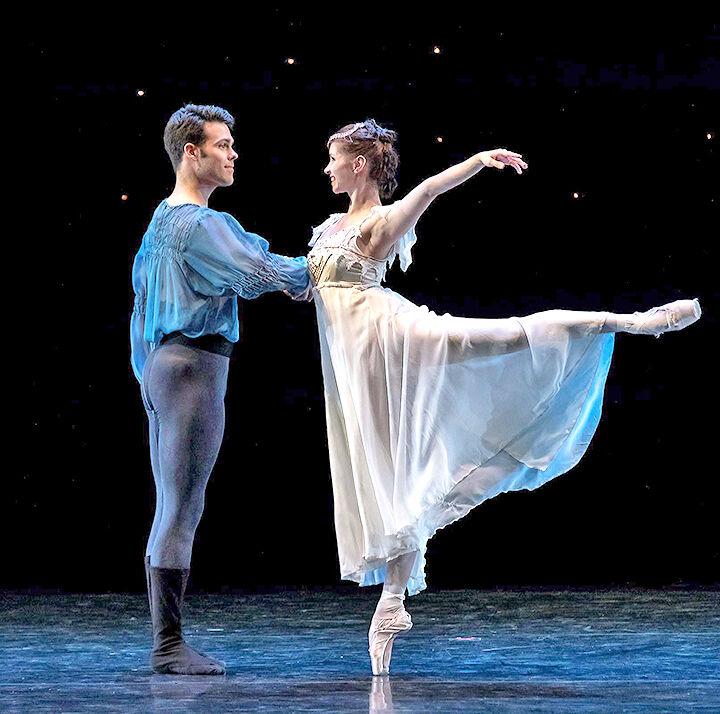 "Dancing is creating a sculpture that is visible only for a moment," wrote novelist Erol Ozan.
New York City Ballet co-founder Lincoln Kirstein said, "The domain of the ballet dancer is not earth but air."
Both observations describe what I have witnessed whenever State Street Ballet graces the Redlands Bowl stage. The company's return engagement this weekend is not to be missed.
State Street Ballet is an internationally acclaimed dance company based in Santa Barbara. Under the artistic direction of Rodney Gustafson and William Soleau, the company is a pioneer in supporting international ensemble dancers. It also seeks to serve a broad audience. Rodney Gustafson brings vision, energy and mastery of the classics to State Street Ballet, propelling the company to explore new areas of entertainment.
"Creating State Street Ballet is my gift to the arts that gave so much to me," he said. "As we search for the meaning of our lives, the transformative moments created through artistic experiences are ones that truly give substance to our own humanity."
Gustafson began his arts career early.
"I played clarinet at age 3," he recalled. "Then I got into gymnastics in junior high, and theater in high school."
Upon discovering ballet, he was immediately drawn to it.
"I practiced five days a week," he said. While Gustafson later earned an undergraduate and master's degree in business, he also enjoyed an amazingly successful dance career with American Ballet Theater. He continues his association with the company as coordinator of their national educational program.
He has performed with many of the greatest ballet talents of our time, including Mikhail Baryshnikov. He also worked with famous choreographers George Balanchine, Rudolf Nureyev and Jerome Robbins.
These experiences nurtured a dream to develop a ballet company with a unique mission — to serve the underserved. In 1994, Rodney and Allison Gustafson finally realized that dream when they co-founded State Street Ballet.
"I was driven by my love of the arts after wonderful years working with some of the greatest artists in the world as a member of American Ballet," he said. "I wanted to build a world class dance company that could reach many underserved communities throughout the United States."
Committed to enriching every community State Street Ballet visits, Gustafson values artistic collaborations and outreach opportunities.
"I always had a bigger vision," he confided. "I felt it was my lot in life to give something back for all the opportunities I was afforded as a person who grew up with no financial resources. I am forever grateful and do everything I can to share with others the enrichment the arts provide."
State Street Ballet is certainly delivering on these noble aspirations. Composed of 20 dancers representing six countries, State Street Ballet tours nationally and internationally. The company boasts a 90% rebooking rate, rave reviews and standing ovations from coast to coast.
In 2015, the company embarked on a nine-week tour of China when "Beauty and the Beast" played in 25 cities. An invitation to perform at the International Ballet Gala in Santiago, Chile, followed in 2017. Current touring productions include "Chaplin," "Ballroom" and "The Nutcracker."
During his tenure as artistic director, Gustafson has created several full-length ballets for the company, including "A Midsummer Night's Dream," "Cinderella" and "The Jungle Book." He has also developed this weekend's rendition of Shakespeare's "Romeo and Juliet."
If you've ever struggled with works written by the Bard, you'll appreciate State Street Ballet's artistry. Gustafson retells the poignant classic with stylistic vitality.
"Shakespeare is somewhat inaccessible," he admitted. "The language is so difficult. But our ballet presentation of 'Romeo and Juliet' really does tell the story. It tells about that unrequited love, that unbelievable sense of passion, agony and betrayal. The beauty of the story lives on."
Critics sometimes question the future of dance — even characterizing it as dying or dead. Gustafson's take?
"It's been around a few hundred years — I'm not so sure it's dead," he wryly commented. "We want dance to live on. ... I'm working to build a healthy and artistically progressive vision for the future."
Thanks to visionaries like Gustafson, and the legacy of his company, dance is likely to outlive all of us — and then some.
Judge for yourself this weekend as Redlands Bowl Performing Arts welcomes back State Street Ballet. You'll be treated to brilliant flashes of sculpture in the air.
Wayne R. Scott is an award-winning writer, producer and director who serves as president of LifeHouse Theater, Redlands.
Lots of people are watching
Beverly Noerr, executive director of Redlands Bowl Performing Arts, reports that virtual Summer Music Festival performances have attracted more than 80,000 single views on its Facebook and YouTube pages. Viewership is much higher, given that families and friends are watching together, she said.