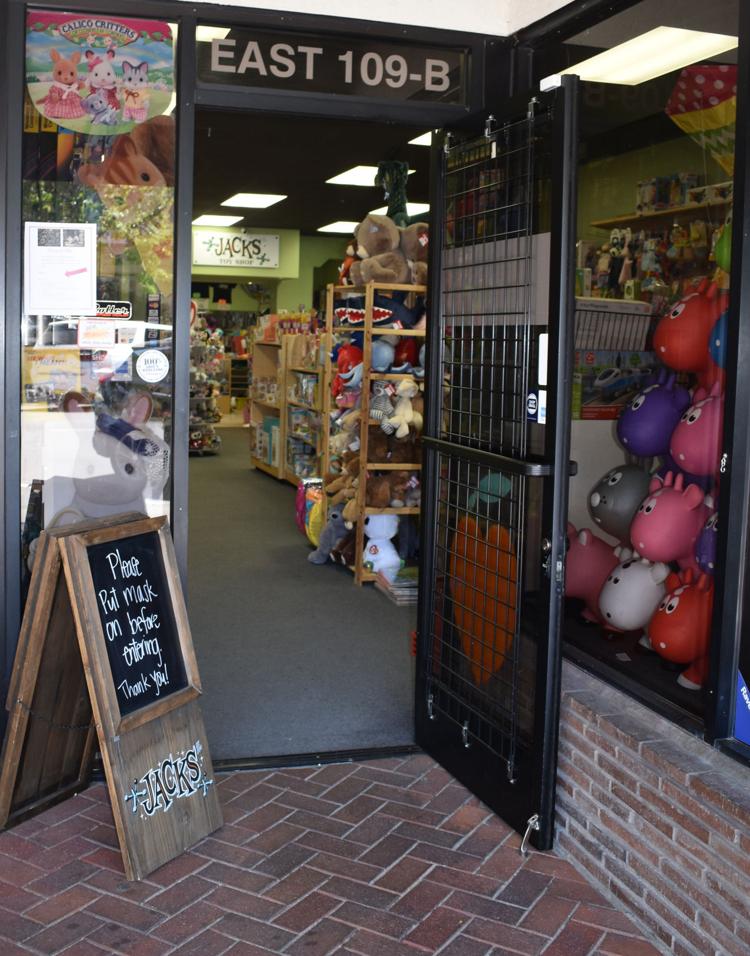 On Saturday, May 23, San Bernardino County announced that retail stores and dine-in restaurants could reopen. Libraries, entertainment venues, gyms and movie theaters are still closed.
"Our combined efforts made a difference," said Curt Hagman, Board of Supervisors chairman. "Our goal now, besides achieving additional openings, is to keep our businesses open by continuing to keep our curve flat by taking precautions and avoiding unnecessary risk."
For downtown Redlands and State Street, the sudden news thrilled small business owners.
"We were hoping it would happen soon," said Erika Eubanks, Jacks Toy Shop manager. "We had already gotten ready and cleaned up the store, so it didn't come as a shock."
Eubanks said the shop is requiring customers to wear face masks to comply with the county's COVID-Compliant Business Partnership Program.
The program enforces physical distancing, requires customers and employees to wear face  masks and frequent hand washing and disinfecting.
Businesses that implement the measures can receive up to $2,500 from the county to help offset related costs.
"We are still offering curbside delivery for people who aren't comfortable to come in the store," said Eubanks. "Our priority is making sure our customers are comfortable."
However, face masks are still not a requirement in the county, only a suggestion.
"Requiring face coverings for employees and customers is required for participation in the COVID-Compliant Business Partnership Program," said county Public Information Officer David Wert. "Otherwise, at the moment, they are just highly recommended by the county.
"For dine-in restaurants, the state strongly recommends face coverings for employees and customers," he continued.
Frugal Frigate owner Erin Rivera also wants her customers to feel safe.
"Our hours are still slightly modified, and we are offering curbside pickup as well," she said. "As a business owner, I require face masks. Since this is a children's book store, I don't want to put them at risk."
Redlands's only comic book store, A Shop Called Quest, is excited to get back to normalcy.
"It was kind of a shock when we heard we could reopen," said the store manager. "The first few weeks of the stay-at-home order the comic book world was obliterated. Web orders were strong for a while, but as things went on, we saw a huge drop in sales."
The shop has been remodeled, and its hours will be determined depending on demand. Face masks are still required and a limited number of people will be allowed to enter.
Monika De La Paz, owner of local favorite Fleur De Lis Gift & Home, said she is excited to be able to interact with her customers again.
"I am an extrovert, so I love talking with people," she said. "I have amazing customers who have stopped by to show their support. I am grateful that people are feeling good and coming in to shop."
De La Paz said she had a feeling a reopening order was on the horizon.
"There was a feeling among some of the local shop owners that this was coming," she said. "I haven't had a day off since everything started. But it has been a blessing."
Though Fleur De Lis had to close in March because it was a non-essential business, the shop soon started curbside pickup and deliveries.
"We were selling masks from Day One," said De La Paz.
Stores in Citrus Plaza and Mountain Grove are slowly starting to reopen, depending on each chain's corporate decisions.
Old Navy is allowing customers inside to shop with a limit of 80 people. Face masks are required only for its employees.
Barnes and Noble is still only offering curbside pickup but hopes to announce a reopening date soon, according to an associate.
Gov. Gavin Newsom announced on Tuesday, May 26, that barbershops and salons are allowed to reopen. The state released guidelines specific to these establishments to protect employees and customers. Some of the guidelines include physical distancing and disinfecting protocols.