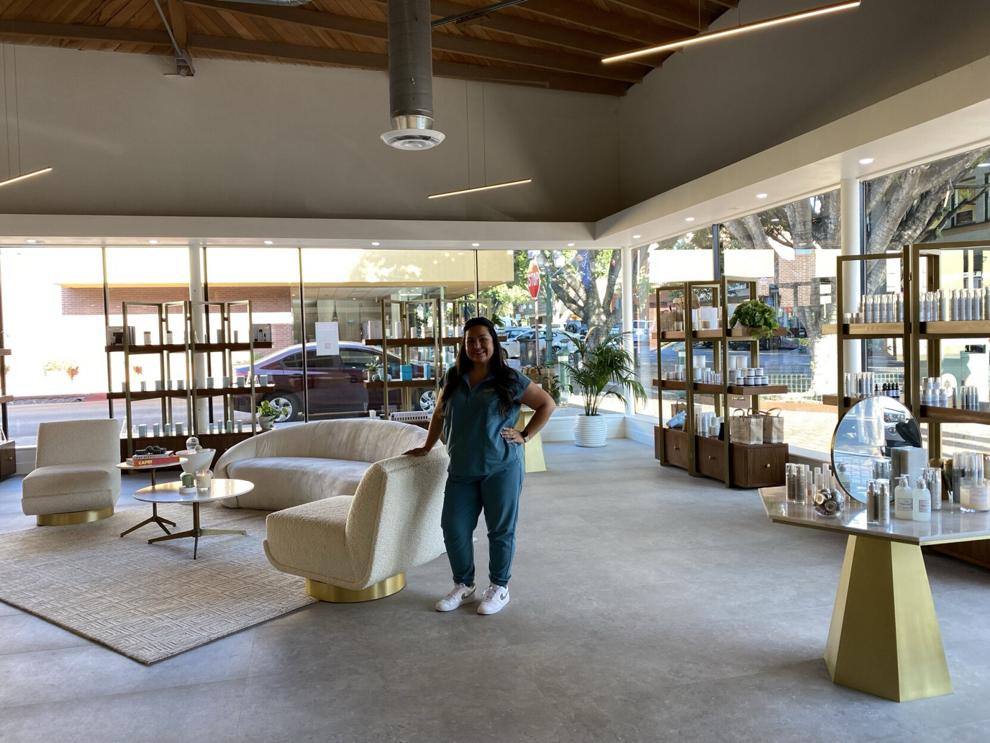 The exposed beams from the former McMahon's furniture store on the corner of State and Sixth streets gives the new The Treatment Skin Boutique an aura of embracing the old and inviting in the new and modern.
The Treatment is a medical spa specializing in aesthetician services, natural looking injectables and medical grade skin care products. It arrived in downtown Redlands a month ago.
As customers step into the store, a large open space invites clients to sit on a comfortable couch or browse the lines of skin care products. A facial bar sits at the back inviting customers to try the products. After they check in, they fill out your paperwork digitally while enjoying a beverage of your choice in an adjacent room. Every corner of the space is designed to make you relax. A hallway leads you into the different spa and medical rooms.
The Claremont-based business was created by Erin Jensen, a certified physician's assistant with a dermatology and aesthetics background. After 10 years in dermatology, she opened her first boutique in 2018 in downtown Claremont. A second location was added there the year after, then in Newport Beach and now in downtown Redlands.
"It's a five-star concierge service to the medical aspect rather than going into a doctor's office," said Tawny Doan, marketing manager of The Treatment. "We want to make it like you are a VIP client and patient.
"We like to help people feel the best versions of themselves, giving them that confidence and aging gracefully and be happy in that," added Rachael Sanchez, the boutique manager of The Treatment in Redlands.
Professional medical personnel are the driving force behind the treatments. Nurse Bri Hanson works at The Treatment and at Loma Linda University Hospital. She explained how this has been a dream job for her for years, helping women become comfortable in their own skin.
Sanchez and several other employees have worked at other facilities farther away, but now are able to work where they live. Every employee has been trained by Erin Jensen at the Claremont locations for several months before beginning in Redlands.
"We all love Redlands. We are so happy to be home. We are happy to see our community. So, it's really special to us that we are here," Sanchez said.
Several customers who used to commute to the Claremont location from the Palm Springs and Banning areas are happy to get a closer location too.
"We have established new relationships now that we are here," Sanchez explained. They are usually fully booked Thursday, Friday and Saturday. Monday is the slowest day. Foot traffic has been busy the first month as people come in daily to comment on the new boutique.
"We've heard how grand and gorgeous the space is. They are thankful to have something geared toward skin health and not just skin beauty," she said of current clients.
"We are very community-based," Doan said. "We love the walkability and taking over an old building and renovating. We worked with the building's natural high ceilings and tried to keep its rustic industrial feel throughout the space."
The Treatment
Hours: 9 a.m. to 5 p.m. Monday to Friday, 9 a.m. to 2 p.m. Saturdays.
Products: At the boutique they sell The Treatment's own skincare line as well as SkinCeutical products, a medical grade skin care line from New York. Claremont and Redlands boutiques are handpicked flagship stores for SkinCeuticals. Lifestyle products are handmade by small businesses owned by women and every purchase gives back to the maker.
Treatments: A variety of facials, injectables and medical spa treatments.
Price range: $25 and up for products, exclusively sold at their locations. Treatment prices are mid- to high level. A one hour The Treatment Signature Facial is $125 and a Vitamin B-12 injection is $25.
Website: getthetreatment.com
Social media: @thetreatment or @thetreatmentredlands