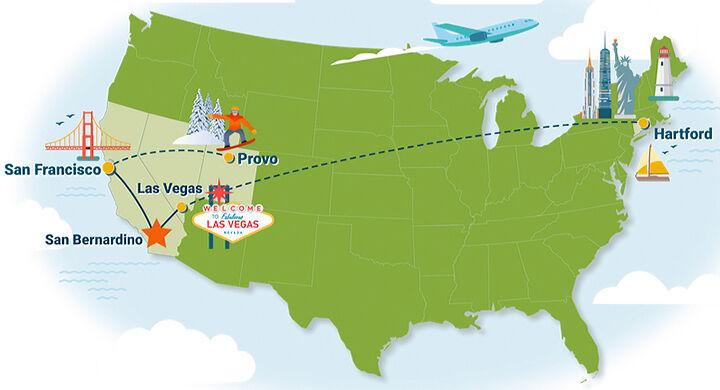 SBD International Airport (SBD) will celebrate nearly 20,000 passengers to fly on Breeze Airways this year since its inaugural flight. Breeze Airways became SBD's first scheduled passenger airline when it began nonstop, daily service to San Francisco International Airport in August.
"After years of efforts by the airport, our region has embraced the convenience of flying locally with nearly 20,000 passengers traveling through SBD since Breeze launched service this summer," said Mike Burrows, chief executive officer of SBD and the Inland Valley Development Agency. "It's a major achievement and just the beginning of passenger service at SBD. SBD had more than 70% of all seats filled in November and all indications point to December having even higher passenger counts."
Mark Gibbs, director of aviation, called the new service to San Francisco a great success for Inland Empire residents.
"After just four months, with new nonstop service to Las Vegas starting in February, the region will have even more travel options," Gibbs said.
"The ease and convenience of flying from SBD with low airfares and just $5-daily parking, it's unrivaled in Southern California."
Breeze Airways offers nonstop service to San Francisco International Airport with same-plane, BreezeThru flights to Provo, Utah, on 108-seat Embraer E-190 aircraft.
New flights to Las Vegas begin next month
Twice-weekly nonstop service to Las Vegas Harry Reid International Airport: Begin on Thursday, Feb. 16, on Breeze's new 137-seat Airbus A-220 with BreezeThru flight service to Hartford's Bradley International Airport in Connecticut.
Tickets: Can be booked directly through Breeze Airways on their app or at FlyBreeze.com.