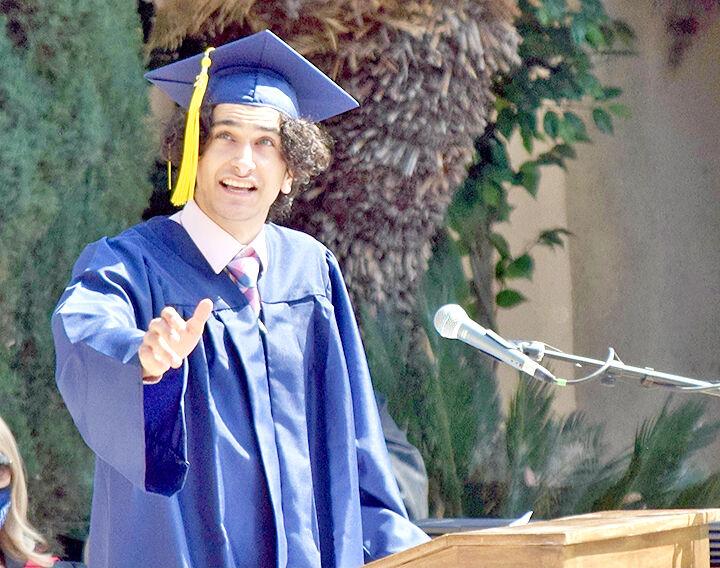 Students graduated from Redlands High School on Tuesday, June 8, in the Redlands Bowl.
Among the class of 2021, 246 students earned Golden State Merit Seal diplomas, 111 students had a 4.0 or higher for their entire four years and 91 students received the California Seal of Biliteracy.
"Now is the time to pursue happiness," said student speaker Tayseer Hilo. "In this very moment, we must inch toward it and fight for the greatness that only the cosmos can bound. We need to realize the happiness we seek is not found simply passing our arbitrary deadlines but is found as obvious and scattered as the stars in the night sky. It is found in the friends that support us. It is found in the pride we carry for ourselves and our accomplishments, and it is found instead of being anxious and scared for what lies ahead, being excited and hopeful for our new horizons.
"Since the dawn of your time, you have fought for a spot in this world," continued Hilo. "Since the dawn of your life, you have struggled through hardships that others could not understand. I am not here to talk about COVID-19 because your collective struggles throughout your life cannot be characterized by the pandemic alone."
Student speaker William Porayouw said change would follow the class of 2021 wherever they go.
"Sometimes, things are going to stay the same," said Porayouw. "We will still hang out at Starbucks, get boba, maybe hang out at football games, but overwhelmingly things are going to be different. It's OK to be sad or a little scared. I know I am. I am still just a 17-year-old kid, and so are most of you. But I challenge you, class of 2021, not only to embrace the change that surrounds you but embrace becoming the changemakers you have already shown yourselves to be. Class of 2021, you served your community, starting new clubs and building team spirit. Even when the world went quiet, you changed the way we served others. And when things changed on you, you kept going together.
"You changed the way we saw ourselves, teaching us to be more than who we were," continued Porayouw. "You taught us to celebrate it. Class of 2021, you inspired us to speak up, even when we thought we were too young to have a voice.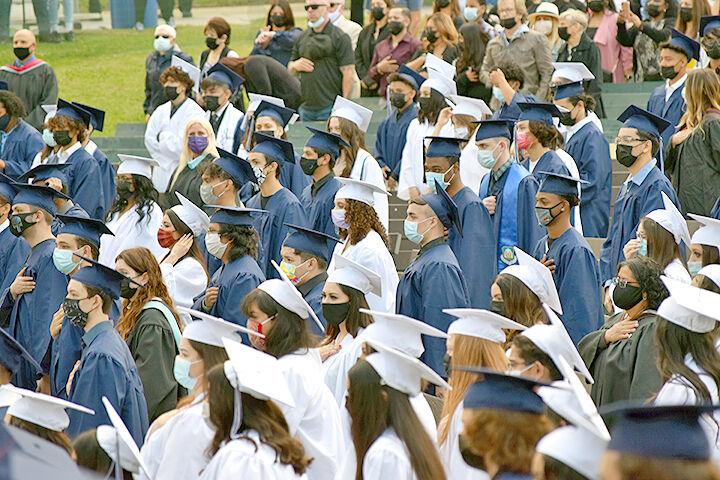 "I believe you can change the world because you already have. You've changed me, so thank you for making the world better than you found it. And good luck with all the work left to do, the inspiration left to give and the change left to make."
Science teacher Todd Wagner gave the commencement address urging the class of 2021 to move forward together.
"One of the many lessons we should take away from what we have endured is that life is an experience and anything but mast or mastless, right or wrong or black or white," said Wagner. "To be honest, your generation is facing too many challenges to be divided. So I urge you, stop the insanity, stop the wave of tribalism spreading across this world.
"If we as a species plan on surviving the multitude of existential crises that we face, we must band together and reject the me versus you attitude that plaques our governments, states, towns, schools and lives."