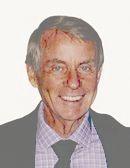 Clint E. Carter, a 1959 Redlands High School graduate who taught biology at Vanderbilt University in Nashville for 39 years, died on Nov. 9, 2019. He was 78.
Born on April 28, 1941 in Oklahoma, his family soon moved to Redlands where he grew up with six siblings.
He earned bachelor's and master's degrees from Loma Linda University and a doctorate in 1971 at UCLA. After completing a post-doctoral fellowship at University of Massachusetts, he joined the Vanderbilt faculty in 1973.
Loma Linda University honored him as alumnus of the year in 2012 and he became professor emeritus at Vanderbilt in 2013.
He was chairman of the Department of General Biology for 15 years and was director of graduate and undergraduate studies. He served on the National Institutes of Health (NIH) Tropical Medicine and Parasitology Study Section and served on the editorial board of the Journal of Parasitology.
Carter published more than 90 studies on tropical diseases and immunology in more than scientific publications a co-authored a book, "HumanParasitology," now in its fifth edition. He served with teams of NIH researchers studying tropical disease in Brazil, China and Japan.
He is survived by his wife of 57 years, Patty; children, Holly Graham and Matthew Carter; four grandchildren, Ryan Graham, McLaine Graham, Justin Carter and Hilary Carter; sister Charlene Youngquist; sister-in-law, Judy Newhoff; and man nieces and nephews.
Carter spent his last days at a National Healthcare Corp. senior care center in Cool Springs, Tennessee.
A family memorial service will be scheduled later in California.
In lieu of flowers, the family suggests donations be made in Clint's name to The Nature Conservancy or the Critter Cavalry Animal Rescue in Franklin, Tennessee.