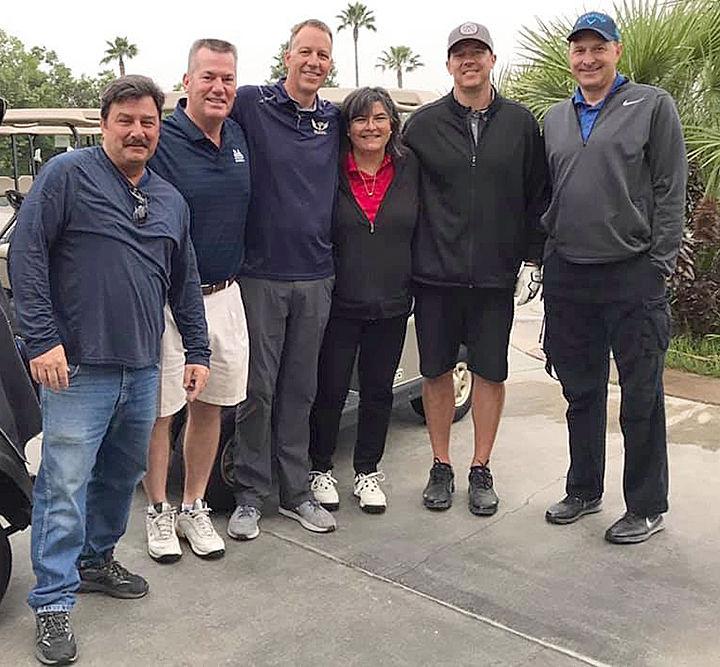 WILDCAT HISTORY: When the Wildcats' top sports administrator retires in the coming year, a huge chunk of school athletic history will go with her.
Walk into Currier Gymnasium sometime and look up into its ancient rafters. Inside that century-old University of Redlands monument are names that jump straight into the maroon-and-grey history book.
Known, perhaps, only to the private clientele of that school's athletic elite, there are names of people that date back for decades.
One of those names sort of stares down at you.
"Rhonda Hoenisch," said head Bulldog baseball coach Aaron Holley, "is huge. Four straight years. Softball. Volleyball."
Late 1970s. Early 1980s. Over from Hawaii. To study. To play ball. She's a Bulldog Hall of Famer.
Probably, she's better known by her married name, which is Rhonda Fouch. At Redlands East Valley High, the kids probably know her as Mrs. Fouch. It's all winding down. A couple months ago, she let it out, "this is it for me."
She's been athletic director there as long as there's been a REV campus — even before it was finished, in fact. The one-time U of R softball and volleyball player and coach turned to a career in sports administration.
Tom Davis rotated in as principal from Redlands High to REV, tapping Fouch as the school's athletic director. It set in motion a whirlwind of athletic success and achievement that might be considered greater than any school throughout San Bernardino County.
"I was teaching P.E. one day in the old gymnasium at Redlands High School," said Fouch, "and Tom walked in with a flyer about the (REV A.D.) position. There was one day left before the deadline to apply."
She talked it over with her husband, John Fouch.
"He told me, 'You should do it.' "
"No one in REV athletics history deserves more accolades than her," said Wildcats' basketball coach Bill Berich, who was one of Fouch's first coaching hires. "She IS REV athletics!"
Success in red
When Fouch walks away, it'll be with a nice slate of CIF-Southern Section banners.
Say what you will, but three CIF volleyball championships, a State title in football, CIF teams titles in boys soccer, water polo and wrestling, plus two berths apiece in boys' basketball and baseball title games, state berths in both boys and girls cross country, and a spot in the girls' CIF soccer, water polo and boys' tennis finals that might rival that Long Blue Line at Redlands High … well, draped in red.
"Tom Davis deserves a lot of credit for selecting her," said retired REV Principal John Maloney, who succeeded Davis in 2002.
REV products have achieved athletically in the outside world. Then there are those high-achieving REV coaches.
There is certainly Trish Vansant, whose three-year run of CIF championship volleyball banners will likely never be equaled if not topped.
Football's Kurt Bruich came up with a state football title.
Baseball's Steve Hernandez and James Cordes delivered REV a pair of CIF baseball championships.
Boys soccer coach Ted Small delivered another banner.
Clarey said, "She's had a hand in all those hires."
Anyone want to argue with the results of that success? There were plenty of down moments, too. REV football, for instance, dropped five straight to start this season en route to an 0-10 season.
"I hate to say that it's all cyclical," said Fouch during halftime of her team's loss to Norco back on Sept. 20, "but it seems to run that way."
While the school's highly successful basketball coach, Berich, is apparently a La Verne product, consider that he was a four-year U of R assistant coach.
His hiring, of course, came on Fouch's watch. Twenty-two years later, there have been two CIF championship games, both losses.
Boys' tennis?
That coaching switch to Ed Stark — boys and girls, in fact — ended up with a Division 4 boys' title appearance back in 2018.
The Wildcats were a point away from winning it all that year.
"Whether we went 8-16 and finished in last place in the CBL," said basketball's Berich, "or won nearly 30 games and advanced in the state playoffs — and we have done both — Rhonda's support of me and my program has never wavered."
Forget those CIF banners. Loads of league championship banners — all sports, in fact — are displayed prominently in those REV gym rafters.
Total them up sometime, but remember, for a school that opened in 1997, it's a ton of success.
Family connections
Then there's the gene pool. Fouch, who played volleyball and softball during her collegiate years at Redlands, wound up marrying one of this area's top stud athletes — John Fouch, a Redlands High QB who drifted off to Arizona State in 1976 with high hopes, eventually transferring back to the local university.
It's where he met a young woman named Hoenisch.
That little campus apparently encourages more than just academics and athletics.
Volleyball?
She posted Vansant, a Loyola-Marymount product, as REV coach just in time to take over when her daughter, Johnna, was setting for the likes of near-Olympian Krista Vansant, among plenty of others.
Those Lady Wildcats piled up three CIF championships on that connection alone.
And who was the QB at the helm when REV football really ratcheted itself into a powerhouse both in and out of San Bernardino County?
None other than Johnna's older brother, Ronnie — playing under another Fouch coaching hire, Bruich.
That gene pool — John and Rhonda's little boy and little girl — really paid off on that Mentone campus.
Speaking of Johnna. "She's getting married," said Rhonda, pausing.
"I think next year (2020-2021) will be it for me."
She probably wants to hit the road to check out any possible grandkids that inevitably come after marriage.
Johnna's head coach at Eastern Kentucky U., close to where REV volleyball legend Krista Vansant is Indiana U's assistant coach.
Ronnie, who picked up $100,000 as an assistant in that now-defunct Alliance of American Football (Salt Lake City Stallions) coached last season at Florida Tech.
Those are just a few of Momma Fouch's choicest contributions at REV.
Beyond REV calling
Noting that now-retired Redlands High A.D., Corinne "Corky" Evans "also helped Rhonda break through," said Maloney, who is all-in as a Fouch supporter.
"Not really," said Fouch, who said it was really former Rialto Eisenhower A.D. Roger Reupert who showed her the ropes. "Roger really helped me, but he ran his school a lot different than I would do at my campus."
All of which shows there's more than one way to skin a cat.
"There aren't that many women's athletic directors," said Maloney.
"It's not that easy for a woman in that job."
First-year REV Principal Robert Clarey said, "Carmen (Brand) over Pacific comes to mind, but Rhonda has been part of some heavyweight CIF committees."
Fouch, for her part, insists there have been no problems as a female in a what's generally been recognized as a man's world.
Standing in the end zone at a REV-at-Redlands smudge pot game back on Oct. 4, Fouch confided the following: "I think it might be easier for a woman to be an A.D."
Talk about anti-sexism!
"She worked a lot with (former CIF Commissioner) Jim Staunton in the early 2000s," said Maloney, recalling her years of service as CIF Executive Officer.
That CIF executive position, incidentally, carried with it carving out policy on all federation matters — transfer rules, sanctioning, re-leaguing, scheduling, the entire body of work it takes to guide the largest body of high school athletics, perhaps, in the nation.
Upon her early days as REV's top sports administrator, Fouch admitted, "I had no idea what the CIF was. I'm from a private school in Honolulu. We came together at the state finals against the public schools. That was something I didn't know about."
There's some rumblings that when CIF-Southern Section officials were seeking top-flight administrators on a full-time basis, Fouch would've been an easy choice. She apparently resisted.
"That's a long drive (to Los Alamitos, site of CIF offices) every day," she said.
So! She stayed at REV.
Planning ahead
Fouch, said Berich, is a "by the book" administrator, adding that his Masters Degree post-grad work through Concordia University-Irvine included instructors "that knew of and deeply admired Rhonda."
The future without Fouch on board?
It's why REV has turned to a dual A.D. role, with Fouch watching over the girls and Robert Tompkins governing the boys.
"Rob," said Fouch, "will be the fulltime A.D. after I retire." Holley, a former Wildcat footballer and baseball player, might represent another layer of REV achievement.
Said Holley: "I've gone to her a few times for career advice. She knows what to tell people."
That Holley has wound up as the chief baseball architect of this city's top diamond program, one can only surmise how Fouch directed his pursuit.
"Like I said," Berich repeated, "Rhonda is REV athletics."
Maybe there should be a spot in the REV gymnasium rafters for her name.
There is, in fact. Since 2017, Fouch is part of the school's Ring of Honor.
On that campus, REV has celebrated often times athletic success.
Somewhere in the center of that "ring" is Fouch. It was Berich who nominated her for REV's Ring of Honor recognition in 2017. And why not?
"She stuck with me," he said, "and supported me through an interesting, challenging and eventful hiring process (in 1997)."