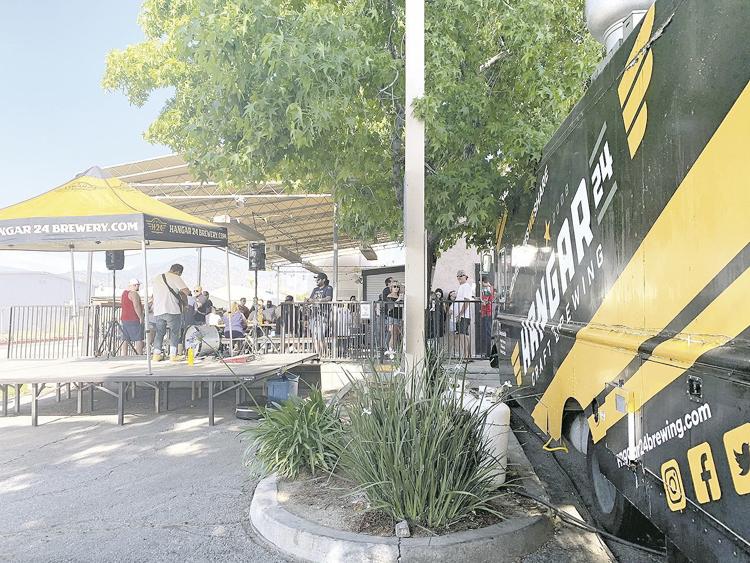 "It's time. It's more than time. This should have happened a long time ago," Kevin Gallo of Redlands said of restaurants reopening this Memorial Day weekend. He and his friends were enjoying drinks on the patio at Darby's Cantina, one of the first restaurants to board up as it  weathered the storm of the pandemic this spring.
It felt like a wave of normalcy was returning. The parking lots on State Street are started to fill up as before and other local businesses found their way back as they tried to figure out how to open in a safe manner.
After 10 weeks of closure, San Bernardino County proceeded to Stage 2 of the statewide plan to loosen the restrictions of the stay-at-home order. This allowed restaurants and businesses to open as long as they follow social distancing rules and cleaning regulations.
Hangar 24 leaders were excited to invite people back. Brandon Montilanoe, normally the manager of Hangar 24 in Orange County, was working that first day, Sunday, at the Redlands headquarters.
"It was tough but doing delivery and offering pick up is what kept us alive," he said.
Local support of the brewery was crucial.
Mayra Reyes and Eddy Avalos of Perris had headed to the brewery when they heard it was open. It was their first visit.
"We heard it was open and said, 'Let's go. Let's see how it is and get a beer,'" Avalos said as they arrived.
They were curious to see how the restrictions were being managed and were prepared to leave if there were too many people at the brewery.
Montilanoe monitored people coming in and closed the door when their newly reduced occupancy limit was reached. Local musician James Rensink entertained the crowd on the outdoor patio. Montilanoe made sure to remind people halfway through the set to follow social distancing rules and stay safe. The brewery had also made sure all employees were wearing masks and washed hands frequently. The taproom were cleaned every hour.
In downtown Redlands, people were slowly coming back to enjoy a drink and a meal. Owners of the State were letting people eat their take-out meals on the front patio, but are waiting another week for a full reopening to implement proper measures and get employees back.
The Gourmet Pizza Shoppe is operating at 50% capacity and letting their customers know the rules at the front door.
At the Tartan they have been busy clearing out tables in their dining room and were only seating guests in every other booth. Jason and Stephanie Dobbertin of Redlands made sure to be there as soon as they opened at 5 p.m. Sunday.
They have been frequenting Tartan for years and wanted to support their favorite restaurant for that first day of dining in.
"We were so excited. It's awesome, we love the Tartan," Stephanie Dobbertin said.
They made sure to ask for patio seating in respect to social distancing guidelines and take advantage of being outside.
The owner of the Tartan, Jeffrey Salamon, said, "It feels good. We are so ready to get back to work. We have a big patio and are taking all precautions."
He said the last 10 weeks felt like 10 years.
The restaurant donated 750 lunches to Redlands Community Hospital during the lockdown. He hoped to get the full staff back to work in the coming month. So far 20 staff members of 34 were back.
"I have the best team in town, we'll keep the ship afloat," Salamon said.
The Tartan has been in Redlands for the last 57 years and he wants to keep it that way. The restaurant will be cleaned every hour to follow the new rules.
At Darby's, the group of friends were happy to be there together.
"I am using the stimulus check to support a local business," Ray Diaz explained.
For patrons not yet ready to go out as usual, take away and delivery will still be an option to support local businesses.  
Redlands restaurants open to the public again.