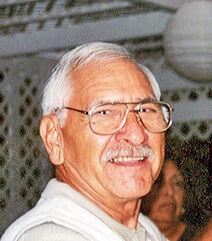 Ed Reynosa, a 64-year Redlands resident and U.S. Navy veteran, died on July 28, 2020, with his family by his side after a prolonged battle with prostate cancer. He was 89, just 25 days short of his 90th birthday.
A native of Colton, he graduated from Colton High School and attended San Bernardino Valley College. He married his high school sweetheart, Connie Beltran, in 1950.
Reynosa served as a radio technician on the U.S.S. Washburn during the Korean War from 1950 to 1954. After he was discharged, he began a 35-year career in civil service with the federal government, starting at Norton Air Force Base. He then worked on the Navy's Minuteman Missile Program.
He was later transferred to Northrop-Grumman Nortronics in the Anaheim area and eventually returned to Norton.
His final federal position was quality assurance specialist and branch chief for the Blackbird, a strategic reconnaissance aircraft. Upon retirement he was given two American flags that flew on the jets at speeds up to Mach 3 or faster.
He was supportive of his children, grandchildren and great-grandchildren and rarely missed their sporting events, performances or ceremonies. Reynosa was member and a past president of the Redlands Benchwarmers Association and received its Marshall Phelps Award.
Reynosa was a member of the Redlands Elks Club, American Legion Post 650 and was a Junior All-American Football coach for his grandson's team.
He was a parishioner and usher at Sacred Heart/Holy Name of Jesus Church. He is survived by his daughters Evelyn Lujan and her husband James, Melinda Fitzmaurice and her husband Thomas; four grandchildren, Andria Craft, Brian Lujan, Celina McKernan and Sarah Fitzmaurice; six great-grandchildren Cole, Dane, Mira, Cruz, Mari, Conner and Katelyn with another great-granddaughter on her way. He is also survived by siblings Gloria Aguilera, Manuel Reynosa Jr., Barbara Sandoval and stepsisters Margo and Jojo; and many nieces and nephews.
The family thanks his caregivers and the Redlands Community Hospital Hospice.
Because of the pandemic, a private funeral was held for the immediate family in August. A celebration of life and Mass will be held later.