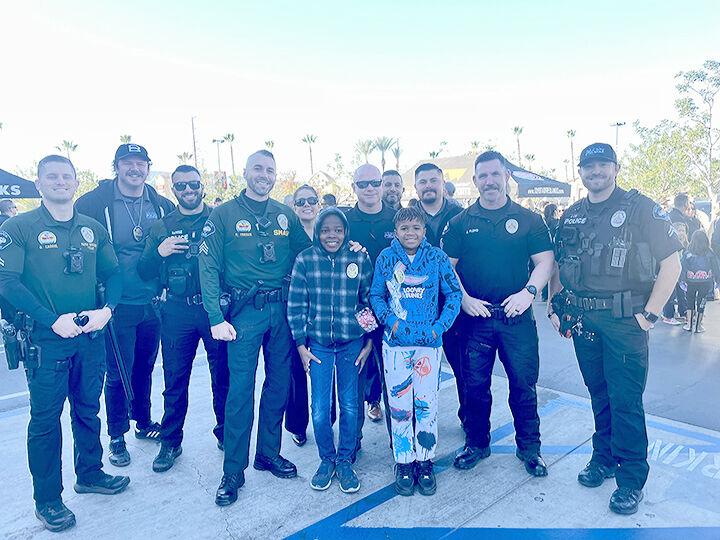 The Redlands Police Department came together with several community and county organizations on Wednesday, Dec. 21, to bring Holiday cheer to 124 youth who have demonstrated excellence and come from low-income families. Volunteer officers accompanied children as they went on a $150 sponsored shopping spree to holiday shop for themselves, their family members, and friends.
"We want to make sure we recognize those students in the community that have gone above and beyond throughout the year," said Redlands Police Deputy Chief Officer Travis Martinez.
The Redlands Police Department receives recommendations for students from Redlands Unified School District principles and various community organizations including Thrive, the Northside Impact Committee, Common Vision Coalition, Youth Hope, Steps for Life, local churches, Micah House, Boys & Girls Club.
The qualifications for the program are not only based on financial need but also academic excellence, good citizenship, contributions to the community and volunteer work. Martinez said, "At this time of the year, we want to acknowledge and reward those who have set themselves apart."
Kayla and Kaia from Redlands East Valley High School came in with a plan for their shopping day.
Their goal was to buy gifts for their loved ones and a little something for themselves from stores Hot Topic, Ulta, World Market, Target and Five Below.
Kayla expressed that the holidays are special because her family, who is not typically together, celebrate together saying "When they come together it is really fun especially when they be cookin'."
She helps her family in the kitchen with their specialties like potato salad, mac and cheese, and stuffing.
Kaia said the event helps her and other kids and teens who want to show appreciation to friends and family. The girls volunteer with Stronger Together Now and at their church, The Village SBC.
Tymey Thomas brought her son Davay, who is in sixth grade. Steps for Life recommended her son and said that due to financial difficulty she is grateful that through this program, her son has the opportunity to get some things for himself and have a great Christmas.
Platinum Sponsor Paul Smith Toyota of Redlands, Barich and Associates Insurance, Darby's, Ha…
Thomas and her son made cards to give to the donors to show their appreciation in addition to their usual holiday activities like making gingerbread cookies together and decorating the house. She said, "I love Redlands," adding "Redlands has done so much for the community, all the time for the kids."
Officer Castillo and Officer Vargas, probation officers from San Bernardino County, waited patiently in the long line of officers to be paired up with a student.
Officer Castillo was glad to be a part of the event as he said he sees the struggle of families in the community during the holidays and wants to show that as officers, they are in the community to help.
"We're people, too," said Vargas, who explained that he was excited to get to talk with and have fun with the youth and show them that officers don't have to always be serious.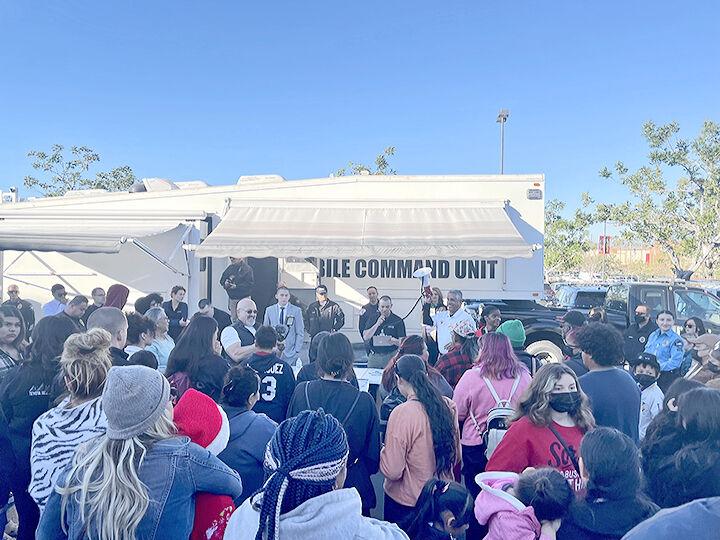 Youth of all ages and their families arrived at the Citrus Plaza shopping center food court to find volunteers from Redlands police, Redlands Unified School District campus security, San Bernardino district attorney's office, San Bernardino County Probation Department and University of Redlands Public Safety ready to shop with them with gift cards to the retailers in the shopping center.
Excitement was high for the event that returned after a pause in 2021 due to COVID-19 restrictions.
The Heroes and Helpers event has run for 15 years in Redlands and through generous donations from local business and citizens, many youth have the opportunity to experience an extraordinary Christmas.
After the shopping, Chick-fil-A provided lunch for the students and Cafe Rio Mexican Grill provided lunch for the police officers.
The overall community policing philosophy in Redlands includes building community trust and enhancing police legitimacy. Many of the officers believe this event among many more supportive events for youth year-round offers them insight into careers in public service and perspective on law enforcement officials as human beings.
Martinez added, "Whenever we can have law enforcement positively interacting with the youth of the community, it is a great thing."