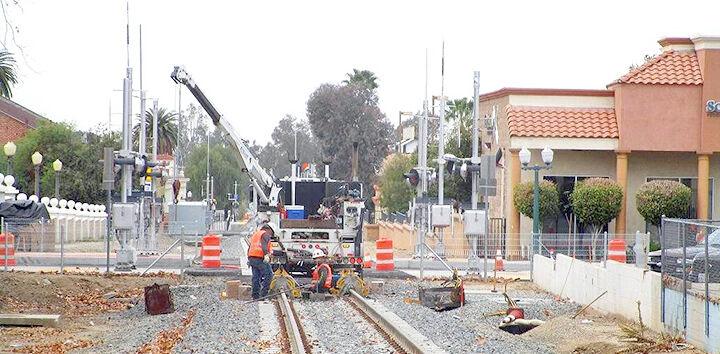 The Redlands City Council and Redlands Planning Commission held a joint meeting on Wednesday, Feb 17, for a presentation by Moule and Polyzoides about the Transit Villages Specific Plan.
"The purpose of this meeting is to get a consensus on the plan's vision and identify any major issues before the environmental review process," said Development Services Director Brian Desatnik.
Lead consultant Stefanos Polyzoides gave the presentation detailing the three stations within the city and their potential amenities.
"Each station area should have a commercial character that is different from the others," said Polyzoides. "That's what we concluded from the community workshops we held in 2018 and 2019. The Redlands Mall should be replaced with an interconnected street network lined with trees and mixed-use buildings to act as the catalyst for boosting the economy downtown."
Polyzoides plans for the station on New York Street to be pedestrian-friendly with a mixed-use neighborhood center that accommodates a variety of uses for Esri employees and residents.
The University of Redlands station is planned as a "town and gown" relationship between the college and the surrounding neighborhood.
"It should be a walkable mixed-use place that provides commercial services for students and residents," said Polyzoides. Polyzoides said new buildings, streets and parks would preserve Redlands' history with references to its cultural and agricultural past for the downtown station.
"During the community meetings, residents said they didn't want buildings everywhere," said Polyzoides. "They told us they wanted buildings that generated public space such as parks and plazas. They wanted to see vacant parcels be transformed into mixed-use projects. New buildings will vary in height by zone and are designed in a variety of familiar styles."
Polyzoides said available street parking and garages would protect surrounding neighborhoods from overflow parking.
"We are building one garage on West Stuart Avenue right now and are proposing three more over time," he said.
Within the 1,000-acre development, there are plans for 238,000 square feet of office space, 268,000 square feet of retail space and 2,400 residential units.
Since Measure G's failure, residents have voiced their concern about building heights, fearful that skyscrapers and high-rise buildings would crush the charm of downtown Redlands. Polyzoides outlined building specifications for every area of the plan.
"There are several different zoning districts within the plan," he said. "The highest density places are limited."
The Village Center areas will have vertical, mixed-use buildings at the sidewalk averaging four stories. The Downtown area will have vertical, mixed-use buildings at the sidewalk with a three-story maximum.
The Village General areas have horizontal mixed-use commercial ground floor buildings at the sidewalk with residential ground floor buildings behind small yards and a three-story average.
The Village Corridor areas will have mixed-use commercial, residential or office buildings that are two stories.
The Neighborhood General 1 areas will have commercial and light industrial mixed-use buildings behind small yards. They will also have residential and live-work buildings with a two-story maximum. The Neighborhood General 2 areas will have single-use commercial and residential buildings with a two-story maximum.
"The plan is mostly made up of Village General areas," said Polyzoides. "The idea is to have limited buildings and varying heights, not to have five-story buildings downtown."
Councilman Paul Foster said the places where the highest density will occur are extremely small areas.
"If you look at the downtown plan, the majority of it has already been developed," said Foster. "It is important to show that for people who are worried. But none of this is fixed in stone. We have time to talk about it and look at it. Many of these things are just ideas. In the meantime, it's important to note that anything submitted between now and next year when we adopt the plan has to comply with existing voter initiatives.
"There is nothing here that is working around Measures U, R and N. With the failure of Measure G, we must live within those guidelines other than what SB 330 requires."
Mayor Pro Tem Eddie Tejeda agreed with Foster, saying most of the space that could be five stories is already developed.
"If more people are coming to town shopping and using our amenities, that generates more revenue for our community," said Tejeda.
City Manager Charles Duggan Jr. agreed, saying the city could better provide new parks and streetscapes with the added revenue.
Commissioner Joe Richardson said the city is not going against Measure G.
"Nothing could be further from the truth," he said. "Frankly, there isn't much left to build downtown. The failure of Measure G reminds us that our mission has to be to sell this project. We need people to know that it is still a work in progress."
Commissioner Karah Shaw  said the Redlands skyline wouldn't be interrupted.
"The buildings will scale down," she said. "People won't see a bunch of buildings four and five stories all pushed together."
Mayor Paul Barich also voiced his support of the plan.
"If not this type of plan, then what do you suggest?" he asked listeners. "The mall is ridiculous. We have to do something about it. We are going to keep to what we feel is the character of Redlands. I am comfortable saying it will be controlled and beautiful growth. There won't be big box buildings."
The Housing Crisis Act
In 2019, Gov. Gavin Newsom signed into law Senate Bill 330, the Housing Crisis Act. The act amends existing state laws and creates new regulations around the production, preservation and planning of housing. SB 330 affects both project planning procedures and community planning outcomes.
The goal of SB 330 is to create certainty in developing housing projects, speeding up the review of these projects. SB 330 also prevents zoning actions that reduce the capacity of housing. Plans that result in net downzoning or reducing housing and population are prohibited.
Transit villages schedule
March: Notice of preparation issued in March.
March-April: Environmental Impact Report scoping meeting.
March-October: Preparation of Environmental Impact Report draft.
November-December: Environmental Impact Report public review period.
January-March 2022: Transit Villages Specific Plan adoption hearing.