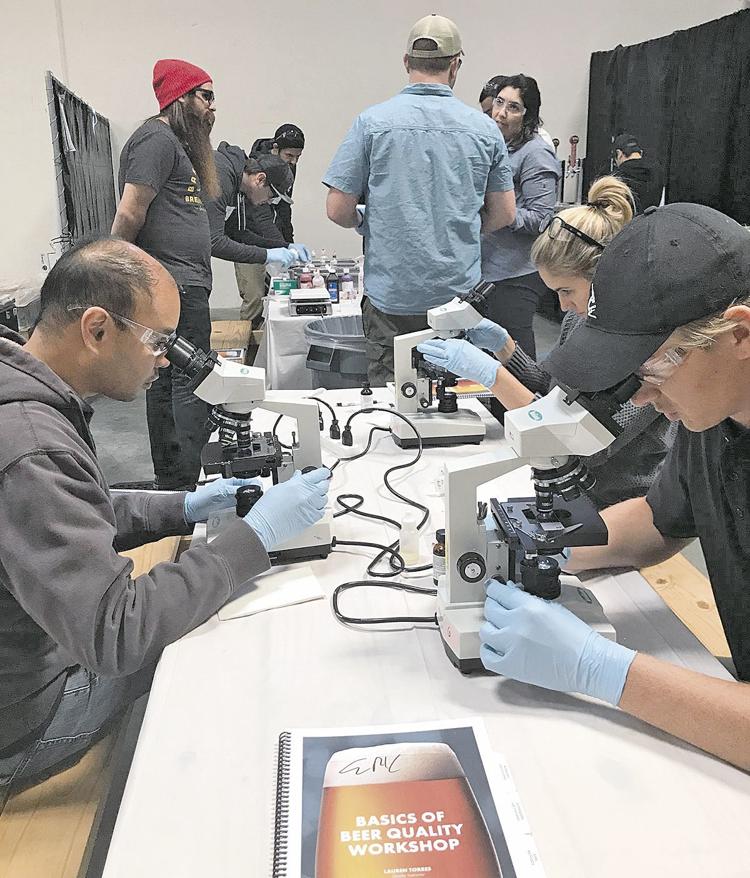 Redlands is home to some of the finest breweries in the beer business: Escape Craft Brewing, Ritual Brewing Co. and Hangar 24. Each one has come to brewing, bottling and canning the delicious hoppy beverage in their own special way. From the humblest of beginnings they've come from home brews to taprooms, now big and small, focusing on quality, experimentation and atmosphere to separate themselves from the Big Beer business and the other thousands of independently owned micro brews across the country.
Escape Craft Brewing
Escape Brewing, owned by husband and wife duo, Josh and Melissa Fisher, is the smallest of the three breweries, but that doesn't rule them out as a competitor in the business. Josh Fisher, a former firefighter, started brewing from home, and with the support of his wife and friends and family took it to the next level.
"Owen was a firefighter for years and one of his coworkers recommended making beer since he loves to cook. After home brewing for a few years we converted our living/dining room into a bar. Bottling it took too long because you have to wait for it to carbonate itself. So we moved to a three-tap keg. All of our family and friends would come over all the time because it was free beer, so eventually we built up to an eight-tap keg. And that's the way it was for a while. We both had full-time jobs. Opening a brewery was a 'maybe-someday' thing," said Melissa Fisher.
Some of the earlier challenges the Fishers faced when moving from home to brewery was jumping through the hoops of city and federal regulations and finding the perfect location close to home and where there could be enough parking to accommodate their max capacity.
'It took about two years to find a place," says Fisher. "All the paperwork, and getting an architect took about another year."
Being a small brewery running on a similar system as the big breweries, and not so widely distributed, Escape is more flexible with their lineup. They can focus on experimentation while bringing the freshest beer possible. Sometime Josh will be inspired and want to try something the next day, so he'll hop back on the home-brew system to see what comes out of it.
"We don't have to do 30 kegs at one time. We like a variety of foods so that is something that drives us. One of our brewers goes to Hatch, New Mexico, every year and brings back Hatch chilis. So we do a Hatch chili IPA every year. For a Halloween-inspired beer we did a Apple Cider Horchata. It's a light ale base infused with Oak Glen apple cider and horchata. It's so good. You're not going to sit there and drink it all day long. But you'll try something new. If we had to brew the same thing every day it wouldn't be fun."
The Fishers and the rest of the Escape crew will be opening up a new location in the Spring. It will be in downtown Redlands off Oriental Street and will include a restaurant. In December or January of next year another location will open in Orange County.
Ritual Brewing Co.
The name says it all for these guys. Their approach to brewing beer is as traditional and as scientific as it gets. Ritual is one of the few craft breweries that has its own in-house lab, where brewers dissect the process of beer brewing to assure the highest quality beer possible.
"Our success has always been on the quality of the beer," said Steve Dunkerken, one of the owners. "When we set out to do this we said the beer has to be great. Nothing else matters."
Owen Williams, Dunkerken's partner, was the first brewer for the BJ's chain and was heavily involved in creating the brewing program at Cal Poly Pomona, working with the deans to develop it and building the brewhouse right there on campus. Williams is a teacher at Cal Poly. The course is an upper-division for hospitality majors.
"We are physically the largest brewery in the area. We have a bigger facility. Our larger brewhouse was built to our specifications. And again we had it made to out specs so we can make great beer. We have people who have had their first brewery job here that are considered leaders and run multiple KC labs at large breweries. We've also won more awards, more prestigious awards than anyone in the area, which is a testament to what we've done," said Dunkerken.
When asked how they plan to compete with the Big Beer business in the future, Dunkerken said, "It makes marketing challenging for the little guy. They have tons of resources. Profits from their main brands are channeled into promoting other ones. Some of those beers they're heavy handed in the market and it does add some difficulty. They are big and multinational brands with multi-billion dollar budgets, so it makes it hard for a small local business with 20 something employees. But I'll set our beer next to any one of their beers all day long. And we have bested many of those breweries in competition."
Ritual will host its seventh anniversary on Nov. 2 starting at noon with a Founders Hour with unique beers. The main event runs from 1 to 4:30 p.m. Tickets are on sale.
"We're getting ready to release two more beers in cans. Our Double Red Ale will be released in 16-ounce cans.
Bottled to a whole new can design. And for the first time ever for our anniversary we are doing an anniversary beer. It's going to be a Double Hazy IPA with some fantastic Citra Mosaic Calypso and El Dorado hops in it. It will be canned and released at the anniversary.
"And we're only doing very small runs of both of those beers."
Hangar 24
Owner Ben Cook was a biology major at Cal State San Bernardino and started home brewing while he was still in college.
"I loved biological processes and the equipment and systems," he said. "So I got nerdy with my brewing. Started entering competitions and winning medals. Then a close family friend who was in the beer industry asked if I ever thought about being a brewer for a living. At the time I hadn't. But it put a big spark in my mind. Then I went to work as a quality assurance manager at the Anheuser-Busch plant when they were still independently owned."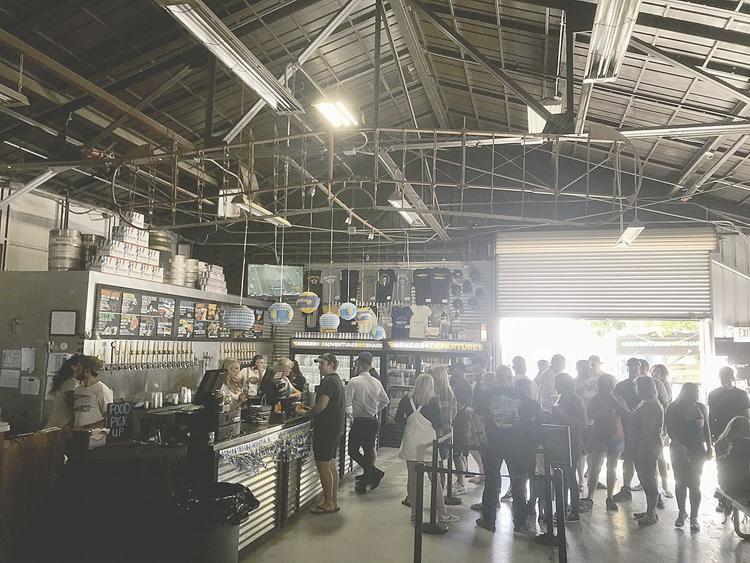 At the time any brewer worth their salt at Anheuser-Busch went through the UC Davis master brewers program. Cook finished the program then started the long journey to starting Hangar 24.
"Getting money is the key to starting any business," he said. "I got a small business loan and then I went through small business association classes. I went to every single seminar. I just wanted to absorb as much information as possible on how to run a business and how to be an excellent brewer. It's all hard. You're doing all of it for the first time. I was the only employee for first nine months. I had to learn Quickbooks and do all the bookkeeping myself."
Cook delivered his first keg of beer to Johnny's Tacos and Sports. His first invoice still hangs on the wall.
"I had a lot of support. I had friends helping me. My parents. Guys from the airport helped build custom brackets to get the mill up and running. They brought a tractor to help stand the tank up. All the responsibility was on my back — the rate of learning all the various tasks. Brewing then delivering. But it was all so much fun that it's hard to say if any of it was difficult. I enjoyed the process. And now my staff is everything. There is no business without the employee. The equipment doesn't make the beer, people make beer."
Hangar 24, one of the first brewers in the region when there was still fewer than a thousand craft brewers, stretches their distribution all over California and to Arizona and Nevada.
Cook's focus for the future is a two-pronged approach. First, opening up more taprooms to get new and innovative beers into the hands of beer lovers, and second, producing a smaller portfolio with a focus on sales and marketing.
"It started with hanging out at my buddy's hangar after flying or mountain biking and then barbecuing, playing guitar and drinking good beer. The hangar was hangar 24."
Look for the upside-down bottle on all Hangar 24 beers. It's the mark of the Brewers Association and the independently owned brewery.
Redlands craft breweries
Hangar 24: 1710 Sessums Drive next to Redlands Municipal Airport.
Ritual Brewing Co.: 1315 Research Drive. Seventh anniversary will be from noon to 4:30 p.m. Saturday, Nov. 2.  
Escape Craft Brewing: 721 Nevada St. #401, Redland. Dogs and kids welcome. The Halloween party will be Oct. 19.