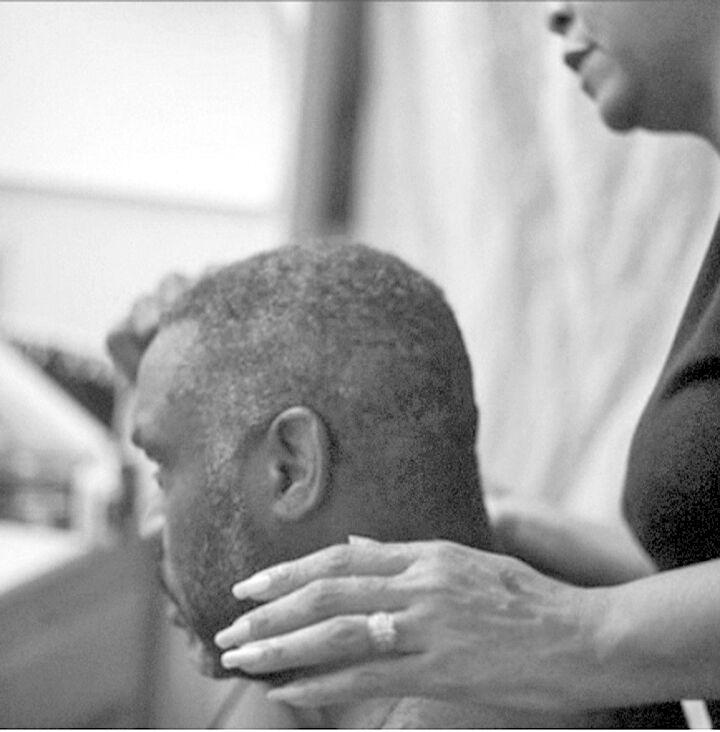 Mariama Fisher and Jina Imani of Redlands are two of 14 black artists whose work is on display online in "Out From Under, Uncovering the Unseen Genius of Black Artists in San Bernardino County" through Feb. 28.
Fisher, class of 2021, is a University of Redlands studio art major with a photography concentration.
"Photography has always been a passion of mine," said Fisher. "Over the past three years I turned that passion into a career. I make photographs in a documentary style. I strive to capture a sense of history in the images I make."
Her three-photo series shows her parents coping with one aspect of the COVID-19 pandemic shutdown.
"When barber shops were closed, my mom took it upon herself to watch YouTube videos and learn how to cut my dad's hair," she said.
She noted that, despite her dad's initial apprehension, the three photos highlight her parent's love for each other through "a seemingly simple act of cutting one's hair."
Jina Imani is a Redlands artist who is curating what she calls Redlands' first black art show to celebrate Black History Month at The Artlands Gallery, 18 E. Vine St. Her "Out From Under" display includes three pieces.
She describes herself as an emerging artist.
"I am self-taught and use diary format for self-portraiture. I also interlace some mixed media into my work," she said. "I love tapping into my creative expression as it helps me heal from trauma and learn more about myself. "
Winners of three "Out From Under" awards categories will be announced at
The Dialogue at noon on Feb. 27. This free online event features a Conversation with arts activist Marc Bamuthi Joseph.
To view the artists' displays and to register for the Dialog event, visit outfromunder.online
"Out From Under" is a presentation of Arts Connection: The Arts Council of San Bernardino County in association with Barstow Community College.