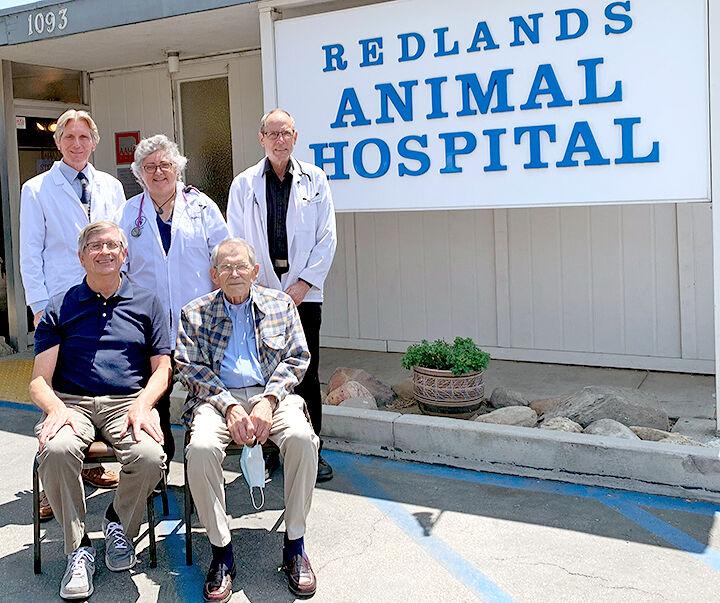 For the past 60 years, Redlands Animal Hospital has served small pets, primarily cats and dogs, plus an occasional sheep, on 1037 Colton Ave. in Redlands. On Saturday, April 24, past doctors were gathered to reminisce and look to the future, as later this year the hospital will move a few blocks down the street to a larger facility.
On Feb. 1, 1961, Dr. Thomas A. Gould opened Redlands Animal Hospital. There was a view of the mountains across from the entrance on the days the smog wasn't bad, but a year later the freeway was built, which took up the whole view. In the beginning, Gould would live in a back room. Back then, not many vets were around, and once a month he would be on night duty working 24-hour shifts. A surgery room was added to the building in 1982 and the first computer arrived in 1987.
"I started from nothing and built it up," Gould said of his time at Redlands Animal Hospital. "I wouldn't like the bustle and all the business of a big hospital. It's great for them and how the business has gone."
Dr. Randy Hanson began there in 1977, he explained of the early days.
"Back then we didn't have a lot of specialists, we had to do everything ourselves," he said.
In the 1980s, they serviced the Redlands police dog facility and trials, meeting canine officers from California, Nevada and Oregon.
"That was fun to see them," Hanson explained how there would be police cars lined up all around the building.  
Dr. Charles Dusenberry and Hanson took over when Gould retired in 1988. In 2017, Hanson retired. Dr. Rick Price and Dr. Kathy Blanchard became the new owners, and Dr. Dusenberry works there to this day.
Recently, a client gave Price an article from when the hospital opened in 1961 and he thought it would be nice to have the former and current doctors pose for a picture before moving.
"I just wanted to make sure we maintain the connection here when we go somewhere else. To commemorate where we have been and celebrate where we are going," Price said. "We all worked together to some extent. Dr. Gould and I overlapped by only five days, but we did overlap."
Blanchard was the only one who didn't get the chance to work in person with the founder, however, she knows him through church.
The expansion means going from 1,800 square feet to 7,587 square feet. They plan to add three additional veterinarians, extend the hours of operation and double the number of exam rooms to six.
Even though the hospital closes at 6 p.m., the doctors often work until 7:30 p.m.
"What we are hoping is we won't have to work so hard. That you'll actually be able to eat lunch and use the bathroom," Blanchard said.
On an average day, they help 20 to 30 pet owners.
Sixty years ago, there were no buildings around the hospital. Redlands was a much quieter place and Gould took care of the practice on his own. Today, the place is surrounded by buildings and the freeway. Three veterinarian doctors can't keep up with the workload, as the population of Redlands has tripled in size.
Eventually the new facility will also add ultrasound, specialized medicine and an increased focus on dentistry. There will be a separate dog and cat waiting area and an outdoor euthanasia area created by a master garden designer. The design of the building will focus on historic Redlands, including orange trees in front. They hope to make the move in December.
"The uniqueness is the community," Blanchard said. "It is a community hospital. It is not uncommon to have people walk in and say, 'I've been coming here my whole life and so did my grandparents.' It also has an emphasis on taking care of the people and their pets. The "We have a good clientele, and we try really hard to treat the people as well as the animals," she added. At the new location they will keep doing just that.
About Redlands
Animal Hospital
Current address: 1093 Colton Ave, Redlands.
Hours: 8 a.m. to 6 p.m. Monday through Friday, 8 a.m. to 1 p.m. Saturdays.
Phone: (909) 793 2181.