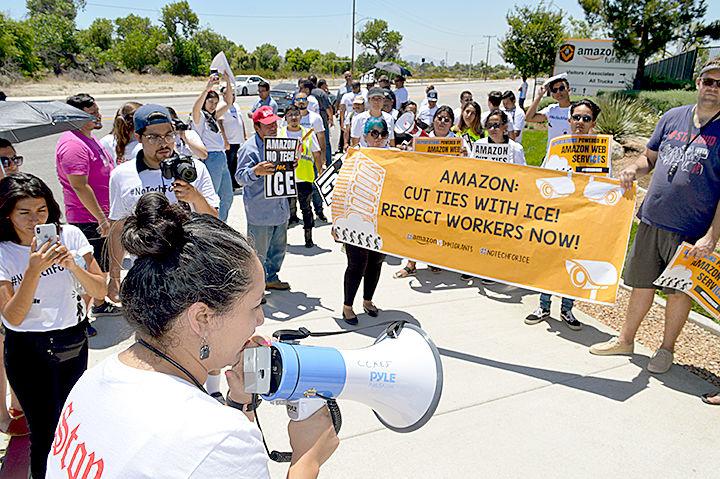 A delegation of Inland Empire community leaders and residents burst into Amazon's lobby in San Bernardino to deliver a petition signed by more than 275,000 residents demanding to cut ties to the federal agency Immigration and Customs Enforcement on Monday, July 15.
Outside of Amazon's ONT 5 facility, next to the San Bernardino International  Airport, dozens of concerned residents demanded the mega-corporation to stop providing information to the Department of Homeland Security and ICE through the Amazon Web Services (AWS).
An Amazon spokeswoman said the firm believes companies and government organizations need to use existing and new technology "responsibly and lawfully."  
The rally was part of a nationwide movement to force Amazon to cut ties with immigration agencies and to demand fair treatment of workers and decent-paying warehouse salaries.
"With San Bernardino County leading the United States in ICE arrests, we are demanding that Amazon stop enabling ICE's brutal anti-immigrant machine locally and across the county," said Lyzzeth Mendoza, representative of the Inland Coalition for Immigrant Justice. "When Amazon profits off services used by ICE, they are direct culprits in the harm caused to immigrant communities. Without Amazon's tech, ICE cannot function."
AWS provides on-demand cloud computing platforms to individuals, companies, and government on a metered pay-as-you go basis — companies like Palantir Technologies, which provides technical infrastructure to ICE so it can collect and process information about people targeted for deportation.
According to information obtained by VICE News through the Freedom of Information Act, with just the name of a person provided by Palantir, law enforcement can target family relationships, get Social Security numbers, addresses, phone numbers, height, weight and even eye color.  
"Add a license plate number and Palantir's system can often allow law enforcement to track where people have been during any period of time," VICE News reported.
Activists argue that Palantir directly enables ICE to violate the rights of others, an activity clearly illegal in the AWS Acceptable Use Policy, and therefore, AWS should suspend or terminate use of services. By ignoring such violation, AWS is choosing not to enforce its terms of service, activists argued.
Wearing white shirts with the slogan "No Tech for ICE," and "Stop Amazon," and defying extreme temperatures, community members also demanded the mega company to end all discussions with ICE regarding the possible use of the company's real-time facial recognition surveillance technology.  
According to AWS, Amazon Rekognition helps identify objects, people, text, scenes, and activities as well as detect inappropriate content. The system can detect, analyze and compare faces for a wide variety of user verification, people counting, and public safety use cases.
The rally was executed on Prime Day, a sales event that last year generated more than $4 billion to Amazon. During the first quarter of 2019, Amazon reported sales of $59.7 billion, up 17 percent compared to 2018 during the same period of time. Second quarter sales report will be revealed on July 25.
According to Veronica Alvarado, representative of Warehouse Workers Resource Center, Amazon continues making astronomical revenues on the backs of warehouses workers.
"Workers in the Inland Empire helped make Jeff Bezos the richest man in the world.  Since Day One, however, Amazon has exploited them. Amazon must create a humane rate and workload for its workers, pay workers living wages, and allow workers a voice on the job,' said Alvarado.
Amazon operates 14 facilities in the Inland Empire, including two warehouses in Redlands.  
Amazon argues that from 2000 to 2018 it has invested more than $270 billion to the nation, including infrastructure and compensation to employees. Of such quantity, more than $34.5 billion has been invested in California for the same reasons.
In addition, Amazon argues it has directly created more than 275,000 full-time jobs around the nation, including more than 45,000 full-time jobs in California.
Amazon's response
Amazon spokeswoman Shevaun Brown, told the Redlands Community News that the company believes companies and government organizations need to use existing and new technology "responsibly and lawfully."  
"There is clearly a need for more clarity from government on what is acceptable use of AI and ramifications for its misuse, and we've provided a proposed legislative framework for this," said Brown. "We remain eager for the government to provide this additional clarity and legislation, and will continue to offer our ideas and specific suggestions."
Brown also argued that Amazon has created hundreds of thousands of jobs around the world in over 175 fulfillment centers with "great compensation, benefits on Day One and a very safe work environment."  
Brown added that Amazon is a magnet for employment seekers because it ensures a "positive and safe working environment."
"We use our Connections program to ask associates a question every day about how we can make things even better… we investigate any allegation we are made aware of and fix things that are wrong," said Brown. "Last November Amazon raised our minimum wage to $15 an hour for more than 250,000 employees, more than double the federal minimum wage."
Brown said Amazon offers comprehensive benefits including full medical, dental and vision insurance, up to 20 weeks paid parental leave and paid education.
"… We invite anyone to see for themselves by taking a tour of an Amazon fulfillment center," she concluded.