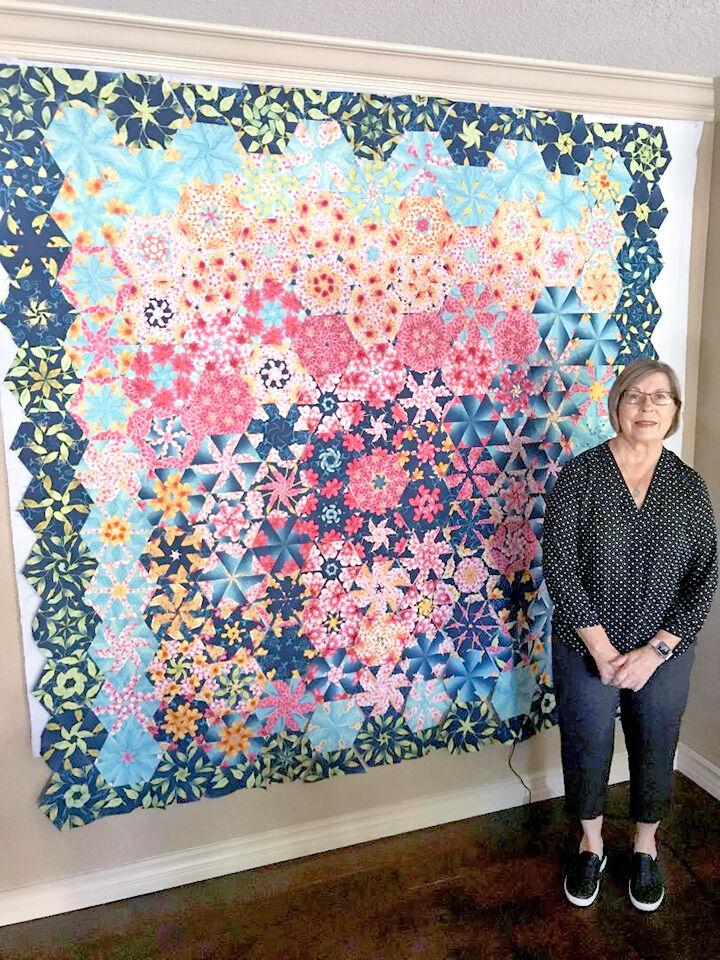 One day we will all look back on this pandemic and ask each other what we did with our time. In the "new normal," we all seem to be spending more time at home and have discovered that when things shut down we have to turn inward for new ideas to help us cope with the isolation.
That's exactly what Maria Turner did. She turned inward and looked at the big picture.
"In addition to what the scientists advise us to do during this pandemic — wear masks, maintain social distancing, wash our hands often and help take care of each other — one day I decided to sew a COVID Quilt," Maria said. "And doing so has been a wonderful decision because it has provided me great peace.
"I began working on the quilt in April and it's still not completely finished. But I've learned to be patient and take one day at a time — something which has really calmed me and my worrisome concern about the family. Going through this together, even my husband has pointed out that he and I are more patient with each another.
"The message behind my quilt is that perseverance and patience will help us in overcoming this pandemic. Just as my quilt has been coming together so patiently and lovingly, we must take each day and care for one another. In this way, we will attain the outcome we want in order to beat this pandemic and see the virus to its ultimate conclusion."
To begin the quilting project, Maria carefully selected just the right fabric, colors and design — all online because the physical fabric shops were closed.
She then cut the fabric based on the design repeats into six 42-inch lengths. The fabric was stacked and pinned, making sure the pattern matched all the way across and down all six layers of fabric. The fabric was cut into 3¾-inch strips, then 3¾-inch triangles, each stack of triangles making a hexagon. There was a total of 936 triangles made into 156 hexagons, enough for a queen-size quilt.
"When you put it together, the material looks like a kaleidoscope," Maria pointed out, "as if you were viewing it under a microscope watching it multiply and divide.
Maria did not begin quilting until after she retired as an oncology nurse from Loma Linda University Hospital, where she also served as supervisor of radiation medicine. Her first quilt was for a grandchild.
Quilting helped to fill the void in Maria's life following retirement, as did joining Assistance League and PEO (Philanthropic Educational Organization) service clubs in Redlands. Although Maria lives in Moreno Valley, she formed lasting friendships with many Redlands co-workers while working at Loma Linda Hospital.
Patience and lots of perseverance went into making this quilt.
"We do this for all humanity. Each night, my husband and I pray for the whole world.
"It gives us joy to help provide for others, which is what the COVID Quilt stands for. For example, it makes us happy to routinely send dinner over to our 83-year-old handicapped neighbor with diabetes to remind him that someone cares about him."
To which Maria adds with a smile, "I want to be able to die on my feet by giving to others and to be independent every step of the way!"
We know that the vaccines and cures are coming to help end this pandemic, but in the meantime it helps to have a hobby or special interest to help keep us occupied. If you'd care to share your own personal coping strategy or "sanity saver" we'd enjoy hearing from you.