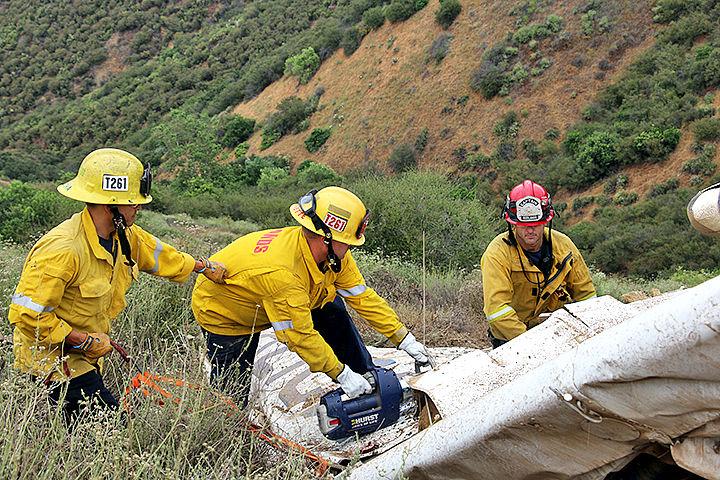 The three people who died in a plane crash on June 5 on a remote ridge in the Crafton Hills Reserve have been identified as residents of Big Bear Valley.
On Thursday, June 25, the San Bernardino County coroner's office identified the pilot as Christopher Hart, a 64-year-old resident of Big Bear City. He was a graduate for Big Bear High School, according to his Facebook page.
Hart was carrying two passengers, 40-year-old Shery Doucette and her 11-year-old daughter Gineva of Big Bear Lake, who also perished. Shery Doucette was an administrative analyst for the Big Bear Airport, said a spokeswoman.
A gofundme page has raised more than $15,000 for funeral expenses. Shery Doucette left behind three sons, Cole, Rusty and Reed.
The plane was a fixed-wing, single-engine Cessna 175 built in 1958, according to the Federal Aviation Administration. According to published reports citing a preliminary investigation by the National Transportation Board, the plane took off from Big Bear Airport at 7:45 a.m. bound for Redlands Municipal Airport.
On the day of the crash, a passerby reported seeing the plane above the city of Redlands Tate Water Treatment Plant, south of Highway 38. San Bernardino County Sheriff's Aviation Division personnel responded to the area, located the downed plane and confirmed the deaths.
A Redlands police officer was stationed below the ridge to monitor the crash site overnight to ensure that it was not disturbed, said a report issued by the city of Redlands on June 8. 
At about 8:30 a.m. Saturday, eight Redlands firefighters, a Redlands police officer, two investigators from the coroner's division and an FAA investigator met at the U.S. Forest Service Ranger Station on Bryant Street. The personnel along with about 300 pounds of equipment were taken by helicopter to the crash site overlooking Mill Creek Road. They hiked down the ridge to the wreckage about 50 yards below.
While the FAA investigator assessed the plane and the crash site, a team of four Redlands firefighters shored up the wreckage to prevent it from slipping down the ridge during the recovery operation. Another team of firefighters used the Jaws of Life to cut into the wreckage and remove the bodies of the pilot and two passengers.
The firefighters placed the remains of the victims on stretchers and carried them up the hill to the top of the ridge, where coroner investigators performed a preliminary investigation.
At about 12:30 p.m., the entire team and the remains of the victims were transported off the ridge by helicopter.