A suspect wanted for shooting motorists who led California Highway Patrol officers on Interstate 15 and the streets of Hesperia early Wednesday was killed in an officer-involved shooting. Four law enforcement officers and three citizens were injured in the gunfight.
At 1:42 a.m. Feb. 17, CHP officers were in pursuit of the unidentified suspect driving
a white Ford Expedition exited the freeway at Bear Valley Road. The CHP requested assistance from Hesperia deputies.
"The suspect continued driving at high speeds throughout city streets and struck a spike strip in the area of Bear Valley Road/Cottonwood Avenue, but the suspect continued driving and entered the southbound I-15," said a press release from the San Bernardino County Sheriff's Department. "The suspect exited at Main Street and continued to flee from officers despite having one flattened tire."
The suspect stopped in the area of Peach Avenue/Catalpa Street when the vehicle became disabled. A high-risk traffic stop was conducted but the suspect refused to exit the vehicle.
"For more than an hour, officers and deputies negotiated with the suspect to safely exit the vehicle, but he continued to ignore their commands," the release said. "Less than lethal methods were used in an attempt to gain compliance and resolve the situation, but they were unsuccessful."
After more than an hour of negotiating, the suspect got out and ran to the front of the vehicle and began shooting at the officers, then ran while he continued to shoot at them. An officer shot the suspect. Medical aid personnel responded and the suspect was pronounced dead at the scene. An adult female who was also in the Expedition and was not injured.
The suspect's handgun was recovered at the scene.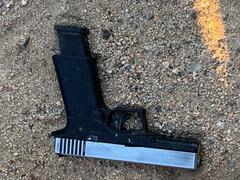 Moments after the shooting, a 911 caller reported three people at a nearby home were struck by gunfire. Medical aid responded to the home on Catalpa Street and found a man, a woman and a 14-year-old boy with injuries. The woman and the boy remain hospitalized and are expected to recover from their injuries. The man was treated and released.
Investigators with the Sheriff's Specialized Investigations Division and the CHP are on scene conducting the investigation.
The investigation is ongoing. Anyone with information or who witnessed the incident is asked to contact Detective Edward Hernandez of the sheriff's specialized investigations division at (909)387-3589. Callers who want to remain anonymous can contact WeTip at 800-78CRIME or visit wetip.com.