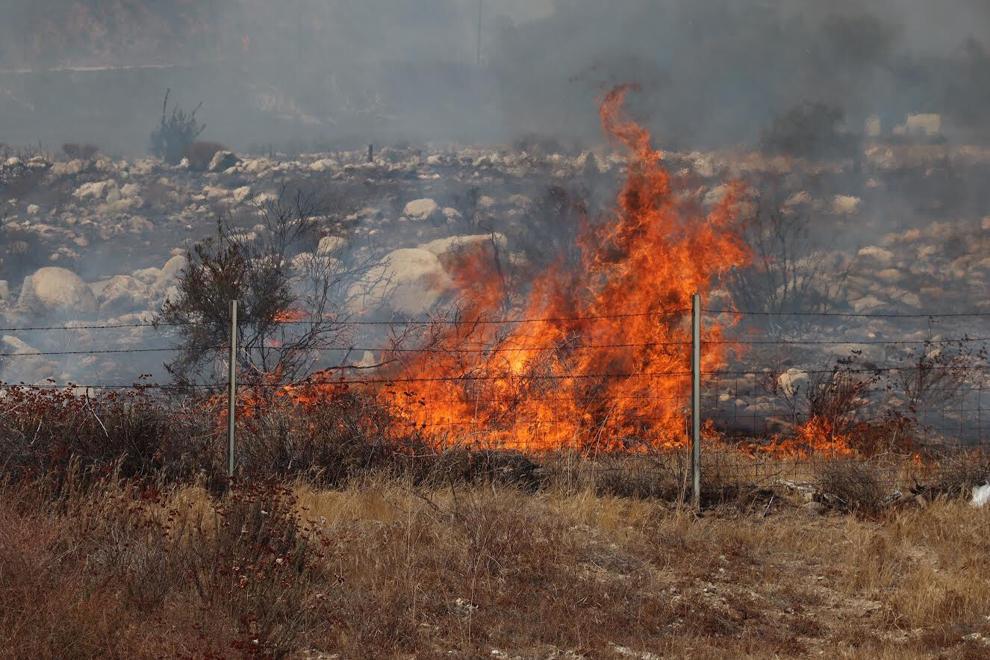 The South Fire near Lytle Creek has grown to 900 acres as of Friday morning and is 10% contained, according to Cal Fire's update at 10 a.m. today.
It has destroyed four homes and 14 other structures, Cal Fire reports. An estimated 400 firefighters are battling the blaze, according to San Bernardino County Fire.
One firefighter was transported to a local hospital for evaluation of a minor injury, according to the Fontana Herald News. There have been no other reports of civilian or firefighter injuries, according to the San Bernardino County Fire Department.
An evacuation order remains in effect for the entire community of Lytle Creek. The San Bernardino National Forest Service Twitter page reports that 1,000 people have been evacuated.
Due to the single two-lane road in and out of town, lack of lighting and the number of fire apparatus operating on Lytle Creek Road, residents are being escorted out of the area by law enforcement.
The South Fire — north of Glen Helen, east of Sierra Avenue and Lytle Creek Road and west of the Interstate15 — broke out at 1:30 p.m. Wednesday. Evacuation orders were issued for residents north of the Lytle Creek Ranger Station, according to the San Bernardino County Sheriff's Department.
An evacuation center has been established at the Jessie Turner Center at 15556 Summit Ave. in Fontana. Large animals can be taken to the Devore Animal Shelter at 19777 Shelter Way.
Three small separate fires began at approximately 4 p.m. Thursday along Lytle Creek Road between Duncan Canyon Road and Interstate 15. Resources from the South Fire addressed the small fires, which were a combined total of 2 to 3 acres. The causes are under investigation.
The South Coast Air Quality Management District has issued a smoke advisory for the area.
On Friday, the Postal Service announced that the Lytle Creek Post Office has been evacuated and will be temporarily closed due to the South Fire until further notice.
The office at 375 Valley Vista Drive, Lytle Creek will reopen as soon as access is restored and it is safe to do so, said a press release.
During this closure, P.O. Box mail will be available and retail services offered at the Fontana Post Office at 8282 Sierra Ave. Customers are reminded to bring proper photo identification for mail and package pickups.
The Fontana Post Office is open from 8:30 a.m. to 5 p.m. on weekdays and from 10 a.m. to 4 p.m. on Saturdays.
The Westward Fire in Banning remains at 160 acres and was 90% contained as of 8 a.m. today, said Cal Fire. It was named after Westward Avenue, which is near where it started. All evacuation orders have been lifted.
The fire broke at around 2:15 p.m. Wednesday off South San Gorgonio Avenue and Fourth Street, Cal Fire reports. Highway 243 was closed in both directions but has since reopened.
According to the Riverside County Fire Department, 185 firefighters are battling blaze with 22 engine companies, three air tankers, one helicopter and two bulldozers.
The National Weather Service has issued a heat advisory starting at 10 a.m. today through the weekend with high temperatures of at least 100 through Sunday.