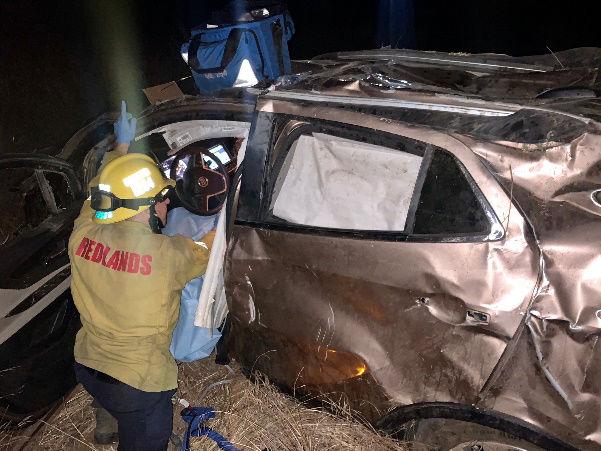 The San Bernardino County sheriff's 40King3 helicopter hoisted a Redlands woman to safety after she drove her car off a cliff on Sunset Drive near Crown Street on Tuesday and landed 300 feet into the canyon.
At 6:30 p.m. Oct. 29, Sheriff's Aviation assisted the Redlands Fire Department after personnel determined her car was inaccessible to their rescue vehicles.
Multiple people called reference a single-vehicle traffic accident where the vehicle went off the edge of a cliff and rolled to the base of a canyon.
"Fire personnel hiked to the victim and determined a hoist rescue would be needed to safely transport the victim to medical personnel," said a Sheriff's Department press release. "Sheriff's helicopter 40King1 responded to the location to assess the situation. Due to the terrain and information provided by fire personnel, it was determined a hoist could safely be performed."
Sheriff's helicopter 40King3 acted as the hoist rescue helicopter, using a crew member from 40King1. A hoist rider was lowered to the vehicle to assist with securing the victim for a hoist. The victim was hoisted from the narrow canyon and transported to a safe area. Medical personnel took the victim, 56-year-old Teresa Petrilli, to a local hospital with non-life threatening injuries.
Redlands police determined the woman had been driving under the influence of alcohol.