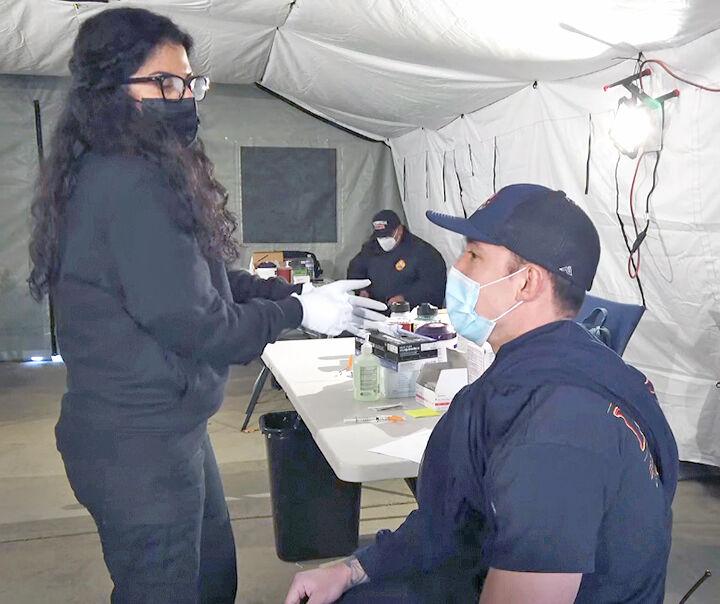 People who work in San Bernardino County and who are in Phase 1A's Tier 1 and 2 of the COVID-19 vaccine allocation can now start making appointments.
Tier 1 of Phase 1A is made up of the following sectors: acute care, psychiatric and correctional facilities hospitals, skilled nursing facilities, assisted living facilities, paramedics, EMT's and dialysis centers. Tier 2 is home health care and in-home support services, community health workers, public health field staff, primary care clinics, rural health centers and urgent care clinics.
Those who work in these fields within the county can make an appointment to get vaccinated at sbcovid19.com/vaccine. Six facilities are available for appointments; Arrowhead Family Health Center–McKee, Arrowhead Family Health Center-Westside Clinic, County Civic Building West, Hesperia Health Center, Ontario Health Center and the San Bernardino Health Center.
As of Jan. 12, 28,290 people have been vaccinated in San Bernardino County.
Joseph Ico, a firefighter paramedic for the Redlands Fire Department, said he chose to get vaccinated for his family.
"I have a lot of family members with underlying medical conditions, and I have children at home," said Ico. "I am exposed to COVID-19 on a daily basis at work, so I want to make sure I'm not bringing it home to my loved ones. The county gave us a lot of information regarding side effects, and I did my own research. Overall, I think this will be more beneficial than anything, and the side effects are minor, but the long term benefits of the vaccine will keep me healthy."
Kent Meeker, a firefighter paramedic for the San Bernardino County Fire Department, said he chose to get vaccinated because he deals with COVID-19 patients almost daily.
"It seems like every day we are being exposed four or five times to people that are waiting on test results or are positive," he said. "With that kind of exposure, of contracting the virus and then going through what looks like a terrible process of healing didn't seem worth it. The vaccine is a lot easier to do. I have no major concerns with any of the side effects.
"From the information the county and Troy Pennington at Arrowhead Regional Medical Center gave me, it seems like all the potential side effects are standard and are associated with most vaccines," continued Meeker. "I didn't see anything that said this was more dangerous than any other kind. The mRNA vaccine is not a live virus, and it's not a DNA strand. It was worth coming and getting it done to be safe."
According to the county, 25,000 doses have gone to hospital workers, approximately 600 to dialysis centers and a little under 900 doses to medical first responders (paramedics and EMTs). The Centers for Disease Control and Prevention is coordinating the distribution of vaccines to staff at skilled nursing and assisted living facilities through partnerships with Walgreens and CVS.
Doctors who have received the vaccine also shared their experiences.
"I feel great with no side effects," said Carol Lee, program director for Arrowhead Regional Medical Center's Department of Emergency Medicine's residency program. "I found it less painful than the routine flu vaccination I get every year. I've spoken to a lot of people about the vaccinations, and I don't know anyone who has suffered severe side effects or any side effects. Millions of doses have been given worldwide, and the incidence of side effects is extremely low."
Danny Fernandez, an emergency room physician at Arrowhead Regional Medical Center, had a similar experience.
"I feel as fine as I did before," he said. "This is similar to other vaccines we take and is an easy process. It is not something to be feared."
Eman Ahmad, a family practice physician who specializes in geriatrics, experienced slight tenderness at the injection site on her arm but otherwise suffered no side effects.
"I've never had any adverse reactions from any of the vaccines I've received," she said. "We need to save as many lives as possible," she said. "If we are able to vaccinate as many people in the community as possible, we'll have immunity and help decrease the spread of the virus while reducing mortality and morbidity."
Nidal Rafeedi, assistant director of respiratory care at Arrowhead Regional Medical Center, said he feels fortunate to be one of the first vaccinated.
"I feel fantastic," he said. "I've had no effects at all, other than a little soreness like I normally get from a flu shot. I'm sleeping well and have had no fever."
Rafeedi was diagnosed with leukemia as a child and underwent radiation and chemotherapy. That experience led him to trust medicine, and he urged others to do so as well.
"The vaccine is something that will end the pandemic, so I'm asking the community to trust medicine and to trust science. Let's end this so that we can celebrate together with a great summer."
As of Tuesday, Jan. 12, San Bernardino County recorded 231,750 total COVID-19 cases, 210,048…