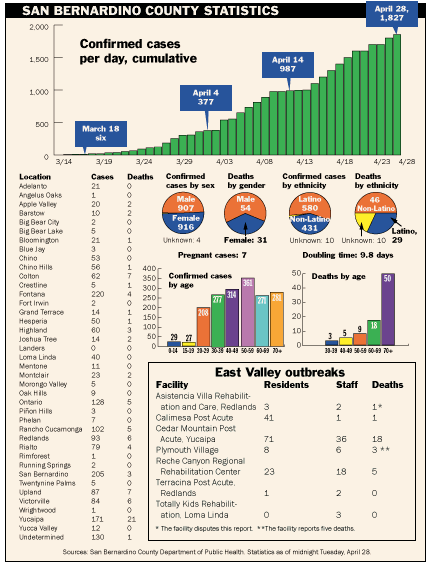 Redlands records 93 cases of COVID-19 and six deaths, according to the San Bernardino County Public Health Department's weekday reports.
 Three staff members and three patients at the Asistencia Villa Rehabilitation and Care Center tested positive for COVID-19, according to an employee.
The number contradicts the county's total listed on its COVID-19 surveillance dashboard.  
"I don't know where the county is getting the numbers,: said the Asistencia Villa staff member. "Six people have tested positive. We have had no deaths."
 According to the Asistencia Villa, one is a male staff member. Two are female staff members. The three patients are all female.
 "The county is not allowed to give out information about patients. What is on the dashboard is considered fact," responded a county employee from the Health Services Department.  
The county dashboard also listed two staff members, and one resident tested positive for COVID-19 at Terracina Post Acute, a senior rehabilitation center in Redlands. Those numbers also contradict what the facility is reporting.
"We have had one staff member test positive and four test negative," said Jennifer Lee, Terracina Post Acute administrator.
Lee said no patients have contracted the virus.
Totally Kids Rehabilitation Hospital in Loma Linda is listed as having three positive staff members. However, those may be old numbers.
"Six staff members were quarantined after it was suspected they might have contracted COVID-19," said Irwin Hansen, Totally Kids Rehabilitation Hospital executive vice president. "Five have returned to work after testing negative, and one is still in quarantine."  
On April 15, it was reported that one health center patient at Plymouth Village had died of COVID-19. Eddie Burge, communications manager for HumanGood, which operates the center, gave an update on Monday, April 27.
"There are eight confirmed cases of COVID-19 at Plymouth Village," said Burge. "Two are residents. Six are staff members. Five residents have passed away since the beginning of the pandemic."
The surveillance dashboard is reporting 322 total COVID-19 cases at 15 county nursing homes as of Tuesday, April 28. Cedar Mountain Post Acute has the most confirmed cases at 114. The county has recorded 28 deaths at seven East Valley facilities.