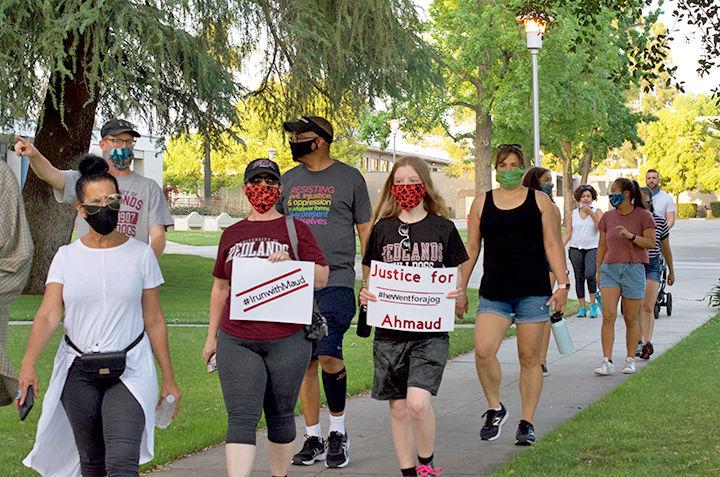 Nearly 20 Redlands residents walked around the quad Friday night at the University of Redlands to protest the killing of a 25-year-old black man on Feb. 23 in Brunswick, Georgia.
According to news reports, Ahmaud Arbery was out for an afternoon run on when he was pursued and shot by an armed father and son, both white. It took a while before the story got the attention of national media, but it gained traction after a video of the shooting started circulating on social media.
Arbery would have been 26 on Friday, May 8. In honor of his birthday the hashtag #irunwithmaud was created to organize people across the U.S. to do a 2.23-mile run, walk or jog to commemorate the date of the incident.
Joi Richardson of Redlands decided to support the national movement of justice for Arbery. Twenty people joined her. Richardson didn't want to invite the whole community as to not get in trouble with social distancing rules, but she felt the cause was too important to ignore.
"We need to have conversations within families and multigenerational entities for why this is an important issue," she said. "We need to start there and now it's time to take action to not have a fear of people who are not like us. We need to raise a generation that see race differently."
Richardson comes from a biracial family and is married to an African-American. Her daughter has experienced insensitivities, she said. Richardson wants to find ways to better embrace diversity.
"I felt the need to do something with like-minded people," she said.
Richardson was born in Georgia and has family there, so for her this incident hit close to home. She wanted to show the Brunswick community that there are people all over the United States who support them.
The group of 20 kept six feet apart while walking and everyone wore masks and some carried signs. They held a moment of silence when they reached the 2.23-mile mark around the quad.
Richardson's friend Hannah McAnespie also felt the need to do something. She recently left Atlanta after having lived there for 13 years and has friends in Brunswick, Georgiam and organized a morning walk in her Redlands neighborhood the same day for her local friends. Some of them carried signs supporting justice for Arbery and supporting blacks being about to exercise  without having to fear for their lives.
They heard a lot of honks and cheers from cars passing by.
"­This event was really troubling," McAnespie said. "It's hard to believe someone would record it and expect to be cleared."