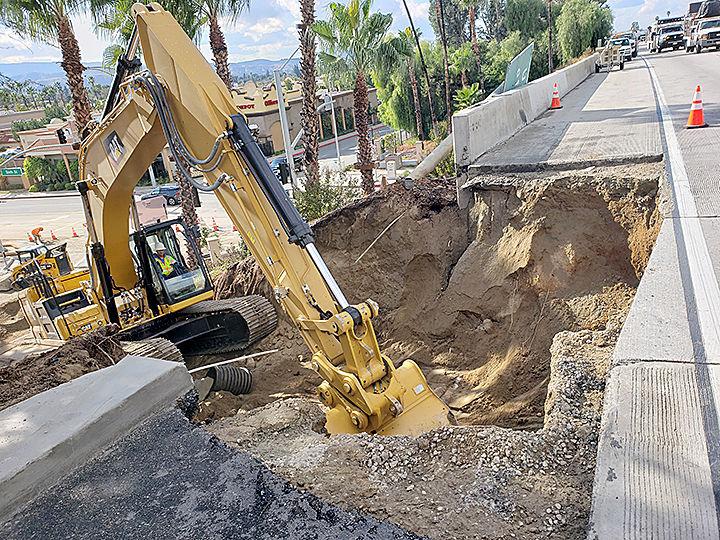 Two lanes of Interstate 10 east were closed on Thanksgiving after a drainpipe burst during a rainstorm on Thanksgiving at the Sixth Street onramp at Pearl Avenue in Redlands.
Lanes 3 and 4 were closed after of the section of the hillside collapsed. The mudslide also caused the onramp to be closed until repairs were completed.
"The slope is not stable right now," said Samer Gorges, a Cal Trans engineer. "We are preparing to fill the hole up with dirt, so that repairs can get underway."
Two storm drains needed to be fixed, Gorges said as he pointed to where the pipes were severed.
"They will be building an inlet and rebuild the shoulder of the freeway," he said.
A 40-foot dump truck arrived on the scene filled with dirt.
"We'll be using a backhoe with an attachment to take dirt from the truck and fill in the hole," said Gorges. "The repairs will probably take a few days to complete, before the onramp is in working order."
Below the devastated slope, mud and debris covered  Pearl Avenue and Sixth Street onramp. Large chunks of broken pipe, mounds of mud and rocks were collected on the side of the onramp.
Equipment operator Frank Ruiz Jr. from J. McLoughlin Engineering, construction firm based in Rancho Cucamonga, was removing the pieces of pipe and mud, while Jose Huerta operated the excavator that removed thousands of pounds of dirt under the freeway's shoulder and along the sloped hill.
"The drain inlet broke, under the shoulder of the freeway," said Ruiz. "The excavator will backfill the cavity with the dirt that was delivered, and then he'll compact the dirt where the shoulder fell."
As of Wednesday, it was smooth sailing along those lanes and the eastbound onramp was open. However, the sign announcing University Street as the next exit was still on the ground.