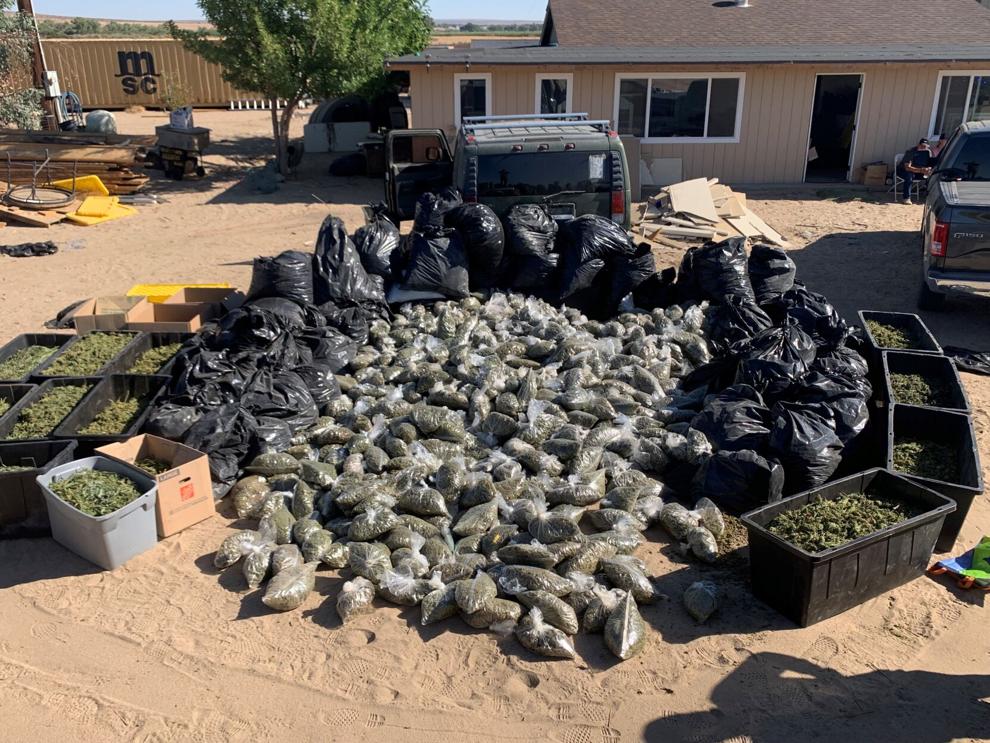 The San Bernardino County sheriff's Marijuana Enforcement Team (MET) seized 1,455 marijuana plants and arrested eight suspects early Friday, July 2, in the Mojave Desert town of Oro Grande.
At 7 a.m., MET investigators and deputies from several sheriff stations served a search warrant at an outdoor marijuana cultivation 14700 block of Harris Lane near the town on Route 66 between Victorville and Barstow. They also seized 2,438.6 pounds of processed marijuana, most of which had been packaged in one-pound bags. The wholesale value of the processed pot was estimated at $2.5 million. A semi-automatic shotgun also was confiscated.
Eight suspects were arrested, including six from San Bernardino.
Fish and Wildlife wardens announced they would pursue felony charges of altering a streambed and cultivation of marijuana within a streambed.
The investigation revealed the cannabis cultivation was not in compliance with California's Medical and Adult Use Cannabis Regulation and Safety Act and San Bernardino County's ordinance prohibiting commercial cannabis activity.
The Sheriff's Gangs/Narcotics Division will continue to enforce California's cannabis laws and San Bernardino County's cannabis cultivation and distribution ordinance, said a press release. Those  found guilty of violating the state law and county ordinance are subject to fines, prosecution and seizure of property.
Property owners who are growing marijuana or are aware their tenants are growing marijuana on their properties violate the state law and local ordinances; they may also be subject to civil or criminal sanctions. Property owners are encouraged to contact their local law enforcement or code compliance agency to confirm if cultivating cannabis is prohibited or allowed under specific regulations.
The suspects are:
Manuel Alcara, 22, of Ontario.
Cezar Ochoa, 29, resident of Huntington Beach.
Heminia Padron, a 43-year-old woman from San Bernardino.
Samuel Galvin Jr., 23, of San Bernardino.
Abelino Galvin, 59, of San Bernardino.
Franciso Galvin, 18, of San Bernardino.
Abel Vargas, 29, of San Bernardino.
Bridgette Magana, 26, of San Bernardino.