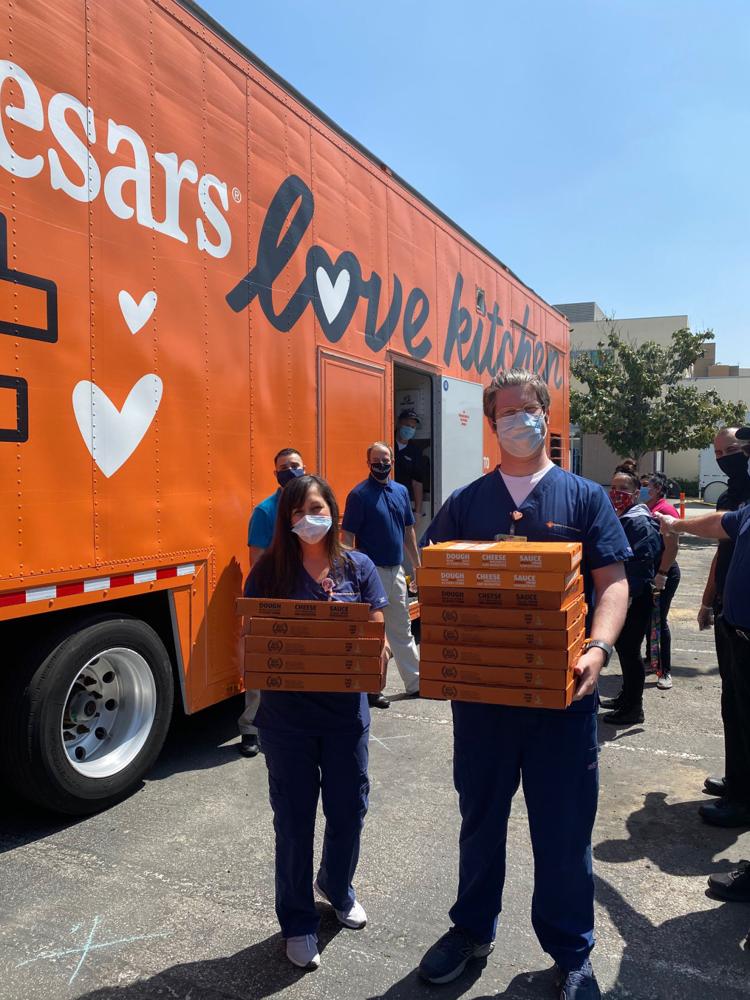 Little Caesars donated hundreds of pizzas to health care workers at Redlands Community Hospital Monday in celebration of National Nurses Week and Hospital Week .
National Nurses Week is May 6 to 12 and Hospital Week is May 10 to 16.
The pizza was delivered by the Little Caesars' Love Kitchen, a big-rig pizza kitchen on wheels that has traveled from the chain's hometown of Detroit to Redlands. Proper social distancing measures was maintained during the event.
"We're grateful to Little Caesars for this kind gesture to celebrate our extraordinary nurses and hospital staff," said Jim Holmes, Redlands Community Hospital president and CEO. "Our remarkable staff has been working tirelessly over the last few months, caring for our community during the COVID-19 pandemic."
Little Caesars also donated pizzas for the nurses and hospital staff working the night shift.
"Little Caesars wants to recognize the incredible contributions that nurses and other front-line medical heroes make to our communities every day," said Dave Scrivano,  president and CEO of Little Caesars. "They're working around the clock to keep us safe and healthy, and we want to give them the opportunity to take a break and enjoy a wholesome meal."
Pie It Forward
Customers can join the effort and "Pie It Forward" by donating a pizza to their nearby hospitals, police and fire departments when ordering from the Little Caesars app or website. The customer-donated pizzas will be served locally by Little Caesars franchisees during the weeks that follow.
To date, more than 125,000 pizzas have been donated by Little Caesars customers.