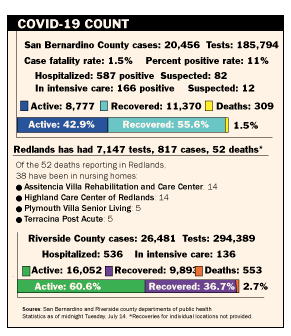 ­Because of increases in positive test results, hospitalizations and ICU admissions, Gov. Gavin Newsom announced on Monday, July 13, further mandates to mitigate the spread of COVID-19.
California immediately expanded closures previously only required for counties on the state's monitoring list to the entire state. These include indoor operations for dine-in restaurants, movie theaters, family entertainment centers, museums and cardrooms. Breweries, bars and pubs are required to close both indoor and outdoor operations entirely in every county.
In addition, within the 31 counties on the state's monitoring list, which include San Bernardino and Riverside, the state required the closure of indoor operations in sectors that tend to promote the mixing of populations that make adherence to physical distancing and wearing face masks difficult.
Businesses in these sectors that are unable to operate outdoors must close immediately under the state's order. They include gyms and fitness centers, churches, offices for non-critical sectors, personal care services (nail salons, massage and tattoo facilities), hair salons, barbershops and indoor malls.
"There is no end date," said Gary McBride, chief executive officer of the San Bernardino County Board of Supervisors. "The order is open-ended to see how numbers turn out."
McBride said the county's testing positivity rate is between 19 to 20 percent. To be taken off the state's monitor list, it has to be under 8 percent.
Supervisor Robert Lovingood said he wants to look for tracers in churches, restaurants, youth sports and education.
"We need concrete data of cases in these sectors so we can make decisions based on fact," he said.
Curt Hagman, board of supervisors chairman, said he is frustrated with the governor's sweeping action.
"Why have COVID Compliant standards if you're going to shut down these industries anyway?" Hagman said. "The governor took away local control with one order."
Gov. Newsom noted that while the increase in testing has led to growth in positive cases, the positivity rate has recently trended down. However, new positive cases are averaging 8,211 a day. Hospitalizations have increased 28 percent over the past 14 days and ICU admissions have jumped 39 percent over the same period. Overall, the state has had more than 320,000 COVID-19 cases and 7,000 deaths.
"Until we have a vaccine or effective therapy, we have no choice but to continue taking steps to mitigate the spread of the virus," said Newsom. "Californians must adapt to new behaviors if we are to slow the spread."
Hospitalizations due to the coronavirus have been on the ­rise across San Bernardino County, but the county has seen death rates drop in area hospitals despite the increase. According to local health professionals, this is partially due to local health-care workers' ability to manage and treat COVID-19.
"Our ICU's are running at 20 percent capacity, which is a good thing," said McBride during a board of supervisors meeting on Tuesday, July 14.
According to the county, in the initial months of the pandemic, patients hospitalized with low oxygen saturation levels were put on ventilators, which is common with similar respiratory issues such as pneumonia. As health experts became more familiar with the virus, there has been alternatives to help patients get enough oxygen to avoid needing a ventilator. In some cases, patients experiencing low oxygen saturation levels benefit from Continuous Positive Airway Pressure (CPAP) or Bilevel Positive Airway Pressure (BiPAP) machines.
"We find that we can bridge people on these high-flow oxygen devices for a period of several days and, in many cases, avoid intubation," said Troy Pennington, a doctor at Arrowhead Regional Medical Center.