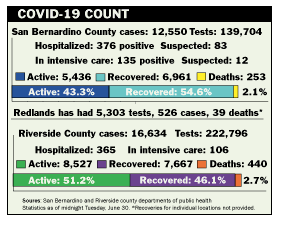 California Gov. Gavin Newsom has ordered the shutdown of San Bernardino County bars and indoor dining.
The order followed an increase in COVID-19 cases across in the county during the reopening and started in mid-June. As of Wednesday, the county's total reached 12,550 cases. Redlands' total was 526.
On Sunday, June 18, Gov. Gavin Newsom recommended that the county close its bars. On Wednesday, the governor ordered the county to shut down indoor operations of restaurants, bars, wineries, movie theaters, family entertainment centers and museums.
Restaurants may move service outdoors to mitigate spread, but bars must close all operations for the next three weeks.
On Tuesday, supervisors decided not to close bars, but some expressed concern after the surge that started on Memorial Day weekend.
"This renewed growth in infections not only increases the risk of people getting sick and dying but also threatens our ability to continue reopening our economy," said Board of Supervisors Chairman Curt Hagman. "It is critical that you continue to social distance and wear a mask."
The county said the week's significant case increases could be tied to an increase in testing, but more likely can be attributed to gatherings held over Memorial Day weekend, public protests and a general complacency with the virus during reopening.
"Concerning the gatherings we've seen since Memorial Day, too many were held with relaxed precautions," said Hagman. "And as a whole, we have not been regularly practicing social distancing and wearing masks. And it's hurting us."
As of Wednesday, the county's surge capacity utilization rate was 6 percent with 1,027 surge capacity beds still available.
"We all need to do our part," said Corwin Porter, the county's interim director of public health. "We know this process is long, and we can and should support each other through this. We know practicing social distancing, wearing face coverings and handwashing helps us, but we also need to share the word to get tested."
Redlands Community Hospital also has seen a rise in cases but was prepared to meet patients' needs.
"On Saturday, June 27, we saw 41 patients for the first time on a single day," said Randy Bevilacqua, vice president of business development and marketing. "We are averaging 32 cases a day, but I wouldn't call it a surge, more of an increase."
Bevilacqua said the hospital anticipated the increase.
"We were prepared," he said. "With the reopening activity over the past few weeks, we knew there was a potential for an increase. We have contingency plans based on the number of patients and what we might see. We have enough beds and have plans in place should we need more."
Bevilacqua said as of right now, the hospital's supplies are good.
"Some days, we get concerned, but mostly we are fine."
The hospital is averaging 20 to 23 inpatients a day, according to Bevilacqua.
"I know everyone is tired of COVID-19, but we all still need to follow social distancing rules and wear masks," he said.  
The hospital, which resumed elective surgeries the end of May, has no plans to stop them at this time.
"We are still seeing people," said Bevilacqua. "The need is still there, and people should not be afraid to come in. Our COVID operations are completely separate."
On Tuesday, the San Bernardino County supervisors met to discuss plans to possibly shut down bars before the state order in light of the increase in COVID-19 cases.
"We are not meeting the state's 14-day metric," said McBride. "By Sunday, July 5, bars will be ordered by the state to close if cases do not decrease. But we are still within the 14-day threshold."
The board decided not to shut down bars and wait to see if numbers decline by Sunday. However, with the governor's order on Wednesday, bars must now shut down.