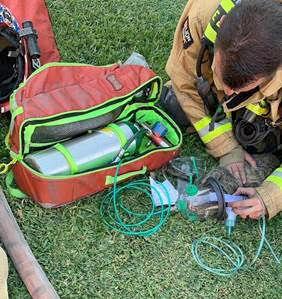 Redlands firefighters, along with crews from the Loma Linda, San Bernardino County and San Manuel fire departments, extinguished a blaze in a second-story apartment unit in the 1200 block of East Lugonia Avenue Monday afternoon. Two cats were rescued from the otherwise unoccupied apartment.
Firefighters responded to the fire at the apartment complex shortly before 1 p.m. Monday, Oct. 21. Upon arrival, responding units found smoke coming from one second-story apartment and began to attack the fire, ventilate the building and to search the apartment.
Two small cats were located inside the apartment. Fire personnel used a special pet oxygen mask to treat the cats on the scene for smoke inhalation. Both cats were transported by Redlands Animal Control to a local veterinarian for further evaluation. At the time of transport, both cats were in stable condition.
No other injuries were reported.
It took firefighters approximately 10 minutes to extinguish the blaze. Crews remained on scene for approximately an hour and a half.
The damage was contained to one apartment and the loss was estimated at approximately $40,000. The cause of the fire is under investigation.