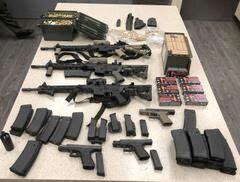 Sheriff's deputies arrested a felon who lives in Colton on suspicion of domestic violence and possession of weapons and ammunition Wednesday night.
At 10:41 p.m. May 5, deputies responded a 9-1-1 call to dispatch  in the 23300 block of Westwood Street in Grand Terrace and saw a 28-year-old female fleeing from the location. Justin Michael Shaw, 29, was determined to be the suspect of the domestic violence. 
"Shaw fled the location prior to deputies arrival," said a San Bernardino County Sheriff's Department press release. "During the investigation, high-capacity magazines for Glock semi-auto handguns were located. Shaw was found to be a felon, with a prior felony conviction in 2015. An arrest warrant was granted for his arrest for felony spousal abuse."  
At 9:19 a.m. Thursday, detectives discovered Shaw had access to several assault rifles and handguns at his residence.  Detectives and deputies from Central Station responded to 900 block of Fairway Drive in Colton, determined to be Shaw's apartment complex, where he was seen loading a rifle bag into his car prior to driving away. 
A traffic stop was conducted on Shaw's vehicle and he was found with three illegal assault rifles (AR-15 style) and three Glock semi-auto handguns in his car. One of the loaded Glock semi-auto handguns was found in the unlocked glove box. Numerous loaded AR high-capacity magazines and thousands of AR live rounds were located with the weapons. 
Shaw was placed under arrest and booked into Central Detention Center in San Bernardino on charges of being a felon in possession of firearms and felony spousal abuse without incident.