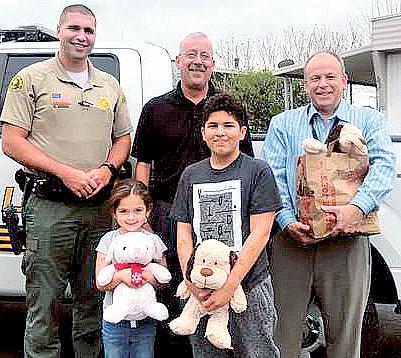 Starting on Tuesday, May 5, Family Service will begin to distribute weekly food boxes to San Bernardino County low-income families and households whose income or lives have been affected by the COVID 19 crisis.
This new program is made possible by a generous grant from the Will J. Reid Foundation facilitated by board member Char Burgess and, as always, because of loyal community supporters. In a commitment to safety of staff and others, the distribution will be a "contactless" system in which staff members and volunteers will ask to see identification through the vehicle window and then place the food in the trunk.  
With so many factors affecting the economy, Family Service also is collaborating with agencies such as the Boys & Girls Club, the San Bernardino County H.O.P.E. Team, the Redlands' Police Department, the city of Yucaipa and the Department of Behavioral Health as well as the faith-based community to get non-perishable food items to those most vulnerable in the region.
"We have had so many amazing supporters step up for us — doing special things like hand writing notes to staff, making masks for us and increasing contributions — which have lifted our spirits during this difficult time," said Executive Director Kyra Stewart.
The Housing Program is still in existence and the motel voucher and food programs continue to show to be a high need area. The agency will allow volunteers to participate in food distribution and organization starting next week as well.
"Family Service is here for the community just as it has been for the past 122 years," said Family Service Board President Ellen Weisser.
Family Service  drive-thru food pickup
When: 11 a.m. to 1 p.m. Tuesdays starting May 5.
Where: Family Service, 612 Lawton St, Redlands.
Sign up: At rfsfoodbox.eventbrite.com
Procedure: Bring ID. Do not park, get out of your car, roll down your window or open your door.
Pop open your trunk: The food will be placed in the trunk.
Questions? Email Crystal Lau at rfscrystal@outlook.com or call (909) 793-2673, ext. 106.
Family service hours: 9 a.m. to 4 p.m. Monday through Friday.
Want to help? For more information on volunteer opportunities, contact Crystal Lau at rfscrystal@outlook.com.
Need help? Anyone who is in crisis and needs motel vouchers, housing assistance, food, case management or referrals, contact the front office at (909) 793-2673. Appointments with case managers are being scheduled daily.